In October, Prime Minister Narendra Modi in his first radio message to the nation urged every Indian to use something made of Khadi - the Indian handloom associated with the country's freedom struggle. "Whether a bedspread or just a handkerchief, own a piece of Khadi and it will benefit the poor," he said.
Around the same time, the Planning Commission of India also submitted its Draft Consultation Paper on Handlooms to the Government. The handloom sector in India is a significant employer across the country. As per Census 2009-10, it employed 43.3 lakh weavers and ancillary workers. Handlooms that account for nearly 11 per cent of fabric production in India contributed Rs. 2812 crore to exports in 2012-13.
According to the Labour Ministry of India's quarterly surveys India's textile industry created the highest number of jobs, even more than IT in the first quarter of this fiscal year. Despite the figures, the sector seems to be festering. The number of people it employed dipped by 21 lakh since 1995-96.
According to the Third Handloom Census of India, only 25 per cent of weaver households report that their children are interested in taking up handloom as a profession.
The paper looks at the problems and suggests steps to improve income and sustainability in the sector. It also clarifies what there was much confusion over in the past year – the definition of 'handloom' in the Handlooms Act 1985.
The Ministry of Textiles had proposed the definition of handloom to be altered from 'any loom other than power loom" to "any loom, other than power loom; and includes any hybrid loom on which at least one process for weaving requires manual intervention or human energy for production." Faced with strong opposition from weavers and activists who believed this would dilute the uniqueness of handlooms, the suggestion was dropped.
"The proposal to change is a conspiracy to kill our tradition by indirectly encouraging use of power," Mohan Rao of Rashtra Chenetha Jana Samakhya, Andhra Pradesh-based handloom trade union had told Down To Earth Magazine last year. However, in the paper, the Ministry reassures more than once that the definition remains same as before.
The main focus of the paper is to discuss the problems plaguing the sector and propose steps to alleviate them.
Despite being such a large employer in rural India with a workforce comprised of 77 per cent women, the sector has largely remained poor and lacking in basic facilities for a vast majority among the weaver population.
The thread that ties all
A common impediment in the industry is the difficulty in acquisition of yarn. Currently, the National Handloom Development Corporation meets nearly 15 per cent of the yarn requirement for the handloom sector. But in many areas, weavers have little or no local access to yarn. Even areas with high weaver population see few yarn depots; "Assam has 5.6 per cent of yarn depots whereas it accounts for over 44 per cent weaver households," the paper states.
What compounds the issue is how weaving works. Often solutions don't take into account the influence that 'master weavers' wield. They act as middlemen providing yarn, work and pay for others. So democratic access to yarn, dyeing facilities etc are usually not available to everyone.
The PlanCom paper recommends common facilitation centres that can be used democratically by any weaver for a small fee. It illustrates 'this model' with the example of a Chanderi weaving cluster in Madhya Pradesh that has as many as 3500 handlooms and a majority of the weavers working as wage earners.Yarn and dyeing depots were set up here for any weaver to use at a nominal fee.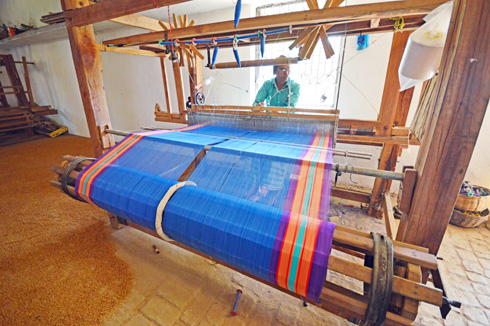 Since 80 per cent of the weavers work with master weavers, they lack any direct access to credit facilities. Nearly 47 per cent of handloom worker households own Below Poverty Line (BPL) ration cards.
While the NDA government has promised to revive the sector, the UPA-led government also had large welfare schemes for the community. It waived off loans worth Rs 3,884 crore. It also included a special Rs 2,350 crore scheme for weaver's credit cards, 3 per cent interest subsidy, margin money assistance (Rs 4,200-5,400), credit guarantee, 10 per cent subsidy on yarn and transportation subsidy (between 2.5 and 10 per cent).
However, the benefits didn't boil down to everyone and was utilised by only a few, allege weavers.
Healthcare
It isn't just access to credit that weavers lack, but also to basic entitlements such as healthcare.
The nature of weaving – which involves repetitive movement is linked to occupational health hazards. Body pain, pulmonary problems, chronic bronchitis, decrease in hand-grip and eye problems are common.
While current handloom welfare schemes provide life/health insurance, in a detailed evaluation of such insurance scheme, it was seen that that weavers don't trust the doctors and clinics empanelled with ICICI Lombard, the implementing agency for the health insurance scheme, primarily due to issues with reimbursement of claims. Among weavers who availed in-patient hospital services, only 67 per cent claimed reimbursement, citing that it was pointless to do so since ICICI Lombard, as a company, did not settle reimbursement claims.
In view of such issues, the Ministry of Textiles has accepted the proposal to bring the scheme under the ambit of the Rashtriya Swasthya Bima Yojana and the merger is expected to be completed by the next financial year. Notwithstanding that, the paper still recognises the problems of last mile connectivity in rural areas as far as health services are concerned, and recommends that "operational mechanism of the scheme should ensure proper reach of the implementing insurance company, enabling the enrolled weaver's families to get cashless OPD/IPD facilities close to, if not at their door step."
Marketing
The Paper recommends marketing handlooms as an area that requires urgent attention.
"Handloom products must be branded and marketed to niche markets, to clients who appreciate the value of hand made products and are willing to pay for them," it observes. Sustainability can't be achieved by providing greater quantities at cheaper prices.
The sector has done little to reach out to its customers through marketing its products online through e-commerce. Most resources on the web that promote handlooms are information heavy and rather than facilitating online sales.
Tapping the potential of ecommerce especially to get bulk orders can help improve sales tremendously according to the paper. It quotes the recommendation of the Steering Committee on Handloom and Handicrafts -- of bringing together Handlooms, Handicrafts and Khadi & Village Industries under a single label, as 'Handmade in India'.
Closely linked to the issue of marketing is design and its suitability to current trends and consumer orientation. The PlanCom paper points to the critical need for greater design support to weavers through workshops, and recognition of their role as designers and innovators.
In fact, marketing support and design innovations supported by appropriate technology are seen as the central pillars of a recommended new handloom policy, that must embody a paradigm shift in the entire approach towards solving all the issues ailing the sector in general.
REFERENCE: Draft Consultation Paper on handlooms, Planning Commission, Government of India