It was in 2001 that India got its first private FM radio station, Radio City, in Bangalore. The content was in English, playing English music, testing uncharted waters. It was the beginning of a decade of careful balancing acts for stations like Radio City and those that followed.
Today, 12 years later, Radio City plays only Kannada music, catering to the local Kannadiga in the cosmopolitan south Indian city. Bangalore has seven radio stations out of which three play only Kannada music, three play only Hindi music and one station plays only English music. Tamil and Telugu music are not aired in the city despite both languages being abundantly spoken.
In Chennai, the scene is slightly different. The city has eight radio stations including one that plays only English music. Radio One plays English music in the night. The rest is only Tamil. Not surprising given that the city is home to one of the biggest film industries in the country. Still, one station plans to restart a popular Hindi show in Chennai, and on the face of it no political backlash seems to be lurking.
The Nawabi city of Hyderabad has four radio stations. While these FM channels predominantly play Telugu music, Hindi music is also played on three stations. However, surprisingly, despite the significant proportion of Hindi-speaking populace in Hyderabad, there is no exclusive Hindi station.
In Kerala, the language of music is largely Malayalam. While Tamil music is also played on channels in the capital city of Thiruvananthapuram, stations in Kochi play a little bit of Hindi music too. One station, Radio Mango, also has a slot for English music.
The contention of Kannada music producers like Velu is that while they invest a lot of money in the music industry, the non-Kannada radio stations do not broadcast them, which therefore results in a loss to the industry that would otherwise accrue in the form of royalties.


• People's airwaves, but controlled
• Radio policy: Untying the knots

Chennai: Tamil rules the roost, but a touch of Bollywood may return
Culturally, Chennai is seen as a city steeped in tradition. It has been tagged as the 'Gateway to the South.' It's like no other south Indian city when it comes to language. A majority of its residents are native Tamil-speakers. After Bollywood, the Tamil film industry is the largest revenue-generating film industry in the country.
"The Tamil film industry is dominant here. The number of films being made is considerably increasing. There are a lot of music albums that are coming out, so there are a lot of promotions," says Anooradha Unni, Programming Head, Big FM, Chennai.
With iconic actors like Rajinikanth and Kamal Hassan, cult films and music maestros like Ilaiyaraja and A R Rahman, and a massive amount of money that is pumped into movies and movie promotions, Chennai and Tamil Nadu are serious about their films. Radio stations in turn stick to what's 'popular'.
Senior Programming Manager at Chennai's Radio One, Pradheesh Mugundan says, "People might love English songs and Bollywood music, but they want to listen to hardcore Tamil music on the radio." Mugundan says other languages will simply not work in the city, if it's played 24x7.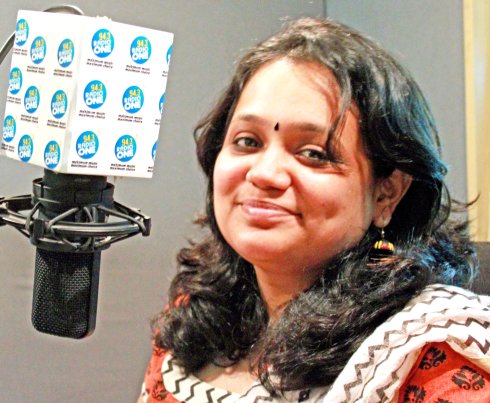 RJ Sulabha, Radio One, Chennai. Photo Courtesy: Radio One, Chennai
But it isn't like other languages haven't been tried and tested in Chennai. And this will surprise many Bangaloreans.
For close to a year, Aahaa FM, run by Kumudham publications, ran a programme called Aahaa Mix, playing Telugu, Malayalam, Kannada and even English hits. The programme was stopped starting June 1, says D Shrikanthan, General Manager (Marketing & Sales), Noble Broadcasting Corporation Pvt Ltd (the group that runs the station).
While there wasn't really much of a response for Malayalam and Kannada music, Shrikanthan says they played a lot of Telugu music owing to the considerable presence of a Telugu-speaking population in Chennai.
The same station also ran a programme called 'Gaane Anjaane' between 8 and 9 every evening, playing Hindi music. "We used to get tremendous response. There are many people from north India here and for them it's an opportunity to listen," says Shrikanthan, adding that the station's programming is currently being revamped and is likely to see the resurrection of that Hindi show.
Bangalore's unique radio music history
While it may come as a surprise that the Tamil-bastion of Chennai has tried and tested Hindi, English and other south Indian languages, the reality is far removed in cosmopolitan Bangalore.
As noted at the beginning, radio stations in Bangalore have undergone a metamorphosis as far as the language of music is concerned. When stations first started in the city, they were mostly playing English music. Then slowly Kannada came in. But it was in the year 2006 that things changed when Ganesh and Pooja Gandhi-starrer Mungaru Male was released, with its music becoming a massive hit, not just among Kannadigas but also among non-Kannadiga residents. The film's music was played extensively on radio stations. It was a turning point for the Kannada film and music industry.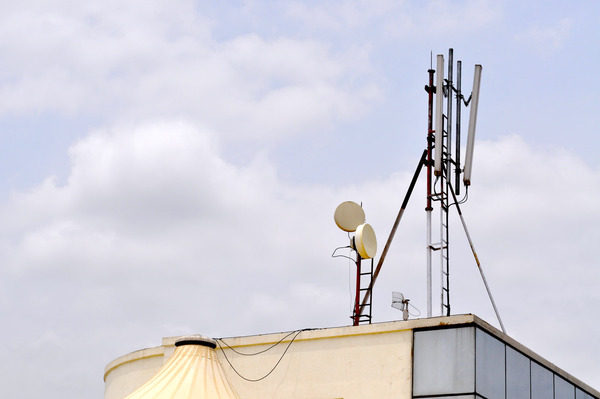 Of the seven private FM radio stations in Bangalore, none plays any regional southern music apart from Kannada. Photo: Vaishnavi Vittal/Citizen Matters
Radio Mirchi eventually converted to Kannada, followed by Radio City. Even Red FM, which launched in November 2006, played Kannada music. Of the seven private FM radio stations in Bangalore, all were playing Kannada music except for Radio Indigo that played English music right from its launch in September 2006.
In 2008, however, it was Radio One that made the significant move to play only Hindi songs. "When everyone changed to Kannada, we changed to Hindi because we wanted to be different and we wanted to offer a choice to the listener," says Rakesh Kumar, Programming Manager and Presenter at Radio One.
This was followed by Fever 104 FM changing to Hindi and in November last year Red FM too joined the Bollywood bandwagon. The reason for this, stations claim, was the city's growing preference to listen to Hindi music.
Telugu music dominates Nawabi city's airwaves
This same sentiment however does not seem to be prevalent among radio stations in Hyderabad. The four stations in the city largely play Telugu music only. Radio City, Red FM and Big FM play Telugu and Hindi music, at a ratio of about 7:3. Radio Mirchi plays only Telugu music.
Rajshekhar B, an Executive Producer with Big FM in Hyderabad, says the stations predominantly play Telugu music because of the dominance of the film industry. It's interesting that in a city like Hyderabad, which has a large Urdu- and Hindi-speaking population, no radio station has taken the step to become all-Hindi, as has been seen in Bangalore.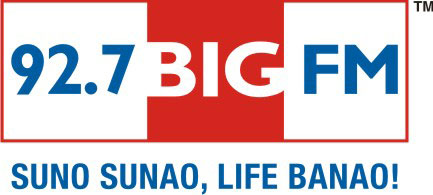 Rajshekhar says no station in the city has looked at becoming all-Hindi, and adds that it would work in the city.
Hyderabad-based advertising and theatre personality Vijay Marur says the reason for this could be that the average client (or advertiser) in the city is a Telugu-speaker. "Not so much in terms of listening to music, but more in terms of word-of-mouth," he explains. Also, just as in Chennai, the film industry in Hyderabad too generates a huge amount of revenue through their movies by promoting them on media like radio.
Marur, however, adds that it is very likely that someone will soon wake up to the opportunity and convert to playing only Bollywood music.
Non-Kannada stations face the music in Bengaluru
Given that Hyderabad has a fairly large Urdu-speaking population, much more than when compared to Bangalore, why is it that the latter has three Hindi stations and the former have none that exclusively play Hindi music?
It could be attributed to the size of the local film industries in each of the cities. Compared to the Telugu film industry (and of course, the Tamil film industry), the Kannada film industry is much smaller and does not pump in as much money.
It's probably also why a section of the Kannada film industry is demanding that all non-Kannada radio stations in Bangalore to start playing Kannada music. A public statement was made to this effect in October 2012 by the Karnataka Audio and Video Owners' Association (KAVOA). This effort was led by Kannada music producer Lahari Velu. The Association, along with the Karnataka Film Chamber of Commerce, met with representatives of these stations but not much came out of it.
The contention of music producers like Velu is that while they invest a lot of money in the music industry, the non-Kannada radio stations do not broadcast them, which therefore results in a loss to the industry that would otherwise accrue in the form of royalties.
In February this year, lyricist Golahalli Shivaprasad filed a Public Interest Litigation (PIL) in the Karnataka High Court, against the non-Kannada radio stations in Bangalore (Radio Indigo 91.9, Red FM 93.5, Radio One 94.3 and Fever 104). The other parties named in the PIL include the Government of India, Department of Telecommunications, and the Ministry of Information and Broadcasting.
Shivaprasad's counsel H S Vivekananda says that the premise of the PIL is that local content is not being played on these radio channels, which is against the guidelines issued by the central government in the Phase 2 auctioning of licenses.
The 'Policy on Expansion of FM Radio Broadcasting Services through Private Agencies (Phase-II)' issued by the Ministry of Information and Broadcasting, in September 2008, says, "...As in the Phase-I policy, the objectives of Phase-II shall be to attract private agencies to supplement and complement the efforts of All India Radio by operationalizing radio stations that provide programme with local content and relevance, encouraging participation by local talent and generating employment..."
Vivekananda says the objective of this is to promote local content and provide job opportunities. "All these channels were given a license on the basis of a sworn affidavit that they will follow these guidelines," he claims. He says the PIL also talks about the failure of the enforcement mechanism in implementing these guidelines. "When local music is not being played, then there is a loss for the manufacturers because they don't get royalty."
The court ordered a notice to be issued to all parties to respond within four weeks. The next date of hearing is yet to be set.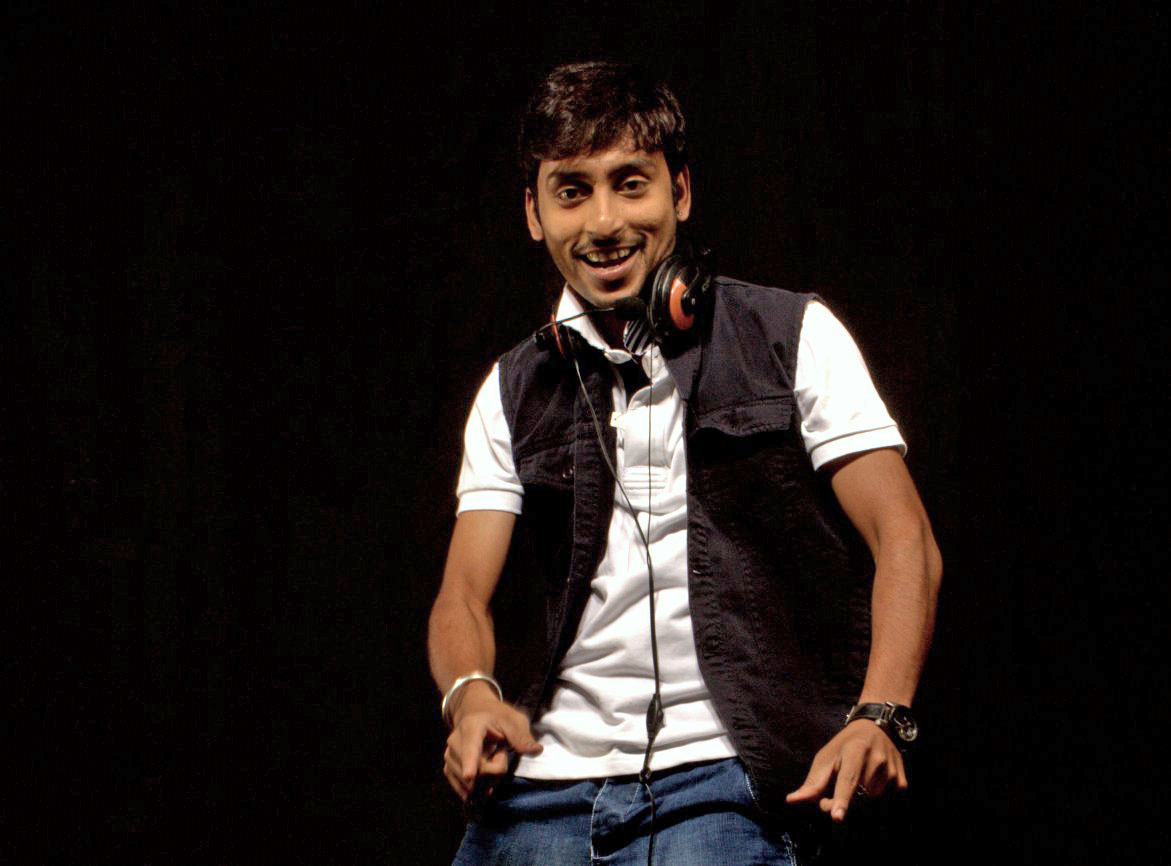 RJ Balaji, Big FM Chennai. Photo courtesy: Big FM Chennai.
Kerala's balancing act
Politics and culture clash, however, seem to have almost no influence in Kerala as far as music on radio channels go. Radio stations in Thiruvananthapuram and Kochi offer a mix of Malayalam and Tamil music. Stations in Kochi also play a bit of Hindi and English music. Parvathy Nair, Programming Head, Big FM (Thiruvananthapuram), says the people of Kerala love music and consume music well. Namitha Nayar, Station and Programming Head of Red FM (Kochi) agrees. "This mix is appreciated in Kerala. A Malayali has a liking for Tamil and Hindi music," she says.
Even as Kerala may have had it easy as far as the language of music goes, radio stations continue to have the arduous task of maintaining a balancing act given that it is a sound-based medium and does not enjoy the luxury that television and the Internet do. In the past decade, private FM stations have changed formats, target groups and the language of music. Executive Producer Rajshekhar of Big FM (Hyderabad) says that on Republic Day last year, the station played songs from different languages at the start of every hour. "We announced it as national integration and played Marathi, Kashmiri, Malayalam, Tamil, Jodhpuri," he says, adding however that they didn't receive much positive feedback.
Geoffrey Thomas, who has worked with Radio Indigo in Bangalore as National Programming Director, and also as Chief Programming Officer with Chennai Live, feels that a radio station should stick to its target group from the time of its launch. "As a station what do you want to do? You need to go the whole hog. You can't keep changing and saying you will play one hour of English music on one day. It's not going to work. People are not going to tune in specially for that," he says, explaining that it's about habit formation.
As far as bringing in other languages apart from the local language is concerned, Thomas says this could be possible after Phase 3 of radio license auctioning wherein there may be an option for one station to have more than one license.
Bangalore-based journalist and theatre personality Prakash Belawadi also suggests something similar. "When the bandwidths are opened up, maybe you can get a place for niche operators, like Classical Carnatic music on one, Ilaiyaraja on another. In my opinion, niche content works when there is a quality market."
In the meantime, even as radio is continuing to grow, it largely appears to do so with a local-focus. Radio is meant to be a local medium, say industry insiders. In south Indian cities like Bangalore, Hyderabad, Chennai, Thiruvananthapuram and Kochi, which are increasingly becoming inclusive, radio continues to largely broadcast in the regional tongue. The interesting trend is that while one Chennai station has been able to run Hindi shows and even plans to resurrect it, Bangalore, despite not airing Telugu and Tamil, is still the only city that offers stations dedicated to three different languages.