'Incredible' is what you would utter if you had visited AR Farms 20 years ago and revisited it now. Such is the transformation brought about by its never-say-die, 72-year-old owner Richard Rebello.
AR Farms is spread across 25 acres in Heroor village, 25 kms from Kundapur in Udupi district. Two decades ago, drinking water was scarce here and the soil was hard laterite. An open well, the only source of water, used to dry up by February. Expert water diviners had shrugged off their shoulders leaving its harrowed former owner deflated. But today, in the same farm, 15 acres are being irrigated and water is aplenty. Two dry bore-wells that summed up the owner's frustration now churn out water for hours on end.
Behind this 'barren-hillock-to-bountiful-farm' saga are the relentless efforts of a pioneering rainwater harvester of the district. Barring some rudimentary nuggets on farming handed down to him by his father, this retired commerce lecturer knew little about rainwater harvesting.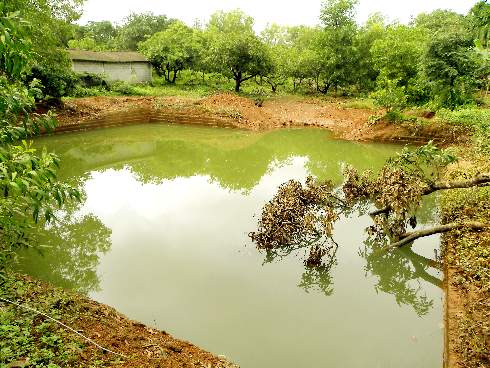 The new rain pond that collects run-off water flowing in from 15 acres of land around it. Pic: Shrikrishna D.
Now, Richard Rebello is a popular resource person on the subject.
Back in 1980s, a doctor owned this farm and was weighed down by the ever-mounting bank loans that he could not repay. The root of his restlessness lay in the severe water scarcity that turned the entire coconut farm into an unyielding patch of burden. Thus, refusing to let the loans pile up further, the doctor decided to sell it off.
He approached Rebello for help. Rebello, who owned a farm near Maravanthe (also named AR Farm), was teaching in Kallianpur College. He took several potential customers to the parched farm. However, the barren farm chased off all the buyers. A couple of clients who initially agreed to buy the farm at a lower price backed out on second thought. After Herculean efforts, one of Rebello's relatives agreed to buy it and paid a small amount in advance. Before the doctor could heave a sigh of relief, he too backed out and sent a message saying, "I don't mind if you don't re-pay the advance".
"The doctor was so frustrated that I couldn't step out of the situation," recalls an empathetic Rebello. Although he didn't want a second farm, he bought it at Rs 3.5 lakhs.
This was in 1989. Of the 150 coconut trees, 25 had withered and the rest were in a bad state. Rebello tried to sell the farm once again, in vain.
Even as he lugged the burden around, Rebello was constantly in search of solutions and sought information from every possible corner. Then this farm belonged to the undivided Dakshina Kannada district. Rebello traveled all over the district, the adjoining Shimoga and Uttara Kannada districts, and surveyed many areas in Wayanad of Kerala seeking a possible end to his misery.
"No complete solution was forthcoming at one place," he recalls. "Mulching was a suggestion offered by many farmers. One Fr Edwin's success of rescuing his rubber plantation on top of a hill gave me more ideas."
Rebello started implementing the ideas in a big way. First, he opened the coconut tree basins in a two-metre radius and mulched it with green and dry leaves. Contour trenches were dug from ridges to valleys. Digging new trenches and desilting of the old ones remained a major farm operation for more than a decade calling for no less than 300 workdays a year.
A turning point came in 1993 when he tasted his first tangible result. The old open well that used to dry up by February retained adequate water till the end of March. In fact, a small quantity of water was available throughout the year. This took care of micro-irrigation of coconut trees. Rebello's confidence grew. He got geologists from Manipal Institute of Technology and Karnataka Regional Engineering College Surathkal (now known as National Institute of Technology, Karnataka) to locate points for water sources. But their geophysical surveys threw up negative results for both open and bore-wells. Still, Rebello got two bore-wells dug which yielded water for just one or two hours.
The search for water didn't end here. Consequently, a new tank was dug and a well was sunk inside. The first one was a failure but the next one yielded a lot of water.
The coconut trees which got a new lease of life are now yielding around 20,000 nuts every year. On an average, 150 nuts a year in this soil condition is remarkable. Every year, pineapple and banana brings in Rs 2.5 lakhs.


• Water harvesting in your home
• Where Suvarna Jala fails, schools leap ahead

In 1997, Rebello retired from his teaching profession and began dedicating all his time and efforts to his farm. He traveled 110 kms back and forth from his Kallianpur residence with a question on the back of his mind: "How can I improve the water sources?"
The soil was pretty hard all over. About 20 percent of the land area was very hard laterite where no crops could be grown. He had to choose the crops very carefully. He topped the hard laterite areas with dug-out soil to facilitate the growth of pineapples. Today, apart from coconut and the pepper vines snaking their way up almost all the trees, the farm is dotted with pineapple, cashew, arecanut, and banana. "If not for the increase in groundwater table, we couldn't have dreamt of growing anything else other than cashew here."
While using water judiciously without depending on external inputs, Rebello augmented his income by breeding broiler chicken. It also gave him quality manure, so did his new dairy. Planned manure management has kept his production cost relatively lower.
The coconut trees which got a new lease of life are now yielding around 20,000 nuts every year. On an average, 150 nuts a year in this soil condition is remarkable. Every year, pineapple and banana brings in Rs 2.5 lakh, four tons of cashews add another Rs 2 lakhs, and five quintals of pepper fetch Rs 70,000.
For the last 3-4 years, Rebello is getting a huge rain pond dug to collect run-off water from about 10-15 acres. Now this pond has a capacity of 10 lakh litres. All the soil dug out from this pond has been used to reclaim about one and a half acres of hard 'black cap' area nearby.

Richard Rebello in his new orchard. Pic: Shrikrishna D.
An approach road divides this 25-acre farm into two unequal portions. The bigger plot is fully developed with new integrated coconut, pineapple, and banana cultivation. The smaller plot of eight acres is full of cashew trees. A new and third bore-well dug recently has a highest yield among his five water resources: two open wells and three bore-wells.
"In the last so many years, except for a small corner area, the water runoff rate in the entire 25-acre farm is zero," claims Rebello. But to his surprise, he has noticed some run-off this rainy season which may be attributed to unprecedented soil moisture due to last year's sporadic rainfall. The run-off water from 20 acres of land bordering his farm flows in and seeps into the soil and enriches the groundwater table.
During monsoon, he relies on a stick while walking around the farm. "It is hard to figure out where the trenches are amidst thick vegetation. So I rely on a stick, lest I fall into one."
For the last 2-3 years, AR Farm has broke-even. But for the falling price of coconut, pepper, vanilla, etc., this would have been achieved a few years ago.
Two decades of research and hard work, coupled with wise management, have turned this barren hillock into a model of rainwater harvesting. In the beginning, there were no takers for his ideas; but now, hundreds of farmers are following the method. "I'm still a student of rain harvesting and nature," says a humble Rebello.