The raddiwallahs – collectors of household waste – cycle down dusty lanes chanting soporific sing-songs encouraging people to sell them their recyclable waste. While they make a living collecting our waste, they also, perhaps unintentionally, make the most crucial contribution to the cycle of waste collection and recycling in the country. Where does our raddiwallah offload his burden? What happens to our oiled newspapers, old books, and crumpled mineral water bottles? Where does the reincarnation of waste take place?
The raddiwallhas collect - or rather buy - everything ranging from old newspaper, iron, glass, miscellaneous paper, and rubber. While we get rid of our waste (and get paid for doing so) the waste starts off its rather tortuous journey towards recycling. The waste is transported to wholesale-shopkeepers dealing in these old goods. These dealers in turn sell the old stuff further to large-scale wholesale shops, many of which are located at Ajmeri Gate and Patel Nagar area in Delhi. These shops do not accept anything under 50 kg of each type of waste. From here, the waste is further sent to the respective factories where it is processed and recycled.
Why does the waste pass through so many halts before reaching the destination where it is processed? Jagdish, who runs a raddi-collection shop at Chuna Mandi, has an answer: "We cannot afford to buy waste in bulk. We need to have cash to buy waste in bulk from the raddiwallas. Thus, we buy that quantity over many days. However, the wholesale shopkeepers at Ajmeri Gate are better off and can afford to buy enough all at once to send to the factories without waiting for days. Many small-scale dealers are located at Seelampur, Nangloi, Jwalapuri, Paharganj and Greter Kailash. Raddiwallahs often flock in areas where the dealers are concentrated".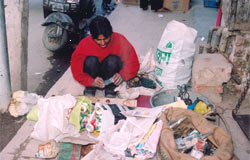 A raddiwallah displays his collection.
"This industry thrives on sale of old newspapers," offers Jagdish. "While we send paper and cardboard to the dealers near Ajmeri Gate, the plastic wholesale-dealers located near Nangloi come themselves to pick up plastic waste. On reaching the processing factories, the newspaper is soaked in water and the pulp is processed and then converted into sheets. This paper (both glazed and rough) is bought by newspaper or media houses. Big jute bags are processed and recycled to form cardboard, while plastic is re-converted into fresh plastic. Glass bottles which are intact are cleaned, re-labelled and reused. Broken glass is melted and the fresh glass is used to blow bulbs, decorative pieces etc. Iron in turn is converted into iron roof sheets, doors etc. Currently, the Delhi Metro Rail Corporation (DMRC) is a significant client for iron. DMRC is buying iron from big factories to make pillars and partitions." Factories processing old glass and iron are located in Gurgaon and Shahadara. Many factories near Nangloi in Delhi melt plastic to convert it into various plastic utilities, shoe soles and other small household goods.
Do these small wholesale dealers also buy waste paper and plastic from rag-pickers as well? "Never," asserts Jagdish, "the stuff they carry is dirty. Sorting out dirty stuff would need more space and time. They gather a lot of plastic bags, which cannot be re-sold."
As we talk, a raddiwala cycles in, and empties his bag full of old plastic jars, bodies of pens, discarded boxes and lids. Vishal does his regular rounds in Gole Market area and has been profiting from the waste created by the displacement caused due to the Metro. "Many slum clusters have been displaced by the construction of the Metro. The slum dwellers do not carry everything to their relocation sites and sell off the iron and plastic sheets and other parts which they use to support their huts and prevent their roofs from flying off. They get some cash and people like me get a good deal," offers Vishal, who has been working in this field for the last four years and makes a profit of Rs. 300 – 400 on an average day.
According to Mohan, a raddiwala at Panchkuian Road, there are no patrons in his profession. "We are not attached to any particular dealer and are free to sell the old items to the dealer who gives us the best price. Our profit is rather unpredictable. On an average we make anything between Rs.100 – 300. On some days, our collections exceed our physical capacity to carry the load," says Mohan.
Clearly, there is money in this process for a number of people, including some for those generating the waste. What deal does a household supplying the waste get? "Our customers get Re. 1 for every glass bottle that they sell us," says Mohan, "We buy newspaper at Rs. 4.50 per kg and books at 2 per kg. This is because books cannot be sold to fruit sellers etc. who prefer to buy newspapers to pack fruit. Books have to be directly sent to the factories for processing. We buy iron at Rs. 6 per kg. We make a profit of about 50p – Re.1 per kg of waste."
As far as everyday kitchen and other waste is concerned, it is typically collected daily by community sweepers. "We sort out the things which we can sell," says Dinesh, who collects waste in Haus Khas in Delhi, "while we dump the other stuff in the areas demarcated for this purpose in every locality by the Municipal Corporation of Delhi (MCD). From there, the MCD vans transport it to Delhi's border where it is turned into compost."
The procedural simplicity of waste disposal in India becomes evident when one looks at the complexity - and one must add, a high degree of organization – of the same in a country like Germany. Germany has initiated arguably the world's most ambitious national solid waste policy. The Ordinance on the Avoidance of Packaging Waste (Verpackungsverordnung), passed in 1991, makes industry responsible for its packages to the end of their life cycles, including the costs of collecting, sorting, and recycling packages after consumers discard them. The ordinance thus shifts the cost of managing packaging waste from the public sector to private industry.
While the Germans clean and sort the waste (down to cleaning and sorting the lids and rings!) before disposing them and pay for doing so, we in India dispose off whatever we like whenever and often get paid for the same.

However, many companies found that it was challenging to meet the recycling quotas on their own. As a result, the "Dual System" (Duales System Deutschland, DSD) was created. It is a non-profit organization in which industries pay a fee to become a member. Members of the DSD will then put the 'green dot' trademark on their packaging. They are now guaranteed from a recycling company that their packaging will be recycled if collected. While this regulation effectively "internalizes" waste management costs by building them into consumer prices, it does not turn consumer product companies into garbage collectors.
Collection bins for various products have made sorting waste a routine part of life in modern Germany - plastic is supposed to be disposed of in yellow containers, paper weaves its way into the blue ones and metal in the green one. Brown containers, on the other hand, are for organic wastes. And often, one finds different containers for differently coloured glass (while, green and brown). Also, one can crash the bottles into the containers only at specific times which ensure that residents of the area are not disturbed because of the crashing sound. Chemical based goods in everyday use like paint, ammonia based cleaners, disinfectants, aerosol cans, batteries, and oil are to be disposed of separately in special containers.
Everything with a green dot can be packed into a yellow plastic bag to be placed outside the house on scheduled days. However, the yellow bag may contain only three different kinds of wastes: metal (including tin and aluminum cans, bottle tops, and tin foil), containers (juice and milk cartons and freezer packaging), and plastic (bottles, cups, and Styrofoam). A large notice on the bag asks you to clean the packaging before dropping it off, and reminds you not to throw glass or paper into the bag.
In an effort to simplify waste disposal, a 'waste planner' documents the complexities of the process. This booklet listing pick-up schedules of various wastes in different localities is sent to the households once a year. The booklet even lists out dates for picking up bulky waste like old furniture, mattresses, TV and radio sets which the residents then put out on the sidewalk on the prescribed evening to be picked up next morning. The cost the residents have to bear for all pick-up services is often integrated in the house-rent.
While the Germans clean and sort the waste (down to cleaning and sorting the lids and rings!) before disposing them and pay for doing so, we in India dispose off whatever we like whenever and often get paid for the same. Unlike in India, proper household waste disposal in Germany is not a matter of choice but one of civic duty, non-fulfillment of which is punishable by law.
The organization of solid waste disposal in Germany is still many years away for most of India, but in the meanwhile only greater awareness regarding sorting of recyclable household waste can lead to more eco-friendly municipal solid waste disposal in India. Separation of waste before disposal is rare in India, although some urban communities are beginning to take steps in this direction. This too, however, cannot be the final solution; recycling merely alleviates the environmental and financial costs of consumptive behaviour, and doesn't really eliminate the problem. A German campaign – Aktion Unverpackt's slogan – Besser nackt als verpackt – "better naked than packaged"—reflects its premise that the solution to excessive packaging is not producing it in the first place.
Widespread poverty in India has made many people willing to work to extract value from our wastes in ways that aren't the norm in developed countries. There is much we can learn from the mistakes of the 'throwaway' societies of the west, lest we are swept by a culture of disposal that lays waste to the environment and public health.