A new wave of enthusiasm mingled with a sense of achievement is breezing through Medak district of Andhra Pradesh. Tucked away in Pastapur is Sangham Radio, a unique community radio experiment run by two Dalit women. These days, when the villagers tune in to this radio station, they hear their voices, concerns, songs, and solutions to everyday problems. As the airwaves waft their voices through neighbouring villages, liberated is how they feel. This new-found thrill, however, is rooted in nothing less than a decade of passion, pursuit, and perseverance.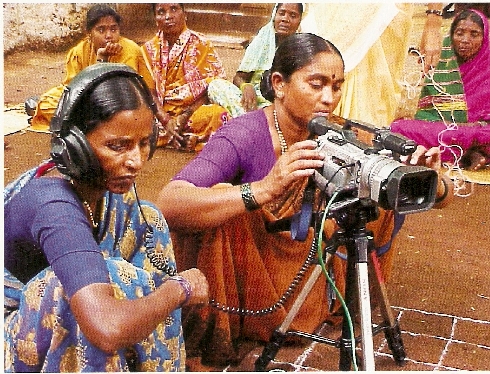 Having launched their radio station in 2008, film-making is next for these women of Medak district, AP. Pic: Ramesh Menon.
Medak district is not a picture of abundance. Most of its people are marginalized Dalits scratching along on low incomes. Many of them do not own land and hence work as daily-wagers. Even those who own land grapple with semi-arid conditions and whimsical nature. In a district where female literacy hasn't even crossed 10 percent, these passionate Dalit women -- active members of self-help groups called Sanghams -- have come together to run a radio station of their own. Today, it is seen as a success story that narrates how a community radio can educate villagers on biodiversity, crop patterns, nutrition, health, culture, sovereignty, etc. The fact that it is the first all-women community radio in Asia being aired from a nondescript village in itself speak volumes for the splendid enterprise that has gone into making this initiative a success.
Waited for licence since 1998
Sangham Radio is a brainchild of Deccan Development Society (DDS), an NGO based in Pastapur working with 5,000-plus Dalit women in around 75 villages. It was conceived with the objective of helping the village communities vocalise their concerns, to give the marginalized a voice, and drive home a message that they too have a right to be heard. Moreover, there was a wealth of traditional knowledge about farming, biodiversity, and health that needed to be disseminated.
By 1996, DDS was ready with its community radio centre with all necessary equipment and personnel to run an independent radio station. In 1998, when they applied for a license, they got a one-line reply from the Ministry of Information and Broadcasting saying that it had no policy for community radios.
Spirited as they were, the women refused to give in. In fact, even before applying for a license, training of some women in handling audio and radio recording equipment was underway. They went on recording programmes even as they waited for that elusive license. And this went on for more than 10 years. This ordeal prompted them to play the recorded audio programmes at public meetings and gatherings. This narrowcasting had its desired effect on the local people who readily became eager consumers of information on issues such as biodiversity, seed sovereignty, organic farming, and traditional culture.
Finally, their hopes went up in November 2006 with the Central Government announcing a new policy on community radios.
Funding process
Initially, UNESCO, Malaysia, funnelled out Rs 28 lakh to establish the radio station. These funds were utilised for buying the land for and construction of the station. The transmitter also came in as a donation from UNESCO. DDS pays for the maintenance and production of programmes which costs around Rs 2.5 lakh a year. Around 2,000 Sangham women members contribute Rs 1 lakh a year to keep the station alive. In all, it cost about Rs 30 lakh to set up the radio station.
700 hours of audio backup
By 2007, Sangham Radio had 700 hours of audio production in its kitty. On October 15, 2008, Sangham Radio was launched at Machnoor village in Medak district catering to numerous villages around Pastapur. Its 50-Watt transmitter covers a radius of nearly 25 kms dotted with 100 villages and housing 50,000 people. As of now, the station transmits programmes from 7 pm to 9 pm. Plans are afoot to start an early morning transmission for an hour and also add new programmes on diverse issues to their schedule.
General Narsamma, one of the radio producers, says: "We waited for so many years to transmit as we didn't have a license. People in Delhi get licenses fast. What about small villages like ours? Don't we have a right to voice our concerns?"
The station is managed by General Narsamma and Algole Narsamma who take on various roles: reporters, programme producers, radio jockeys, and station managers. About 16 Sangham supervisors, each covering four villages on an average, also double up as community radio reporters.
"Radio has a great role to play. We tell villagers how to make organic pesticides, natural pesticide management, good agriculture practices, health and hygiene, advantage of micro-credit methods, setting up of medicinal plantations, and the need to repay loans in time to have a sense of integrity and pride," says Algole Narsamma.
More than just a radio station
Most of DDS's efforts focus on ensuring women's control over their own lives and issues. Sangham Radio is only furthering this agenda. "Sangham, meaning 'a collective', reflects the true spirit of community radio," says P V Satheesh, Director, DDS.
Satheesh, who has been watching the ever-evolving community radio, feels it's high time we truly democratised ourselves. "Think of this country as a collective of 5,00,000 villages. We have a huge task on hand."
According to him, there is a crying need for an alternate media for marginalised rural women to voice their ideas, concerns, and solutions. "It can then be accessed and controlled by local communities which are otherwise excluded from mainstream media debates."
"We waited for so many years to transmit as we didn't have a license. People in Delhi get licenses fast. What about small villages like ours?"

Professor Vinod Pavarala, Dean, Sarojini Naidu School of Arts and Communication, University of Hyderabad, terms the success of Sangham Radio a first-of-its-kind model in India. "Every woman member of the various Sanghams contributed Rs 5 each to make the dream of running their own radio station come true. They can now articulate their joys, fears, history, culture and also the fundamental agricultural issues."
A discerning audience
Back in October 2001, these Dalit women had got DDS set up a Community Media Trust to ensure that their concerns are broadcast in an otherwise indifferent media scenario. Though semi-literate, these women seem to be a discerning audience who refuse to be swayed by the mainstream media. Sammamma, a villager from Bidakanne, had said at a meeting in October 1996, "The mainstream radio disseminated some dominant views which were anti-poor and went against the village folk. We must therefore have control over the media."
Next, film-making
DDS has also been instrumental in training the Dalit women in film-making. They have already produced a number of short-films on diversity of crops, food and seed autonomy, making bio-fertilizers in the backyard, dangers of Bt Cotton, and so on. The women ideate, script, anchor, shoot, and edit their films while Satheesh stands by and guides them in finer aspects of film-making. These films are screened at Sangham meetings, seminars, and film festivals focusing on development issues.
Indeed, empowerment in rural India can arrive in multi-hued garbs.