The badly implemented roof harvesting scheme in Karnataka schools is probably a best example to show how not to do it. Instead of being a model of rain water harvesting for the local community, the so called Suvarna Jala scheme has given an impression that the concept of is not worthy.
Quite in contrast, those done in Chickmagalur district spell quality. Students are happily using the rainwater. When not is use, important parts of these systems can be kept locked. Moreover, these are insured against theft.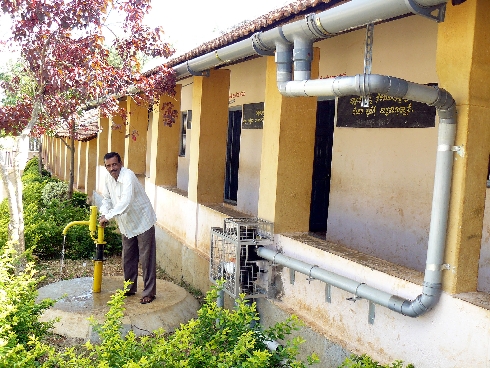 The sturdy RWH system that works satisfactorily, at Kuvempu Centenary Government Model Higher Primary School, Chikmagalur. Pic: Shree Padre.
Under Suvarna Jala scheme started in 2007, Karnataka Government released Rs.73.66 crores for providing rooftop rainwater harvesting structures to rural government schools. Out of 45,337 schools in the state, 23,683 have been reportedly identified under this scheme. So far 20,760 schools have been provided roof top rainwater harvesting at an estimated cost of Rs.5 crores.
Last year, Arghyam, a Bangalore based NGO that is becoming well-known in the water conservation scenario, has conducted a efficiency survey of this scheme in seven districts. In Chamarajanagara, Davanagere, Chitradurga, Dharwar, Gadag and Tumkur districts, out of 1269 structures completed, only 140, a dismal 11 per cent was functional.
It gets worse. The First Flush separator was present and working in only 49 per cent of the installations, filters were present and filled with filter media in 43 per cent, 26 per cent of the tanks were leaking, 52 per cent of the tanks either didn't have taps at all or the provided taps were not working, and only in 45 per cent cases the gutters were functional and tightly held.
In the backdrop of this disappointing picture, the roof water harvesting systems done in 268 schools in Chickmagalur district stand out.

Based on their survey, Arghyam had made several recommendations to the state government to execute the rest of the scheme in a result-oriented way. Unfortunately, not much by way of positive developments have come about later.
In the backdrop of this disappointing picture, the roof water harvesting systems done in 268 schools in Chickmagalur district stand out. "We were keen on quality. In Suvarna Jala all the work was entrusted to the government owned Nirmithi Kendra. We gave this work to a private firm. There was lot of resistance in the beginning", recalls Sundara Naik, CEO, Chickmagalur ZP, "but later the protests melted down." The average cost of the system is Rs.32,000 to Rs.62,000 depending on the tank size.

What went wrong: RWH system done elsewhere by Nirmithi Kendra – Poor quality pipes, faulty designs, improper filter. Pic: Shree Padre.
Starting from the gutter pipes upto the hand pump, all the materials used in Chickmaglur schools are of high quality. Instead of nails, coach and anchor bolts are used to fix the clamps to hold the gutters. The gutters and fittings are very sturdy. The 'L' and 'U' clamps are made locally and are galvanised.
Explains Vijay Raj, one of the partners of the Bangalore-based Farmland Rainwater Harvesting Systems who executed the works: "We have given clamps for every two feet length of gutters so that even if students handle it roughly, it won't be dismantled. In schools where iron anglers were there, we have sent the welding machine with generator to weld the clamps to the anglers to ensure that there can't be any tampering."
Both the filter and hand pump, named 'Rainy' (efforts to patent the system are on), are made by this firm. The filter design is such that that separates any leaves or floating material upto 200 microns before entry itself. The hand pump is rustless.
One of the main drawbacks of government projects is lack of efforts to make the stakeholders to own it up. Apart from providing an informative pictorial user's manual, Farmland RWH Systems made efforts to involve students and parents to see the construction stage first hand and understand the intricacies.
Another problem in schools is mishandling, damage and theft by miscreants during vacation period and non-working time. To prevent this, both the filter and pump has locking facility. Above all, it is insured with the National Insurance Company. Schools have to pay a premium of Rs.100 every year for this.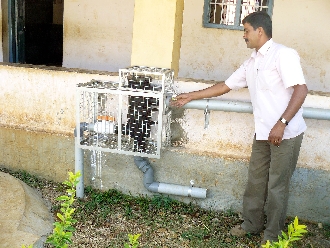 Well-designed filter in a box that can be kept locked. Pic: Shree Padre.
The real delight is in the water itself. "The rainwater is sweeter than our tap water. The difference is noticeable. Though we don't have water shortage, during power failures, etc., we use rainwater for drinking and cooking the midday meals. In fact, students prefer this water", says H K Omkarappa, Headmaster, Kuvempu Centenary government model Higher Primary School, Chikmagalur. They have been using the system since the last one year.
After the completion of a year, recently, the agency's representatives have visited all the schools and obtained a certificate about its utility and good condition. "Though this condition is not there in our agreement", points out Vijayraj, "we don't want any school to suffer if there is any problem in the system."
Representatives of Shimoga Zilla Panchayath had recently visited Chikmagalur to study the systems. Impressed, they placed an order with Farmland RWH for 200 schools. Forty-four out of these have already completed.