A movement is on the rise. Seed collection and exchange programmes have been launched by various Non Governmental Organisations with the active participation of people. This movement has proved useful in retaining the variety and richness of our traditional food habits. A few small seeds can feed a family, a fistful of seeds the whole community. The Malenadu home garden and seed exchange network in Uttara Kannada district of Karnataka has made an impressive beginning in this direction.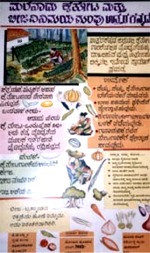 Nature blesses every region has its own variety of grains and vegetables. These varieties, which have sustained for long under changing environmental conditions, are fast disappearing. The recent fusion of technology with agriculture resulting in hybrid seeds has pushed the local varieties to the background. This threat to the food diversity has been taken seriously by few organisations, forcing them to create awareness about the seed diversity in our country. Many organisations like the Bharatiya Agro Industries Foundation (BAIF) and Green Foundation are successfully conducting seed fairs and jathas (rally) to educate the people on the concept. In Uttara Kannada district of Karnataka, a similar experiment, network of home gardeners began its activities in May 2001.
Home Garden - concept with a difference
The experiment is called "Malenadu Kaithota matthu Beeja Vinimaya Gumpu, Uttara Kannada" in Kannada meaning, "Malenadu home garden and seed exchange network". The term 'Malenadu' refers to the hilly regions of the Western Ghats. Though titled 'Malenadu', the network includes the entire Uttara Kannada district - the narrow coastal belt, and the eastern fringes of the Ghats in its scope. It is a modest effort at documenting and increasing the diversity of species grown in home gardens of the district. The home garden could be a tiny patch of land outside one's house, or a one-acre field, or even a mixed forest garden.
The motivation behind this effort is the desire to make available the wide variety of semi-wild and cultivated plant species of the region. The area has seen the rise and sharp fall in the prices of areca, the predominant cash crop, and it is in this context that addressing food security issues is crucial. Home gardens provide access to food (and thus food security), nutrition, and provide an additional source of income. Even the very poor are a part of this small-scale production system. Importantly, home gardens are immense repositories of genetic resources and wealth. The women who tend them, possess invaluable sources of information on seeds, cuisine, nutrition, folklore, and much more. Any biodiversity conservation plan aimed at arresting genetic erosion must endorse the role of women and their home gardens.
Participatory programme
The network was launched with a seed display at the National Biodiversity Strategy and Action Plan (NBSAP) Biodiversity Mela in Sirsi town. Subsequently, documentation of home garden species began with the participation of women from a few villages in the district - Neernalli, Mathighatta, Yellapur, and school children from Nilkunda. By November 2001, about 80 vegetable and 60 flower varieties had been recorded. The vegetables are varieties of amaranth, spinach, cucumber, squashes, brinjal, lady's finger, starchy tubers, beans, and chillies. Trees, which are an intrinsic part of the home garden, are also recorded. They are maintaining a small seed collection for the exchange network. Several agencies and individuals have donated seeds and other material to the network. About 600 seed packets have already been distributed. Good quality, healthy, organic, open-pollinated seeds have been the essence of this effort.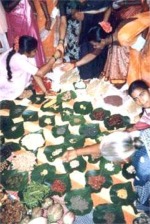 About 60 like-minded women from 5 villages around Yellapur (from Maratha, Siddi and Havyak communities) took part in a one year experiment (2001-2002), where they developed their home gardens, meeting regularly to discuss various related issues, exchanging seeds, and learning that they can be self-reliant with respect to seeds and home-level food production if they have time access to good, organic, non-hybrid seeds. They organized a seed festival in April 2002. The seed network had a stall at the biodiversity festival in Kumta in May 2002.
Work with self-help groups of home gardeners (mostly marginalised Hallaki Vokkal women) has been initiated on the coast from June 2002. Socially, the home garden network has included women from various communities, religions, and economic classes coming together for a common cause. BAIF has expressed interest in joining the network, and will solicit the participation of the 600 families it works with around Dasankoppa in Uttara Kannada. Namma Bhoomi another Non Governmental Organisation will also begin similar efforts with its 18 sanghas near Sirsi and with its main unit in Kundapur (Dakshina Kannada).
Future plans
The underlying themes of the home garden programme are: diversity, health, nutrition, and awareness of the dangers of hybrid seeds, toxic pesticides, and synthetic fertilizers. The use and conservation of water has also emerged as part of the home garden work, and it is proposed to take up the issue of watersheds, and rain water harvesting.
When preliminary information has been compiled, the network will contact NGOs and the extension officers of the Departments of Agriculture and Horticulture, and information will be shared. If things shape up well, it is proposed to set up a small (half acre) model home garden in the coming years. The garden will be located in Karkolli village, 15 km from Sirsi town. This could be a seed wealth center for both common and rare seeds, for testing the viability of seeds from outside the region, which are wanted by people here, and as a place for meetings, skill share workshops etc. Apart from cultivated species, the network will also need to identify locally endangered semi-wild vegetables (such as the popular maad hagalkai - a variety of bitter gourd) and ways of cultivating them. Another task is to make people realise the importance of forest conservation for sustained food supply.
Initial interest has been encouraging, but many skills have to be honed, and even a small-scale programme should sustain the philosophy behind the effort.
The Seed Network needs inputs

Skill to set up and run a model home garden and seed wealth centre
Organic and open pollinated seeds
Volunteers for initial collection and documentation work
Future support to run the garden and network
Good networking with other groups for seed and information exchange
Please join this effort - start a home garden network in your area; donate organic,
non-hybrid seeds; volunteer your time and help; become a nodal person/group for seed
collection and exchange. Contact us soon - we need your support.

This Uttara Kannada home garden and seed exchange effort is a testament to the idea that participatory approaches to food security are best begun with saving seed diversity, and vesting control over local varieties with the communities.