If his life had held to a typical course, Enoc Debbarma would by now have been engaged in traditional hook-hog (clearing jungles for preparing jhum fields) after participating in ug-ul-khil-lyo (community work for this task) and worshiping Milooma, the deity of crops, for a good harvest. He would have been shifting his attention from one hill to another, to follow the slash and burn cultivation cycles, leading a semi-nomadic life along with his fellow tribesmen. But eight years ago, a few officials of the Tripura Education Department met his parents and convinced them to send Enoc to Khumpui Academy, a residential school at Khumulwng for the children of jhumia, the local term for jhum cultivators.
The academy has opened a whole new universe of possibilities for Enoc. Each time he sits before his computer, he can foresee a much better life ahead. Under its free education programme, the Tripura Sarba Siksha Abhijan (TSSA), in collaboration with the National Institute of Technology, has provided seven personal computers to the academy, so that students can learn the basics of using a computer.
A widely appreciated program
On the day of my visit, 5 September, most of the teachers of the institute have left to attend the Teachers' Day celebrations in the nearby community hall, where nearly 20 award winning teachers from the locality are being felicitated. With the teachers absent, I find there is plenty of time for me to chat with the students.
These jhumias are by tradition forest dwellers, and their slash-and-burn cultivation involves clearing forested lands and preparing these for fields. Various magico-religious ceremonies, based on traditional faith and belief of each tribe, are performed during both prior to harvest and post-harvest. The practice of jhum is wide-spread; of the 19 tribes in the state, Reangs, Tripuris, Jamatiyas, Noatias, Uchai, Kukis, Halams and Garos practice traditional jhum cultivation. A benchmark survey conducted in 1987 by the Directorate of Tribal Welfare, Tripura estimated that 55,000 tribal families are dependent on shifting cultivation; about 60 per cent are fully dependent on jhum, while the rest are partially so.
The Tripura government has come up with a number of innovative ideas to reduce the practice of jhum, and promote alternate livelihoods€" the most successful among these is the plantation of rubber as an alternative source of income for tribals. But while such schemes have shown encouraging results, the number of jhumia families at present is still estimated at around 45000.
Enoc's classmate Basana Reang, who belongs to the Reang tribe of Tripura and is a daughter of a poor jhum cultivator, also considers herself lucky to have got the opportunity to study in this residential school. "I am so lucky that I got admission in this institution. Otherwise it would not have been possible for my parents, having five children and an uncertain income, to send me to school. I am so thankful to the government officials who visited our houses to tell them that I should be sent here for study," she says. At least ten other children of the institute also said that government officials had visited their villages to motivate their parents to send them to school. Despite hailing from different tribes, and very different families, they all had a similar tale to tell.
Jyotibasu Chakma, studying in Class VIII in Khetrichara area in Dhalai district, for instance, says: "We were very poor. My father was a jhum cultivator but had no land. Living on jhum was practically impossible for us. Paucity of land made us prolong jhum cycles up to ten years. The death of my father pushed us to penury. Then some officials told my mother about this institution, and I was sent here for study."
Established in 1996, Khumpui Academy is the first of a series of model residential schools aimed at providing education to children of jhum cultivators in particular, and the tribal population in general. The state government bears all the responsibilities of providing education - right from motivating parents to send their children to school, to providing text books and other educational materials, school uniforms, food and lodging inside the school campus. The concept, designed by the state's Education Department, has evoked a good response. About 80 per cent of 379 boarders of the academy hail from traditional jhum cultivating families in different tribes, says Jaita Dutta, who teaches in the school, which teaches students from Class I to X. The school has 26 teachers. Apart from the boarders it has some day scholars from nearby areas.
The performance of the academy's students in final examinations is quite satisfactory, say school authorities. The first batch, comprising of nine students, appeared for Madhyamik, the school leaving certificate examinations in 2006; eight were successful. In 2007 too, only one out of 14 students could not succeed. For the 2008 examinations, 26 students are likely to appear.
Rajcharan Debbarma, Executive Member in charge of education in the Tripura Tribal Autonomous Development Council (TTADC), says that reaching out to children of jhum cultivators is quite difficult, as these families move from one place to another following jhum cycles. The motivation of parents to send their children to school is also low; many parents, living a half-nomadic life, are not attuned to the advantages of education.
"It becomes very difficult for us to motivate some tribal people in remote areas to send their children to schools instead of sending them to jhum fields. Equally it is difficult to motivate them to adopt alternative livelihoods. Jhum is after all the ancestral agricultural mainstay for tribals, in which magico-religious and cultural components of these societies are deeply rooted," he added.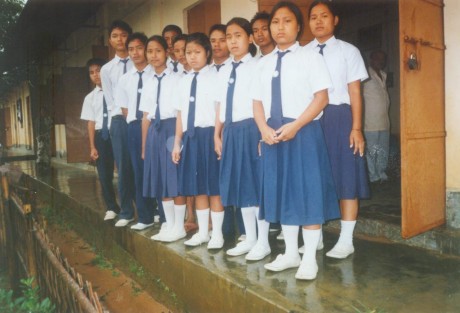 Girl students of Khumpui Academy
model residential school for tribal students.
More schemes and facilities
Apart from Khumpui Academy, there are also Ashram Schools which are a chain of such residential schools that provide education from class II to class V. In Tripura there are three such institutions at Kanchanpur, Ambassa and Karbook built with a total cost of Rs.6 crores for each, 50 per cent of which is borne by the Central government. These schools each have an intake capacity of 700 students belonging to poor tribal families. For higher classes, there are Ekalavya Model Residential Schools, a chain of institutions to provide residential education to tribal students from class VI to Class XII, with 100 per cent grant from Central government. The allocation against each school is Rs. 2.5 crores. Five such residential schools have come up at Khumulwng, Khowai, Belonia, Kumarghat and Sabroom. Each school has intake capacity of 420 students that include 210 boys and 210 girls.
Besides, a number of residential schools for Scheduled Caste and Scheduled Tribe girl students have been set up under Kasturba Gandhi Balika Vidyalaya scheme of Sarva Siksha Abiyaan. Seven such institutions have been established in educationally backward blocks of the state. Additionally SSA has established another four residential schools targeting these girls.
Compulsory and uniform midday meal programme was also instrumental in attracting tribal students from marginalised families. Tripura was the first state in the country to introduce mid-day meal programme way back in 1978. During that period dry ration were provided to each student. Nowadays, compulsory cooked food is provided to all children studying in class II to class V. Apart from rice, dal, vegetables and oil, the government also provides eggs two days in a week to all children. In TTADC areas total expenditure under the scheme has increased to Rs. 4 crores in 2006-07 from Rs.42 lakhs in 2005-06.
Education officials decided that providing residential schools targeting tribal students is necessary, as they were found to be lagging behind other communities despite continuous efforts by the government. The enormous response to residential schools for jhumia children has convinced the Tripura government to open more such schools in the state.With drop-out rates among tribal children higher than the state average, the education department has come up with special scholarship, stipends, coaching and sponsorship programme for tribal students to keep them in school. It has provided Rs.20 crores for pre-matric scholarships to 5,44,466 students, and Rs. 9.31 crores for post-matric scholarships to 46,645 students between 1998-99 and 2005-06. The Educational Department has also given financial grant in lieu of textbooks to the students of Class IX and higher.
At the higher education level, the department provides Rs.3750 to engineering students for purchase of books, Rs 2400 for polytechnic students, and Rs 5000 for students of law. The Scheduled Tribe Development Corporation Limited has provided Rs.9.57 lakhs as education loan to 513 students between 1998-99 and 2005-06. The government also has scheme of sponsoring tribal students in schools of excellence, outside the state. Altogether 69 students have received sponsorships to pursue higher education.
To make learning process more accessible, the education department has specially designed a seven month long tutorial guidance in every academic year, for tribal students, studying in classes between VI and X. The tutors are inducted from among unemployed youth.