In April last year, 30-year-old Bishnu Priya Giri killed herself and her three-and-a-half-year-old daughter. She was suffering from depression. In June, 19-year-old Suchithra hung herself from the ceiling fan of her husband's house in Vallikunnam, Kerala - after being repeatedly tortured by her in-laws for dowry. In Kochi, 21-year-old Mofiya Parveen took her life due to domestic violence. A suicide note recovered from her room said she had decided to end her life due to mental torture her husband put her through.
These are just three of the thousands of Indian housewives who ended their lives last year, on account of mental harassment, violence, and torture. Their deaths are indicative of a silent public health crisis brewing in India that has hardly received any attention - of the unusually high number of Indian housewives who kill themselves.
In 2020, 22,372 housewives died by suicide in - an average of 61 suicides every day, or one every 25 minutes. 2020 wasn't an anomaly. Over the last twenty years, data shows that consistently, a fifth of the population committing suicide in India have been housewives - second only to farmers who kill themselves on account of poverty. Among women, housewives account for 50 per cent of suicide deaths in the country. What's more, research shows that the probability of death of an Indian woman by suicide rises by more than 200 hundred-fold if she is a housewife. Suicides are also more prevalent amongst Indian women than men.
The causes
What is driving thousands of Indian homemakers to take their own lives? Experts say a combination of biological, psychological, and social factors make Indian housewives particularly vulnerable to suicide. While biological changes such as hormonal changes during menstruation, pregnancy, and the presence of psychiatric disorders are known to be known contributors for suicide in women, these factors can exacerbate suicide risk amongst housewives who have limited financial freedoms and social agency, and who hardly receive any recognition for their work.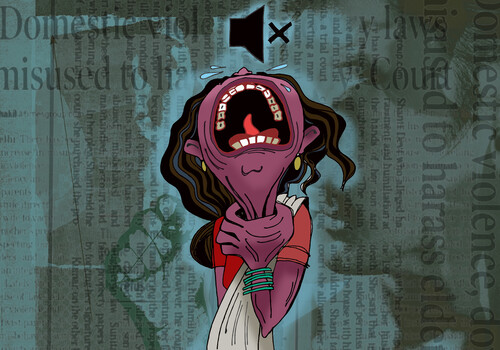 "We also know that women are more prone to depression than men. This is due to both the physiological changes happening in a woman's body, as well due to the multiple roles played by Indian women that contribute to increased stress. The influence of hormones during a woman's reproductive years may also contribute to postpartum depression," says Dr. Pooja Varma, a psychologist based in New Delhi. Depression is known to be the most important precursor of suicide, according to the World Health Organization.
And unlike the west, marriage in itself is likely to be less protective against suicide for women in India because of rigid gender roles and discrimination, arranged and early marriages, young motherhood, and economic dependence. "Women who have just entered into marriage often find it difficult to adjust to a new environment. Interpersonal issues really affects their mental health. A majority of urban housewives who seek therapy are facing conflicts at home on account of this," Varma told India Together. NCRB data too cites differences amongst couples as one of the major reasons for women dying by suicide.
In rural India, married women face an increased risk of mental health issues due to a disproportionate burden of household labor and lack of companionship, among other reasons. "It doesn't matter whether women are educated or not; if they belong to the rural or urban background. An increasing number of women in India are finding themselves squeezed into a marriage. Changing gender roles which can sometimes get toxic, harassment and violence from spouses, and in-laws, illicit relationships are all putting a strain. In absence of any support or guidance, mostly women suffer silently, but at times, the abuse gets too much to bear," says N N Raju, President, Indian Psychiatric Society.
Domestic violence, in fact, is one of the most significant precipitants of suicide amongst women, with one-third of Indian women who take their lives having a history of suffering domestic violence. "If a woman's support group does not defend her when she is the victim of violence, her suicide may be revenge suicide, intended to force others to take vengeance on the abusive husband. Abused, shamed, and powerless wives take their own lives to shift the burden of humiliation from themselves to their tormentors."
A distinctive form of abuse witnessed in Indian society involves disputes over dowry. According to the NCRB report, Accidental Deaths and Suicides in India, dowry is the biggest reason for marriage-related deaths amongst women in India with an average of 5 women dying every day by suicide due to it in the last five years.
Regional skew
There is also a 'strong geographic suicide gradient', with the more developed southern states (as well as states like Maharashtra and West Bengal) being more suicide-prone, compared to less developed northern states like Bihar, Jharkhand and Uttar Pradesh. While in the northern states, the relative risk for suicide is higher for the unmarried than the married, when women do achieve higher levels of education, their risk levels are also higher. Interestingly, large families are inversely related to the risk of suicides amongst women in these states.
In the southern states, where overall levels of human development are high, and family sizes smaller, the suicide rate for married women is higher than for the unmarried. These patterns make sense when viewed through the broader patterns of development in the country, and the changing expectations around social roles in India, especially pertaining to marriage.
India's current generation is widely better educated than their parents. With education comes changing values and ways of living. In Northern India, experts say these processes are still relatively weak, and traditional expectations about womens' social roles are still strong. In Southern India, where the achievement of female literacy is far more advanced, and women have, far more exposure to mass media, and are more aware of their rights, the conflicts are more pronounced.
"It is in southern India where female literacy is at its greatest, female empowerment relatively highest and women's media consumption most intense, that the tensions between the confining expectations of older social conventions and the new romantic values of India's emerging younger generation are most acute. These deeply personal tragedies throw flashes of illumination on the changing nature of personal relations and the structure of the family in India," says Peter Mayer, Associate Professor in Politics, University of Adelaide.
Way forward
Despite having one of the highest suicide burdens in the world, India has yet to develop a systematic response to suicides. The absence of a national suicide prevention strategy, inappropriate media reporting on the issue, legal conflicts in the interpretation of suicide being punishable, and inadequate multi-sectoral engagement continue to remain major barriers to effective suicide prevention in the country.

The official data on suicides is also massively under-reported, on account of the lack of community-level reporting of suicides and social stigma. There also exists very less women-specific research on suicide. The first step in addressing the crisis therefore would be to improve the quality of data and to record suicide deaths more accurately. Prevention of female suicidal behavior would also require a paradigm shift to address both ecological factors in addition to individual ones. Education, economic security, and empowerment of women should be an integral part of the suicide prevention strategy. So, should be devising policies to tackle intimate partner violence in relationships.
Since personal and social reasons are the leading reasons for suicide in married women, it is necessary to ensure strict enforcement of the prohibition of forced marriages, dowry, and child marriage. Ultimately, we need to recognise that suicides don't happen in a vacuum. The high suicide rate in India is a substantial public health challenge that requires immediate action. Only a scaffolding approach across domains as well as community involvement and awareness can reduce stigma around the issue and help address it in its complexity.