Meet Bobby Chakraborty. Tall, dashing and handsome, this young man in his mid-30s has switched channels from the merchant navy to acting on television and in films. He reads a lot, is well-informed, talks well and oozes charm. But that is just half the story. His major concern in life today is smoking and drinking among school children in his home town Kolkata and other areas of the State and he is leading a lone crusade against that.
Chakraborty has no political affiliation and does not charge a single paisa for his presentations in schools, bridging the language divide, the rural-urban divide, the elite-grassroots divide and the gender-divide successfully.
Starting 3 June, 2012 with a group of 250 students sponsored by an NGO in Sonarpur near Kolkata, Chakraborty has till date covered 44 schools in Kolkata and neighbouring villages. Of the schools visited 28 were boys' schools, two girls' schools and 14 co-ed schools. While schoolchildren remain his primary area of focus, he has also taken his campaign to corporate organisations in the city (such as Tata Consultancy Services), health centres and public meetings in rural areas.
"I have visited some of the most elite city schools of international standards as well as rural schools with minimum facilities as far as the Sunderbans. I dream of broadening my footprint beyond regional borders to address children beyond my state and my country," dreams Chakraborty.
Aritra Mandal, who studies in Std XII in Kolkata's K E Carmel School says, "Bobby's campaign is very inspiring. He takes time off from his busy schedule to spread one of the best messages among school and college students who are citizens of tomorrow. I am sure that his presentations will cut down future smokers and drinkers in this country by at least 20 per cent. We liked and enjoyed his campaign very much. We have also promised him that we will never touch that poison. The teachers and principal of our school also liked his campaign."
Explaining his modus operandi with crowds of impressionable school students, Chakraborty says that he tries to charge up the students in a way that all of them feel that they can do anything in life and be the king of his/her kingdom. The bottom line of his campaign is "I am the King of My Mind."


• Adolescent alert!
• Despair in Attappadi

"When I was just 16, I witnessed my uncle, my father's youngest brother die of alcohol abuse at the tender age of 30. Moni Kaka was my best friend and I think I have inherited some of my creative genes from him and from my father. He was a gifted poet, short-story writer, film buff and sportsman. It is sad that though my grandparents were alive, they could not stop their youngest son from becoming an alcoholic and helplessly watched as he died of a poison called alcohol" says the actor, recalling the trigger that set him off on this crusade.
In school, Chakraborty had been an active member of the anti-addiction drive. It continued when he joined engineering college and even later when he served in the merchant navy. He moved into the entertainment industry in 2002 and found his drive to begin an anti-smoking and anti-alcohol campaign become stronger.
"I needed a more organized and planned way to go about with my campaign, to schools that form the epicentre where it begins and the idea took shape in mid-2012," says he, adding that his life has been greatly enriched by the changes his presentations have succeeded in bringing about, not only in the lives of many school kids, but in some cases, even their parents!
"Once, after my presentation in a reputed school in the city, a boy of 12 studying in the seventh standard came up to me to narrate a shocking story. He said that he consumes alcohol regularly from his father's bar at home and has become an addict but wants to get out of the habit. He understood the dangers of drinking from my presentation. I approached his father, a noted person. I explained to him the foolishness of showing off his wealth by building a bar in his home that has turned his son into an alcoholic at the age of 12!" says Chakraborty.
Initially, the child's father refused to accept this but Chakraborty went on trying to convince him about his son's future. After a couple of days, he called to inform that he had indeed removed the bar from his home and was trying to get rid of the drinking habit himself. The child too says his father has kept his promise. "I count this as a success story," says Chakraborty.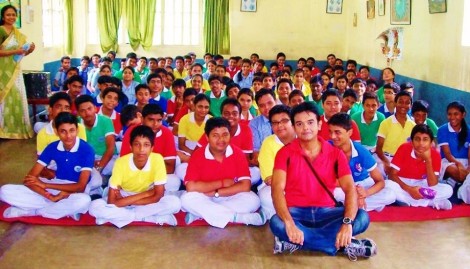 Bobby at Purushottam Bhagchandra Academic School.
A similar incident occurred following a presentation in a rural school in the 24 Parganas. The boy studying in the 11th standard was so moved by the inspiring speech that he came up to Chakraborty and confessed, before the entire audience of teachers and students, that he smoked and drank and the presentation had made him realise the wreck he was reducing himself to. "Four months down the line and his parents keep thanking me for having brought about the change in their wayward son's life," says the actor-crusader smiling, adding that he was even prepared to pay for this boy's higher education if need be.
M Ayatulla Molla studying in Don Bosco School in the 12th Standard, says, "Bobby-da's visit was like a catalyst that made us say no to the poisons of alcohol and cigarettes. Today, we take turns in groups to educate our friends about the harmful effects of alcohol and smoking under our teachers' supervision. Bobby-da has also taught us to reach out to young people with fact-based drug education before they begin to experiment with drugs."
Explaining his modus operandi with crowds of impressionable school students, Chakraborty tries to charge up the students in a way that all of them - those who are addicts and even those who are not - feel that they can do anything in life and be the king of his/her kingdom. He informs, "The bottom line of my campaign is "I am the King of My Mind." I do not lecture them on scientific and mechanical details of anti-addiction. I pose three simple questions to them." In his own words, these questions would be:
Why should we waste our parents' hard-earned money on poison?

I, an average young man with a history of alcoholism in my family, have worked as a marine engineer and now an actor, where addiction is almost a way of life; given that, if I can control myself and abstain, why can't everyone else?

How is it that we are completely blind to the labelling of tobacco products by manufacturers as .poison', and keep on taking that poison that will kill us?
It is not easy to run a campaign such as this single-handedly. Sometimes, convincing a school proves to be an uphill task. Some schools are hesitant because they are perhaps scared of rubbing affluent and famous parents the wrong way. Chakraborty sticks to his persuasion methods and gives up only when they completely fail to acknowledge the need. But mostly, they do not.
"During a very recent presentation, a little girl came up to me crying and requested me to talk to her father who was a chain smoker as she was scared that he was smoking himself to death. I called her father and explained to him that addiction is not an individual habit but inevitably either triggers a chain reaction among other members of the family or affects them in some way or the other. If he is harmed due to his addiction, his precious daughter's life would be uncertain and at stake. He promised to give up smoking and I think he will stick to his promise," hopes the activist.
Sometimes, a personal tragedy can change the direction, the journey and the destination of your life. Some cannot cope with tragedy. Some get used to it with time while there are a few who turn it into a gift for others. Bobby Chakraborty is an ideal example of how social mileage can be drawn from a tragedy, and from one's natural gifts of speech, language, charm and looks!