Is astrology a science? Can the stars control human life?
The debate on the validity or credibility of astrology is one of the oldest that mankind has seen and will perhaps continue for generations to come. In spite of the furious arguments from rationalists and sceptics, India has a huge number of people who still staunchly believe in astrology. Not surprisingly, therefore, we see rampant commercial abuse of astrology in media.
Whether it is the newspaper carrying the day's forecast, or TV programmes dispensing future predictions or applications on social media sites such as Facebook, future gazing has become an integral part of media content.
Till recently, however, such astrology-related content never created much concern because they were largely inconspicuous; those who believed in it consumed such content, while those who didn't just ignored. But with the mushrooming of private TV channels, astrological shows have not only increased in numbers but also popularity.
While the primary intention of these shows is to attract viewers and create a following among believers, an objective they seem to be realising quite successfully, these shows have now become a matter of concern and often objectionable because of the kind of messages and vibes that they are spreading.
Increasingly regressive, nonsensical and superstitious, the shows continue to hog dedicated, important slots in regional channels, even news channels, and have considerable reach among a wide cross section of the audience. It is therefore particularly alarming to note the kind of content being aired, which now borders on the vile.
Take the case of one such episode telecast in August 2014 on one of the popular Kannada news channels, which defied all limits of sanity and went on to predict the likelihood of rape based on the sun sign of an individual! The programme had a famous astrologer predicting how a person might get raped, when and by whom, based on the zodiac sign:
"Virgo - might get raped between the ages of 14-20 under their home's staircase."
"Pisces – neighbour's husband may rape them"
"Aquarius - might get raped by their brother in law"
"Capricorn - could get raped by their parents or colleagues."
"Aries - might get attacked in the bathroom." And the list of such predictions went on.
If this was not bad enough, next came the ridiculous remedies suggested by the astrologer to prevent rape.
"Recite a mantra: Om kreem kreem kreem kaalike kleem kleem kleem sarva shatru naaam prahaar bhanjaya maaraya vispotaya, kleem kleem kleem, kreem kreem kreem phat; write the mantra in red letters on a white paper and keep it along with turmeric and Vibhuthi.Take the turmeric and Vibhuthi and apply on the rapist. He will either collapse or will get scared and run away," he assured viewers.
The backlash
Thankfully, the programme was noticed by many and caused a huge uproar on social networking sites. People came down heavily on both the astrologer and the channel. Protests rallies were conducted. Several Facebook pages were created, which are still active.
An online petition is now being circulated to gather more signatures to force the authorities into discontinuing such astrology-based shows that propagate prejudice, absurdity and superstition. The main purpose of the petition is to create awareness about these kinds of programmes and their dangerous impact on the masses in terms of spoiling scientific temperament and inducing panic.
The petitioners also wish to give a strong message to the media world, conveying that the audience is not passive and will not watch anything and everything aired on television quietly. The petition pushes for responsible media and the necessity for self regulation. It also recognises the need for a monitoring system with strong guidelines.
Meanwhile, the controversial astrologer has registered a police complaint against Bhaskar Prasad, the social activist who created the Facebook page titled Kickout Astrologers, to condemn the show. In response, Prasad and some like-minded people have registered an FIR with the police against the same astrologer.
Some social activists are also planning to file a court case demanding a ban on these kinds of programmes."We want to file a PIL, and we have approached the People's Union for Civil Liberties (PUCL) in this regard," says Dinesh Kumar, an activist.
"Creating awareness about this kind of exploitation is very important. Actually astrological services should come under the consumer forum. If the solution given by an astrologer for a certain problem doesn't work, or the prediction goes wrong, then the astrologer must take the responsibility and pay a fine. And why not, when they charge such heavy amounts for their services?" questions Kumar.
The role of media
Astrological shows aired on television enjoy good rating points or TRPs. So they are a good source of revenue for private channels. These shows usually operate in two different revenue models. A few among them are produced by the channel itself, while some are produced by the astrologers and telecast during purchased time slots. The second model is nothing but a form of teleshopping in disguise.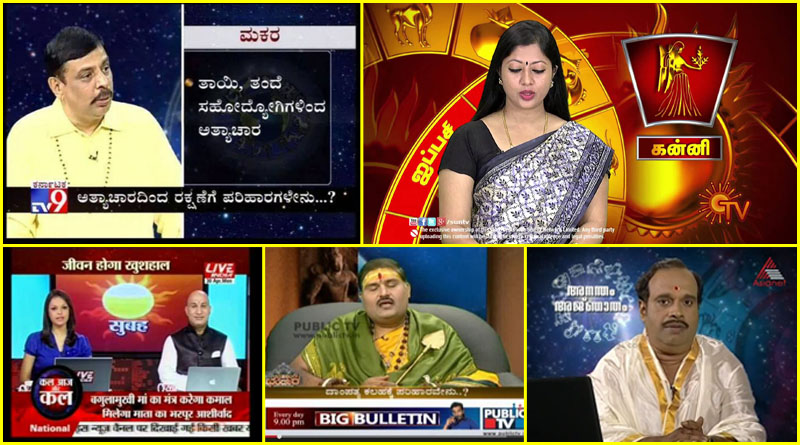 There are already many guidelines in place regarding publication or telecast of astrological content. The News Broadcasters' Association (NBA), the Press Council of India (PCI) as well as the Information & Broadcasting Ministry have chalked out guidelines, which are being completely neglected.
The NBA, for example, in its code of ethics for news channels clearly says, "News channels will not broadcast any material that glorifies superstition and occultism in any manner. In broadcasting any news about such genre, news channels will also issue public disclaimers to ensure that viewers are not misled into believing or emulating such beliefs and activity. Therefore news channels will not broadcast "as fact" myths about "supernatural" acts, apparitions and ghosts, personal or social deviations or deviant behaviour, and recreations of the same. Wherever references are made to such cases, news channels will issue on air riders/ disclaimers/ warnings to ensure that such beliefs or events are not passed off "as fact" since they can hurt rational sensibilities."
The PCI guidelines, too, hold that "The promotion of astrological prediction and superstitious practices is likely to produce an unsettling effect on the minds of the readers, and is thus undesirable. The editors of general interest dailies and periodicals who believe in promoting a scientific temper and in combating superstition and fatalism, should avoid publication of astrological predictions. Readers who are interested in the subject of astrology can turn to specialized publications on the subject." While this section in particular seems to have been drafted with print media in mind, the same can be applied in spirit to any form of journalism, including that on TV.
And yet, violations of such guidelines are brazen and rampant. The I&B ministry and courts have also issued advisory on astrological and superstitious programs on several occasions.Though there are a few instances of FIRs or PILs being filed, the lack of a proper and specific law or provision under the Indian Penal Code (IPC) is a huge drawback in dealing with such violations.
"For any news channel the commercial viability of the programmes they air becomes very important. Astrological shows attract large audience; is a market reality which we cannot deny. TV channels just can't ignore the ratings these shows add to their TRP chart. But astrological shows are not bad themselves. When you stretch it too far, then it becomes unethical. And the lack of any certification authority for astrologers is making the situation bad. So I think there should be some regulation on who appear on these shows as astrologers," says Anant Chinivar, former Editor in Chief of Kannada channels Suvarna and Janasri channels.
Many feel that a formal piece of legislation might be useful in putting an end to these kinds of superstitious programmes. Following in the footsteps of the Maharashtra government, Karnataka is now planning to adopt an anti-superstition law. The draft law, titled The Karnataka Prevention of Superstitious Practices Bill, 2013 has been prepared by The National Law School of India University (NLSIU) and identifies thirteen superstitious rituals as evil practices which would attract severe punishment.
The list includes self proclamation of possession of godly or spiritual powers, promising to provide solution after monetary consideration. The draft also seeks to penalise broadcast, propagation or promotion of superstitious practices in any manner. Under this proposed act, future predictions that may result in any kind of harm has been classified as a non-cognizable offence.
While the bill is in abeyance following widespread criticism, as the outcry against such shows becomes stronger, there may be revived interest in its passage. One hopes that it can be used to effectively curb the menace of false propaganda and irrationality, since in the absence of such law, it is unlikely that such shows will ever be stopped. "Channels can do away with these kinds of shows, but for that you need lot of conviction," is the candid assessment from Chinivar.