In the village of Mundrampatti, in Krishnagiri district, a couple of 17-year-olds are preparing to lobby their village panchayat leader. When I meet them it's almost 8 pm on a Wednesday and the two teens are consulting with the trainers from the Child Friendly Village project of the district administration and United Nations Children's Fund (UNICEF). N Priya and R Renugopal want their panchayat leader to take up on an urgent footing the need to improve bus services to their village.
Priya has just completed her class XII but has dropped out of higher education. From her village - a couple of kilometres from the state Highway at Mittapally - Priya will have to travel either to Krishnagiri or to Thiruvannamalai. Daughter of agricultural workers, Priya says her parents cannot afford to admit her to private colleges nearby. But with just two bus services, one each early morning and late evening - Priya cannot attend the affordable government colleges either at Hosur, Krishnagiri or Thiruvannamalai.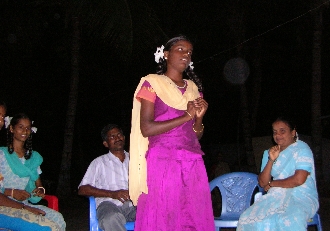 Teens of the Mundrampatti talk of their needs for usable toilets and bus facilities to reach their school. Pic: Krithika Ramalingam.
For Renugopal, a current class XII student, the situation is no different. He walks to the Government Boys Higher Secondary School in Mittapally every day. "Children as young as 6 have to walk the two kilometres every day as the buses run at an inconvenient time," he says. Though the government gives children free bus pass, it is of little use in far flung villages of Krishnagiri because only private operators turn up, even then infrequently.
The roads are perhaps amongst the best in the state, with almost all villages roads concretised and highways and main roads in good condition. But traveling from one village to the other either entails walking or hitching a ride from the occasional two wheeler rider. "Neither mode of transport is considered safe for girl children by the parents. Many then choose to pull out their children from school in the name of safeguarding them," says N Lakshmi, one of the CFVP trainers.
For 13-year-old M Deepa, another teen advocate, the other important issue is the "unusable" toilets that have been built in the villages. Built under the Total Sanitation Campaign, the toilets in the 240-odd houses in Mundrampatti are very rarely used. "For the adolescent girl, using open spaces for defecation comes with a risk. But when the toilets smell so bad, the families resist using them. Most of us don't have the right information on how to use toilets," she says.
The trainers say many villagers don't know that the flush toilets need a lot of water to keep clean. Many think they need expensive chemicals that they cannot afford to clean toilets, not just material available at home like 'shikakai', the plant product used in the place of shampoo. Deepa is being prepped by the trainers to take up her demand of greater awareness on the project and use of toilet to the panchayats.
The experiment in Krishnagiri district is to make the adolescents from the villages the change agents to meet the goals on development parameters and in the process creating a child-friendly village. Created in 2004, Krishnagiri district and the unified Dharmapuri district both did poorly on important parameters like child sex ratio (age zero-six), below-one infant and maternal mortality, malnutrition and others like female literacy. Development indices are good ways to ensure the children's rights to education, nutritious food and health, and other human rights are protected, say the trainers.
The mandate of the Child Friendly Villages project is to survey each of the 337 villages in the district to find how the villages fare in a long list of 18 factors or parameters. These are: infrastructure, toilets, usage of iodised salt, reduce anaemia among women, adolescent girls and children, ensuring children 6-36 month olds receive 5 doses of Vitamin A, safe drinking water, sanitation and hygiene practices, institutional delivery, reduced infant mortality, maternal mortality, still birth rate, immediate birth registration, elimination of female foeticide, female infanticide, appropriate infant and young child feeding practices, malnutrition, child labour, universalisation of education, reducing new incidences of HIV/AIDS, access to services for prevention of parent to child transmission and eliminating child sexual abuse and trafficking.
Dr Devashish Dutta, HIV/AIDS specialist, UNICEF Tamil Nadu and Kerala, says these development parameters reflect the status of children in the country. The strategy is to get the villagers to do a self-assessment and a village-level planning with the children highlighting their needs and audit services. Every week panchayat-level Convergence Committee meetings are held on Thursdays and the District Collector meets with the panchayat leaders every month along with SHGs and NGOs to sanction projects.
It takes a village to raise a child
Taking the role of communities in ensuring safety of children a little further, the two agencies also run the Orphan and Vulnerable Children project amongst children who are either HIV positive or have parents who are living with HIV or are dead because of opportunistic infections from AIDS. The community support ensures that a large extent of nutritional, medical, educational needs of the children are met, says G Karunanidhi, Tamilnadu Network of Positive People (TNNP+) coordinator.
When the extended family does not provide care for the HIV infected, it then becomes necessary to rope in the community. A dry grocer has now come forward to donate pulses, vegetables, nutritious food for the family of two for six months now.
SERIES
• Zip through class V
• Alternative education shackled
• Malnutrition hits schooling -I
• Malnutrition hits schooling -II
• Bonded and bundled out
• Many bridges to cross
• Pushing to English medium

In Athikkanoor village 13-year-old Venkatesh* (names changed to protect identity) lives with his family in an unused building of the school. His father Mathivanan* a farm labourer lost his job after he was diagnosed with HIV four years ago. His wife and his second son Venkatesh are also HIV positive, whereas his two other children are HIV negative. "My wife and son fell ill very often and the other children then pitch in and run the household," says Mathivanan.
Unemployed and ill, the family struggled to offer nourishing food to the children, including Venkatesh, who especially needed a healthy diet to keep his CD-4 count (an indicator of a robust immune system). With the parents falling ill often, their 14-year-old son dropped out of school at class 8 to work in Chennai.
Child Protection Officer for Mathur block, R Satya says though discrimination against People Living With HIV/AIDS has come down in Krishnagiri district, the community engagement was absent. "Nearly 80 people were found to be HIV+ in the village under the Varummun Kappom (preventive healthcare) scheme. With many living below the poverty line, the community support for orphaned and vulnerable children needs to be strong," says Satya.
Nearly 130 children in the district are believed to be infected or affected by HIV, with either the parents HIV positive and alive or dead of AIDS. Recognising the importance of keeping children in the family or community and out of orphanages and institutions, the UNICEF along with Tamil Nadu Network of Positive People (TNNP+) now raise funds for nutritional, medical and educational expenses along with help from the community and government.
Dr Dutta of UNICEF says the only option for infected and affected children a little while ago was institutional care, which comes with a huge price. Quoting the Bucharest Early Intervention Project (which assessed the developmental milestones in children in Romanian orphanages), Dr Dutta says children raised in institutions are more prone to developmental disorders, show disturbances and delays in social/emotional development, aggressive behaviours and syndromes that mimic autism.
"Studies have shown that institutionalised children gain once they are placed back in community in foster care," he adds. Striving for community based care, therefore has become the focal point of the Orphan and Vulnerable Children project in Krishnagiri.

13-year-old Venkatesh (name changed) looks out through the window of his school/home. The unused, dilapidated building, became their home when the Tamilnadu Network of Positive People (TNNP+) lobbied with the school to give his father Mathivanan the job of a security guard. Pic: Krithika Ramalingam.
Another beneficiary of the scheme is Vikram*. This 13-year-old from K Ettipatti has a single parent raising him. His father succumbed to opportunistic infection from AIDS and his mother is too weak to work regularly. Nutrition therefore becomes a critical issue as the only source of income for his mother is the Disability Pension of Rs.400 per month. Krishnagiri was the first district to introduce the pension scheme with Tamilnadu Society for AIDS Control (TANSAC) as an income security measure for HIV infected and affected.
With poor nutrition, Vikam has been unwell often and irregular at school. "I feel giddy. My back hurts and I am drained by the time school ends," says Vikram who has to travel a good 5 km by walk to go to primary school. The school is 30 minute's walk from the village and Vikram is often dropped back home by his classmates on their cycles when he is unwell. Satya explains that the side effect of Zidovudine, Lamivudine, Nevirapine combination ARV is anaemia and tiredness and requires supplementation with high iron-content food and tablets, which are out of reach for many. "Amma makes rice and sambar every day, but we cant consume vegetables regularly because the market happens only once a week and is quite far away," Vikram says.
Vikram and his mother can afford to have their daily dose of greens and irons only every other day. "Ration rice at Rs.1 per kg has meant no one goes hungry, but the micronutrient deficiency is rampant here," says Satya. When the extended family does not provide care for the HIV infected, it then becomes necessary to rope in the community. A dry grocer has now come forward to donate pulses, vegetables, nutritious food for the family of two for six months now.
To add to all this, for secondary schooling, Vikram will have to travel an additional 10 km to Mittapally. Without a cycle, that would not be feasible and his community status – MBC – means he will not be eligible for the state-sponsored free bicycle scheme for Adi Dravida students. TNNP+ is now looking for a community sponsor for the cycle.
Where the community is not yet ready
Progress has been slow in coming. Most of the children are guarded about theirs and their family's HIV positive status, families are afraid the support will dry up, and government support is limited. "Many have paid bribes, of even up to Rs.8000, to get the disability pension of Rs 400. Others do face discrimination even within the government-run agencies. Though villagers do not actively discriminate against people living with HIV/AIDS, the support from panchayat leaders in facilitating services has been poor," say other NGO workers.
And I see it in every village I visit. Villagers are less than tolerant of how someone got the virus. Parents of HIV positive children insist the children got the virus at private clinics undergoing medical treatment, as the stigma about the mode of infection still persist. Some of the vulnerable but not infected children make it a point not to let others know of the family's HIV status, fearing ostracism.
Vidya*, Venkatesh's sister, says her classmates suspect of the family's HIV status. "The school has given us an unused building to stay (live) in exchange for my parents' providing security to the building. But I won't talk about my brother's illness to my friends. What if they ask us to move out then?' she wonders.
Development indicators have neither improved much nor has community ownership come about. A baseline study of the Total Sanitation Campaign of the Central Department of Drinking Water and Sanitation, New Delhi, showed that 2.23 lakh households of the 2.95 lakh households did not have toilet facilities in Krishnagiri. Information available with the government shows that only 1 lakh new toilets have been added.
NGOs that work in the district often lament that school compounds become the favoured spots for defecation for the entire village. "Most schools and anganwadis are often built in government-owned poromboke land, which is often in the periphery of the villages. These then become the secluded spots for the villagers to use as toilets," says R Anuradha, Project Coordinator for Association for Rural Communities Development (ARCOD). ARCOD was one of the NGO partners for the CFVP, but had moved out of the project in 2007.
Are all communities ready to get involved?
Many parents as a result choose not to send their wards to school, especially girls, says Anuradha. Kelamangalam block has a higher incidence of dropouts among Krishnagiri, she says, wondering if the situation would not be different if the parents could ask the villagers to make better use of the Individual HouseHold Latrines. At least some parents feel they don't have the ability to negotiate because they are from lower castes. Many say schools have been built on poromboke lands around which people were defecating for generations. Some schools are right next to dumping grounds for the villages.
The block has trilingual population of Telugu-Kannada-Tamil speakers, most scheduled caste, migrant, agricultural labourers. The linguistic minority schools or Telugu medium schools are the mainstay in the Kelamangalam and Hosur blocks, where the Telugu speaking population comprises nearly 60 percent of the population," says Anuradha.
In Nagamangalam village, I meet S Rajesh and his friends. Most of them have an ambition of becoming police officers, given the rate of crime, domestic violence, alcoholism in their midst. A class topper, Rajesh says he wants to enter the Indian Police Service, inspired by movies. But for secondary schooling, Rajesh and his friends will have to travel to the Block headquarters Kelamangalam and for college another 16 kms to Denkanikottai. Rajesh's prospects may be better than his friends' given his interest in academics.
Anuradha says the transition from high school to higher secondary school is especially hard for the children in Telugu-medium schools, given that the medium of education in colleges is either English or Tamil. Even if the children manage a different medium of instruction, the distances leads to poor enrolment rates.
"Given the distances between schools and villages in Kelamangalam block, the drop out rates in higher classes are very high. Only about 10 percent of those starting school complete school and perhaps one in that 10 enter college," says Anuradha. In effect that means 1 per cent will enter college.
This is ten times lower than the below par national average of 11 percent gross college enrolment rate. "Dropout rate is especially worse amongst girls, with many ending up being married off soon after they complete class X," says Anuradha.
In the neighbouring villages, I meet many married women who had children when they were hardly 16. Munirathna is one of them. At 25, she looks much older and has two children aged 9 and 5. She says she was married off when she was 15, even before she completed her class X. "Even those who finish schooling end up earning Rs 3000 or so per month. Agricultural work gets us Rs 50 per day for women and Rs 100 per day for men, with nothing extra for overtime. Schools charge us for uniforms, notebooks, tuition fees and other fees. Then there is the bus charge; how are we to manage?" she says rationalising high drop out rates.
But NGOs are finding it difficult to mobilise the villagers. A lot of the fees (for books, tuition, and special classes) that school authorities are charging is illegal, especially among the marginalised communities. Anuradha says getting the villagers motivated to demand transparency has been an uphill task and the Right to Information Act is not known of at all.
In a community where the adult literacy is below 40 percent and earning living wages an arduous task, the need for awareness is yet to rise and mobilising those communities is a daunting task for the state and other agencies.