Two weeks ago, when there were clear indications of a Congress victory in Karnataka, senior party leaders were not sure about how the state's chief minister was going to be chosen. Many told the media that the 'High Command' in New Delhi would decide. Siddaramaiah Siddarame Gowda, 65, better known only by his first name, must have been considering his chances against veteran Mallikarjun Kharge, currently a minister in the UPA government, and a few others.
The 'High Command' then sprang a surprise. Instead of 'selection,' which everyone with an opinion was conjecturing wildly about, New Delhi surprisingly chose election. A secret ballot was held. Siddaramaiah, a veteran of the Janata parties and only seven years in the Congress, emerged triumphant, indicating he had broad support across the state party fold for his leadership. He was sworn in as chief minister on Monday, 13 May, and straightaway went on to pronounce into policy some of the subsidies that the Congress had promised.
How well do Bangaloreans know the new head of our state? What kind of person is the chief minister? Survarna News 24x7 interviewed him on Monday night, the day he took oath of office. "I am neither an atheist nor a theist," he said in the interview, as if to indicate that he cannot be characterised in wordy boxes, and that he should be judged by his actions.
Siddaramaiah is certainly more left-leaning than some of his counterparts in the Congress party at the Centre. He has a long history, particularly one of being finance minister several times around, and indicates his comfort with the topic by readily reeling out numbers on everything from milk production to electricity shortage to the number of pump-sets in Karnataka. He also missed becoming chief minister twice in the past. Despite winning the secret ballot, he still says that he was also the High Command's choice.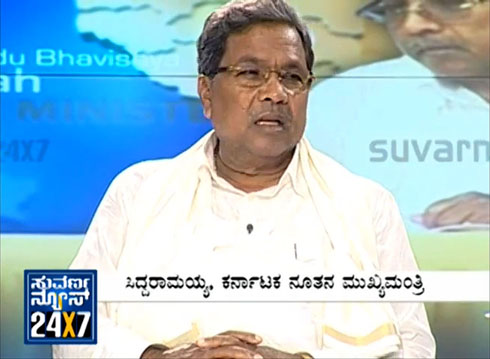 Siddaramaiah
India Together has translated the conversation for its readers with permission. The interviewers were Vishweshwar Bhat of Suvarna News & Kannada Prabha, programme host Ranganath Bharadwaj, and columnist-editor Thyagaraj. The programme also received several questions from callers, some of which have been transcribed here. Some excerpts.
Host Ranganath Bharadwaj : How are you feeling on realising your long cherished dream?
Siddaramaiah: Sonia Gandhi & Rahul Gandhi have given me a huge responsibility - to lead this state forward. It is my onus to provide a stable, corruption free, pro-citizen government and I would like to do the job with all honesty and responsibility.
Vishweshwar Bhat: You come from Janata Party. After joining Congress, you have become CM within a short span of time while others who have put in 40-45 years of work in the party are still dreaming of the post. Surpassing all those aspirations, you have become CM today. How do you analyse yourself as the person from Janata Party and as the person from Congress who became CM?
Siddaramiah: I have got the post because of the blessings of Sonia Gandhi and the unanimous choice of all the legislators. Hence, this is a decision by the High Command and all the legislators. I had expected this outcome because Kharge has been in the Congress party from a long time, has been elected to Vidhana Sabha nine times and is already a minister at the Centre. Our PCC President, Parmeshwar unfortunately lost in the elections. So naturally I was the High Command's choice.
Vishweswar Bhat: Your political life has been very long. People of Karnataka had believed that you had almost become the CM. Later you become Deputy CM twice and provided the budget seven times. Now that you are the CM, there are a lot of expectations from you. How have you thought CM Siddaramaiah should be?
Siddaramaiah: I will continue to be the same way I am, even as CM. Power and position are not permanent. Every politician in a democracy should understand this. When we get power, we should use it for the welfare of the people. Then people will also appreciate it and we also will get a good name. Hence all our programs and agendas should be for the benefit of the society, especially the deprived section.
Vishweshwar Bhat: Siddaramiah appears to be very tough externally – in thought and action. Now in a new role as CM, shall we see a different Siddaramaiah in the upcoming days?
Siddaramiah: There will be no change in my nature. It is the village rustic nature built up over 65 years. And it will not go away so easily. The real change that has to happen is in the State and not in me. And to bring about that change I will put an honest effort.
Vishweshar Bhat: You have been CM only for a few hours now and a lot of challenges lie ahead. How have you thought of facing them?
Siddaramiah: Firstly, the Cabinet has to be formed. It will be done after consultation with all Seniors, PCC President Parameshwar and finally the High Command. Once the Cabinet is formed, we will try to bring about the changes as fast as we can with an honest effort.
Host: There are a lot of ministerial aspirants in Congress. Would framing the Cabinet be a big challenge?
Siddaramiah: There are a lot of people who are eligible to become Ministers and have leadership qualities. Yes, it will be a difficult task to please all of those people. There are only 33 positions, 34 including mine. There are about 50-60 people wanting to be ministers. Hence I will make a balanced decision in consultation with the High Command and also taking into account region, caste, and other aspects.
Host: A particular section in the party seems to harbour a misunderstanding that few people have been denied opportunities. How will you rectify those misunderstandings?
Siddaramiah: I have been given an opportunity. Others also have their own. We should also bear in mind that Kharge is already a minister at the Centre. The High Command, in all its wisdom, wanted someone newly elected locally to head the State. So I don't see that as a problem. All those misunderstandings will vanish soon in time.
Thyagraj:  Lok Sabha elections are very close. Will this dissatisfaction within the party have any impact? What will you do about it?
Siddaramiah: Such feelings don't exist, not in Kharge or Parameshwar. They are happy with me and all of them have made the decision together. Some people may have got a wrong impression about this prevailing dissatisfaction. Soon it will go away.
Host: Soon after becoming CM you called a press conference and announced your plans and a six-point program. You became "Sixer Siddhu" in cricket style!
Siddaramiah: These programs have to be implemented immediately. In our election manifesto we had said that we will provide rice at the rate of Re 1 per kg, 30 kgs for the poor. Milk producers will get a subsidy of Rs 2-4. We don't have to wait till the budget to implement it. Hence, it will come into effect from today.
We have waived off loans given by SC/ST and minority corporations. For house construction we have increased the subsidy from 75,000 to 1,20,000, in view of the increased costs of construction. Poor people will at least have quality houses. This year we are planning to build three lakh houses and this subsidy will apply to those. In all, there will be a burden of Rs 1960 crore on the State government.
(Change) doesn't require any magical power. First, we need to be honest in our actions and thoughts. Then change happens automatically. If I am honest, then my subordinates will also have to be honest.


• Both of India's politics on display
• Wanted: Clamour for better governance

Visweshwar Bhat: People have seen the BJP government over the last five years and have given you a popular mandate – a total of 121 seats. What magical powers do you have that can create a new administrative environment in the state?
Siddaramiah: This doesn't require any magical power. First, we need to be honest in our actions and thoughts. Then change happens automatically. If I am honest, then my subordinates will also have to be honest.
Visweshwar Bhat: Your thoughts on honesty of thought and action are very good. Many BJP leaders were involved in scams involving mining etc. But your party leaders and legislators were also involved in the Mining Scam. Some of them have been re-elected. What action will you take against them?
Siddaramiah: We will examine whether they have a direct involvement in the scams and then take necessary action. We will take a decision only after seeing the Lokayukta report and Supreme court verdicts.
Thyagaraj: Land ownership and de-notification led to the fall of the BJP. Will you bring any new rules and regulations for Land ownership and de-notification?
Siddaramiah: There should be transparency in acquisition proceedings. The government should be discreet while buying land. Using agricultural land for other purposes causes more harm than good. Land will become scarce, food production will become less and bribery will increase. We will make an honest effort to increase transparency in land allotments and denotification.
Host: What are the financial needs to implement your popular programs? How will they happen?
Siddaramiah: Financial discipline is very necessary. The programs that I have announced today are those that will reach the poor directly.
Host: How will you handle the electricity crisis?
Siddaramiah: We cannot suddenly rectify the electricity deficit unless we generate power or purchase power. We have a shortage of 30 per cent. We can improve electricity production in the State. There is a problem of 'electricity corridor' that makes it difficult to purchase power from other states. Hence this problem cannot be solved immediately. We have to work within the existing framework to provide quality power for farmers and irrigation.
Right now, farmers are getting power for only 3-4 hours for their pumpsets. It has to be raised to 5-6 hrs during the day. There are about 20 lakh pumpsets in Karnataka. A minimum of three acres of land is dependent on one pumpset, so approximately 60 lakh acres will get water if we can provide electricity. Lift irrigation doesn't work without electricity. Most importantly, there will be no drinking water without electricity. We will try our best in this direction to provide electricity to the farmers.
Veerendra Hegde: We have a Grameena Abhivruddhi program in villages that covers 25 lakh people. I request you to relate that specifically to problems of farmers, especially vegetable growers. They need a lot of help through the National Horticultural Mission, such as cold storage, produce markets, etc. If you bring improvements in APMC, it will help the farmers. You have always been a supporter of farmers and may you continue to do so in a corruption free government...
Siddaramiah: Farmers are not getting a price commensurate with the cost they incur in getting their produce. No efforts have been made in this direction. We plan to have an Agricultural Produce Price Commission in Karnataka along the lines of the Centre. This is not there in any other state. Farmers, their representatives and experts will set the price. They should recover more than what they have invested in producing the crop. We do not have many cold storages. We plan to have more of those in places where they grow vegetables - like Kolar, Chikkaballapur, Bijapur, Bagalkot - since these are perishable items.
Host: You had earlier mentioned about a subsidy of Rs 2-4 for milk producers. Does it apply only to producers who supply milk to Karnataka Milk Federation (KMF) or everybody?
Siddaramiah: All of them supply milk to KMF. About 50 lakh litres of milk is produced per day. For each litre, we give a subsidy of Rs. 4 from tomorrow. Also we plan to develop the market system for milk byproducts.
Vishveshwar Bhat: Bangalore, which once was Silicon City, has now become Garbage city. What are your plans to change the image of Bangalore?
Siddaramiah: I had a talk with the BBMP Commissioner today to take steps in this direction immediately. I am ready to give all support and assistance to BBMP. But the actions have to be time-bound to erase the Garbage City tag. Lot of corporates set up shop in Bangalore because of its Silicon Valley image. However, because of the instability and constant infighting in the BJP government, investors lost confidence in the City. No infrastructure development happened in Bangalore. We will work to reverse this image.
Thyagraj: The past three CMs gave a lot of aid and grants to 'mutts' or religious institutions to please different communities. What are your thoughts on this?
Siddaramiah: No Swamiji or mutt asked for aid. The past government started this trend. In my opinion, it is not a good practice in financial terms. We should be accountable for every paisa paid by tax-payers.
Thyagraj: Are you an atheist or theist? Earlier CMs used to visit temples before taking oath, but you have visited literatteurs and writers...
Siddaramiah: I am not against Mutts. But I felt like taking advice from eminent writers, hence I visited them. Will also visit Mutts. I am neither an atheist nor a theist. I believe in thinking and doing good to others. My family and relatives will not interfere in my administration.
Meera (Housewife): What facilities will your govt provide for women?
Siddaramiah: We would like to revive the Self Help Groups for women. They will be provided equal opportunities in all areas, reservation in politics at Assembly and Parliament level.
Sadananda Maiyya (Hotelier): While starting a new industry, we file an application with "Udyoga Mitra" and take sanction. Though Udyoga Mitra is meant to be a single window agency, we need to go separately to various departments such as Water etc. to take sanction and this causes lot of delay. My request is that all orders be sanctioned once and for all, as it is a single window agency.
Siddaramiah: It is a good suggestion to have everything sanctioned through a single window. We will look into the matter and take necessary action.
Host: Last year we faced drought. Hopefully, this year it will not be so. But even if it rains, farmers do not have the strength to plough seeds and are in a bad condition. If you do not help them their situation will become worse.
Siddaramiah: We have said in our manifesto, that we will give interest free loans upto Rs 2 lakh to the farmers. It applies without any criteria to all farmers. Thereafter, they can avail loans upto Rs 5 lakh at 3 per cent interest. We plan to implement this soon after Cabinet formation so that financial assistance should not become a burden on the farmers.
Jayaprakash Shetty : Will your Budget have a separate agriculture budget?
Siddaramiah: No, there is no need for two budgets with separate names to mislead farmers.
Vishweshwar Bhat: How is the financial condition of Karnataka?
Siddaramiah: It is not very good. There is no fiscal discipline and debt burden has been increasing. It needs to be improved.
Host: Irrigation plans and programmes in the State are not good. How will you improve these?
Siddaramiah: We would like to revive the lakes and form a Lake Development Authority. Lakes are full of silt. Catchment areas and canals have closed. There are about 3500 lakes in Karnataka. We would like to fill up them with water which will automatically bring up groundwater to the upper level, which can be used for various purposes, especially drinking. This programme will be executed in a massive scale.
Host: What are the immediate problems that you would like to address?
Siddaramiah: Drinking water and power/electricity need immediate attention. Administration also needs to be toned up.
Vishweshwar Bhat: What kind of status will the Kannada language issue command in your administration? What will be the future of Kannada? What will be your policy?
Siddaramiah: I was the first President of Kannada Kaavalu Samithi (Kannada Watchdog Committee). Our government will continue with the pro-Kannada policy. We will make an effort to make Kannada the administrative language at all levels. We will provide financial assistance to Kannada academies and universities. Kannada software will be improved.
Host: The Panchayat system brought in by Abdul Nazeer has become very weak and corrupt. Is it possible to go back to the old system?
Siddaramiah: After the 73rd and 74th Amendment, there is a three-tier system: Gram Panchayat, Taluk Panchayat and Zilla Parishad. Earlier it was only the Mandal Panchayat and Zilla Panchayat. Now there are three elected parties at three levels and none of the three is getting enough grants and aid. Keeping in mind the 73rd and 74th Amendment, we will try to implement whatever changes are possible to strengthen the existing system.
Thyagaraj: The Cauvery issue has historically been a controversial matter. How will you handle this issue as you hail from the same area (Mysore)?
Siddaramiah: The issue lies before the Supreme Court and Tribunal Court and is not yet concluded. The Tribunal has given the final award. We have questioned the final award and gone to the Supreme Court. We have come a long way from where we can sit across the table and discuss. It should have happened before. Tamil Nadu is in an advantageous position. Karnataka has been wronged. So, we do not know whether they will come for talks at this stage. I will consult legal and technical experts and chart the action.