Come to the Diamond Point crossroads in Secunderabad during the morning hours. It's crowded. Meet 45-year-old Nagaiah a resident of Nalmandali village in Medak district of Andhra Pradesh. He arrives at the chowrasta by 8:00 a.m. and stands at the crossroads as the traffic busily blows its horns and noxious fumes. He is not loitering but waiting to get work for the day. Muffled in his ragged blanket, thin and looking much older he waits for others like him to arrive and the day to begin. By around 9:00 a.m. Diamond Point is host to a crowd of 100-150 men and women in search of work. By 10:00 a.m. a sizeable crowd gathers at the chowk and the day's business begins, unheeding the traffic jam or muttered curses of the office-goers.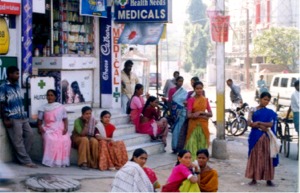 Women waiting for work at the adda
Diamond Point is an 'adda'. Here the labour of men and women is on sale. Contractors, house builders, transport carriers arrive to buy cheap labour. The adda is an auction site. But unlike the Sothebys, buyers get hold of labourers at their cheapest rate, not the other way round. Every morning this kind of activity occurs at many places in the twin cities, the most famous being the site near Mahakali temple. The most basic human rights are disregarded at a place close to the Goddess of ire on the Mahatma Gandhi road.
Life is not very kind. Nagaiah tells us the reason why he is forced to come and sell his labour, "I have been coming here for past four years. In my village there is no work. No rains so no agricultural income. There is no water above or beneath the ground. I have a bit of land but even after putting a bore-well nothing much happened. I and my family of five moved to the city to earn and live." Almost 90 per cent of the workers are from the districts and talukas like Mehboob Nagar, Warangal, Nalgonda, Medak, Kurnool, Ranagareddy, Kolapu, Vanaparthi, Aakchampet, Nargarkurnool, Narayanpet, Kosgi, Gattu, and Alampur, etc. According to the 55th round of NSS (National Sample Survey), the number of non-agricultural labourers in 1999-2000 was estimated at 16.41 million which was 133.47% higher than the level of 1993-94 (7.02 million).
Another labourer Vishnu chips in and informs that he has been here for a year. He and his family of eight came from Mehboob Nagar. He used to work in a beedi factory there. But things became difficult; in a month sometimes he barely found work for five days, and so came to the city on hearing about the addas from his friends. He and his family live at a nearby jhopdi, which has mushroomed. But trouble is brewing. The land is under litigation. "Police and cantonment employees keep coming to remove us. They tell us to move out saying it is cantonment land. We don't know where we will go and stay if we are removed." Due to the crowd at the chowrasta traffic gets jammed so the police keep shooing them off.
At these addas no contractor is involved. People come and voluntarily stand for work. Nagaiah comes at 9:00 a.m. and stays around till 5:00 p.m. His work day depends on his luck, as he says, "it is my fate if I get work. Some days I get work and at times none at all. I don't know any of the contractors, whoever calls us I go. If I get no work then no meals."
Thirty-five-year-old Paul, an adda veteran is quite vocal and experienced. He explains the process. "Think I am an owner. I am building a new house. I need masons and some labourers. I go to the adda and bargain with the labourers. When someone agrees, a scooter is arranged and driven to the work site. Others like sub-contractors and builders who fall short of labour come too."
The biggest problems of the addas are the insecurity of work, exploitation, ignorance and infringement of human rights and labour laws. "The problem," says Paul, "is that one day's work pay has to suffice for three days when we get no work. Contractors bargain with us on rates. The market rate for a professional mason is Rs. 200-250 a day including all his/her expenses such as travel, meals, beedis and tea. Men are supposed to get Rs. 100-90, women around Rs. 70-80. But so many workers are available and willing to work for lesser pay. What to do, we need to have a meal at night, we need to live."
All the men and women workers agreed that they worked for as low as Rs. 40 when it came to the crunch, else the pay varies from Rs. 70-50 a day. No overtime is given if the work extends into the late evening. Some consider themselves lucky if they get Rs. 10 extra. Women get less than men, for they do 'light' work such as digging, breaking stones, mixing material or carrying head-loads and many agree to work for Rs. 35-45, while men at Rs. 50 a day and children above 12 years get Rs. 25-30. The adda workers get no medical benefits. If they are injured while working, which happens very often, they have to pay for their own medical expenses.
Attractive and energetic Tirupathi adds, "Men stand around till evening while we women go back after 12:00 noon to do house work. We do whatever the owner tells us to do; pick up bricks, material, sand, clean houses, remove rubbish, weed the gardens from morning nine to evening six at times even eight in night. Owners do not give us food; we buy it from nearby Irani hotels for Rs. 10 or carry our tiffin. At times owners do not take us in vehicles or pay for travel. We go by bus if it is far or walk down to the site if near. Small children stay back at home. We prepare food for them before leaving and they manage on their own."
Women are also targets of mistreatment. Tirupathi has faced problems. "I was walking on the road when one fellow tried to pull me inside the auto. When I refused and abused him, he got out and physically tried to force me into the vehicle. Then luckily a police jeep came along, I called out and got the man arrested. It's been a year now, he is not to be seen anywhere", smiles Tirupathi triumphantly. Tirupathi is a strong woman but many times fate is not so wishful.
Tirupathi's father came to city in 1986 and has been coming to the adda since, and now his whole family work as day labourers, yet they still have no pucca house to live in. We ask then why this adda business is so visible now, why not earlier. Paul gives us the answer. "Ma, that time also addas were present but very few people used to come. They would come early in the morning, get work and go off so no one ever saw them. Now the numbers have increased and so has the visibility in the past four or five years."
In 2003 official estimates of migrant farm labourers crossed eight lakhs while the labour organizations put the figure at about 12 lakhs. According to the National Commission on Rural Labour (NCRL), the majority of seasonal migrants are employed in cultivation and plantations, brick-kilns, quarries, construction sites and fish processing. Further, large numbers work in urban informal manufacturing, construction, services or transport sectors, employed as casual labourers, head-loaders, rickshaw pullers and hawkers.
In the last five years, Andhra Pradesh has been in the news for its forward-looking, dynamic, hi-tech administration. Yet it is the poorest southern state, in relation to development indicators for women and children. Hyderabad is seeing a spurt in construction activity right from five star hotels, Formula One Track, Afro Asian games complex, flyovers, bridges, huge multinational offices. Hyderabad is Cyberabad now, and contract labour is an enticing livelihood option. PVN Prasad chairperson of AP Sports Authority and heading Telugu Desam Party's (TDP) Technology Committee says, "we work faster, we are more professional here, that's why businessmen like to deal with us."
Then why is there not more work available? Paul answers, "Whatever work is happening in Hyderabad is given to the big private contractors and builders and they get their own labourers from the villages on contract. How will we get work? Many of those workers come as bondage labourers. They get Rs. 5,000 for a year, don't even get three meals a day, and work from 7:00 a.m. to 7:00 p.m."
Adda workers are different from contract labourers. Adda workers come to the city and manage on their own, while contract labourers are brought from villages by city contractors in return for interest free loans. Husband-wife pairs get Rs.15,000-30,000 for nine months. Some workers may agree to work for as low as Rs.5,000. If parents bring children over 12, there may get Rs.10000 more. As money is given without interest and legal paperwork, a lump sum amount is very attractive to desperate families. Contracts are signed at the villages for nine months, money exchanged. Workers then migrate to the work site at either Gujarat, Karnataka, Maharashtra or Punjab to dig canals, construct buildings or build roads. Some work at the four lane road dream scheme of the Prime Minister, the Golden Quadrilateral. The National Commission on Rural labour (NCRL) puts the number of migrants in rural areas alone at around 10 million (including roughly 4.5 million inter-State migrants and 6 million intra-State migrants).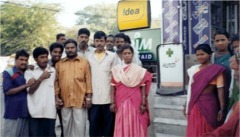 Paul (center) with others
Along with Paul, Ramesh Bhadoor, one of the field staff from the local non-governmental organization (NGO) Ankuram-Sangamam-Poram (ASP), elucidates why adda workers are not keen to join the ranks of contract labourers. "Working hours in the field are long, people work from 7:00 a.m. to 7:00 p.m. Food is given twice a day, once at 11:00 a.m. and then at 3:00-4:00 p.m. The given diet includes mota rice and watery dal minus vegetables. Once in a month mutton is cooked and that is considered a special day called 'mankkam', something to look forward to in the dreary life. In the space of nine months, no holidays are given, it's just work. If the workers fall sick then they have to foot their own medical bills. Also the worker will have to work for another day free or his/her pay for the day is cut."
On one issue both the adda workers and contract labourers will agree; complete ignorance of labour laws by them and complete disregard of such laws by contractors. There are laws* on paper. Although liberally framed, they are difficult to enforce in part because the people have little alternative employment prospects. Migrant labour also comes under the purview of not one but several Ministries -- Agriculture, Rural Development, Food and Consumer Affairs, Health and Family Welfare and Education and Social Welfare. There is no institutional machinery focussed on specifically addressing migrants' problems.
The average annual expenditure on food by rural labourer households all over India has fallen from 73.3 per cent in 1963-65 to 61.4 per cent in 1999-2000. (The 55th NSS round)

In fact the state abets this plight by legitimizing it. In 1999 a government order targeted sops at the IT software and infrastructure sector and agreed "in principle to self-certification/exemption as far as possible" on the provisions of the following Acts/Regulations: Factories Act, Employment Exchange (Notification of Vacancies Act), Payment of Wages Act, Minimum Wages Act, Contract labour (Regulation and Abolition) Act, Workmen Compensation Act, Andhra Pradesh Shops and Establishments Act and Employees State Insurance Act.
K Ramachandran is Professor of Entreprenuership and Strategy at the city's high profile Indian School of Business, where James Murdoch the CEO of STAR Group Ltd. stepped in to the governing board on 27 September 2003. Says Ramachandran, "traditional industries are dying out. Naidu doesn't think of agriculture much. He's seen the trickle down effect of IT and he's thinking why sports can't do the same."
Politically savvy Paul adds, "election time is near now so all the political parties will make a big noise about our welfare. The Telugu Desam Party (TDP) has done nothing for us poor in these eight years. Till now many of us are not in the voters list, haven't got our ration cards, and to live here have to continually bribe officials. We gave a chance to Congress and TDP, perhaps now will put our vote for Telangana Rashtra Samiti (TRS)." Paul smirks and adds, "you know there is a saying in Telugu, a mouse digs beneath his stomach and feet only, and that's what the people in power are doing."