Mani Manivannan, a software professional, often travels by rail from Chennai to Trichy. His last journey on this route, however, left him deeply disturbed, even prompting him to write a post on Facebook.
In his elaborate Facebook post, Manivannan narrates an incident that occurred during a recent journey, when a 16-year-old died under mysterious circumstances.
"….he came out right outside the TTE's seat, and fell on the floor with his face down. People thought perhaps he was faking it to escape the TTE. I was worried if he was sick with some contagious disease. I was worried if it was safe for many people to be in close contact with him," says the post.
The Pallavan Express that was scheduled to stop for just half a minute at Viruthachalam Junction was stalled beyond its scheduled halt because of this reason, while the Travel Ticket Examiner (TTE) sent out people to seek medical help. It was past 7 pm and there was no doctor on duty at the station. Eventually an ambulance was dispatched and the young boy was taken away to the hospital.
However, before the train reached the next station, news arrived that the boy had succumbed to his illness. "It was commendable on the part of the TTE to halt the train and disrupt the schedule. It shows that they are not callous. But the concern is the lack of immediate medical care and a competent authority to handle such cases as they arise," said Manivannan as he spoke to India Together over the phone.
Basic needs
The Indian Railways is the world's largest railway network covering an expanse of about 65,000 kms with 23 million passengers estimated to be travelling on it every day. Despite the magnitude of coverage of the service, the lack of basic facilities available to commuters is certainly a cause for concern.
Manivannan raises a practical point. "Railways is a service provider. By that definition, it should go all out to make sure that the customer receives the best service. How can you fail to deliver on basic needs like medical care?" he laments.
Of course, Manivannan in his post also raises questions beyond the dismal situation of emergency services in the Indian Railways. He raises larger issues pertaining to child labour, immigration and medical crime. "..the boy had kidney trouble. He had a scar on his body, indicating a recent surgery. Was he a victim of a crime? Did someone steal a kidney from him and leave him to die on the train?" he remarks in his post.
Adding to the lack of medical help and the inability to diagnose his condition was the language barrier, which hindered people's ability to comprehend what the boy was trying to communicate.
While each of these issues is hard-hitting and needs to be addressed in its own way, the inadequacy of emergency care on trains stands out as a glaring and completely unjustifiable gap in service.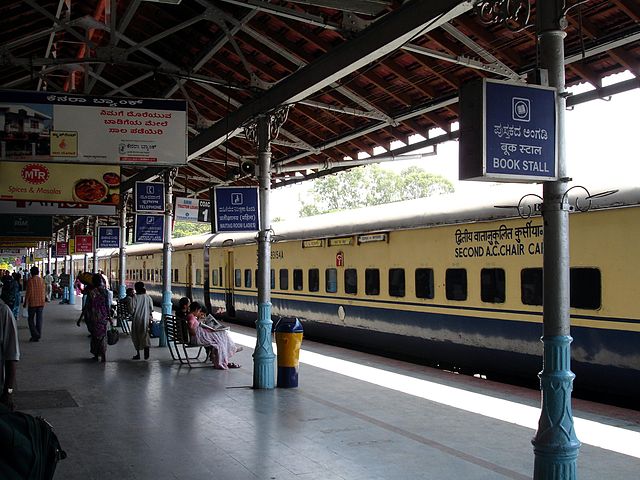 Prakash Mandoth, Ex-member, Zonal Railways Users Consultative Committee, Southern and South Western Railways, and Member, Managing Committee, Federation of Karnataka Chamber of Commerce and Industry, maintains that there is a standard protocol that the Railways must subscribe to.
"Every station is supposed to have a display board with details of the nearest medical care. As per the standard protocol, in case of a medical emergency, the TTE is alerted immediately, following which the next station is alerted and the necessary medical care is arranged for," he states.
The protocol notwithstanding, it would still be important to address the lack of immediate help on trains. Whether the outcome in this particular case would be any different for that is something which may be open to conjecture but there are emergencies where fatalities may be avoided if help is instantaneous.
Responding to this, however, Mandoth specifies that it is impossible to place a doctor on every train due to the sheer magnitude of the number, time and the distance covered by these trains.
"The first 15 minutes are extremely crucial. The crew in the airlines are trained in basic medical and safety procedures. Could we not provide similar training to TTEs on board? Why cannot there be a service like 911 where there is a dynamic interpretation of alerts and which also shows you the nearest hospital and junction from the point?" asks Manivannan.
There are others who have had similar experiences. Another Facebook user, in response to Manivannan's post, recollects an incident where a pregnant lady who boarded the train in Katpadi (Tamil Nadu) delivered a baby on the train. "Fortunately, one of the passengers was a nurse and she was able to assist the lady. Even after the train reached Arakonam station, it took almost one hour for the ambulance to arrive at the station and take the lady and baby to the hospital. Since there were no complications, things went very well. But this could have turned the other way around too," she writes.
Inspired to act
Many others have borne the brunt of the lack of basic facilities and aid on trains more directly. Samir Zaveri, now 40, lost both his legs when he was 18, in a railway accident and like Manivannan, is trying to raise awareness about the absence of medical facilities in stations, pressing for action on the front. It is a tough and a thankless job.
"I am fighting for emergency medical rooms at all railway stations throughout India, similar to those in domestic or international airports where you have a dedicated space or room with round-the-clock doctors and cardiac ambulance. In long-distance journeys, these emergency medical rooms will prove to be invaluable for pregnant female passengers and other health-related emergencies," says Zaveri.
Information received through an RTI filed by Zaveri in 2014 reveals that 3056 deaths were reported in the Mumbai Suburban Railways alone during the year 2013. He filed a petition seeking medical facilities for accident victims in the "golden hour", an hour from the time that the incident requiring medical attention occurs.
In response to his petition, the Bombay High Court, in March 2009, directed railway authorities to install medical facilities at Dadar station in Mumbai as a pilot study. The Railway authorities protested this decision and demanded a termination of the order. Zaveri won the case and the pilot project was subsequently set up in 2011.
"The Bombay High Court also directed 15 other suburban stations to set up similar medical facility centres. While initially belligerent, the Railways authorities have now complied and undertaken this process," says Zaveri.
In another case, a writ petition was filed in the Bombay High Court by Bhavika Mehta and her family; Bhavika had been pushed out of the train by a robber and her leg had to be amputated subsequently, as no immediate medical care was available when the incident occurred. The petition sought the Union of India to file an affidavit 'bringing on record its policy of making security arrangements for passengers travelling by a train involving overnight journey.'
Tackling the problem
Fingers have also been pointed at the general apathy among authorities as well as society. The Railways have been unresponsive to the needs and demands of the kin and victims in case of many accidental deaths and emergencies.
Following Zaveri's petitions, a show cause notice was given to the general managers of the Central and Western Railways and another Railway officer for non-compliance and Contempt of Court. In an interview to media after the incident, Bhavika Mehta's brother alleged that instead of helping the family, the TTEs began allotting their tickets to the other passengers on the waiting list.
"It appears that there is no value attached to the life of ordinary commuters by the Indian Railways. The citizen is ignored and there is no provision of emergency medical treatment for the mishaps that occur," says Zaveri.
Manivannan feels there are certain steps which need to be taken in order to make the conditions better, one of which is increasing railway fares. "It costs more to travel within Chennai city than between Chennai and Trichy. Even if we can increase the fare by Rs 1-2 per person, we could utilise the money to increase medical facilities in the Railways," he feels.
The report of the Comptroller and Auditor General (CAG) on railways tabled in the Parliament in 2013, recommended improving finances by rationalising both passenger and freight tariffs. The report stated that accumulated funds have diminished from Rs 21,681.60 crore in 2007-08 to Rs 1,770.91 crore in 2011-12.
But the issue of fares has always been a contentious one. Dinesh Trivedi, former Railways Minister, in his 2012 Railway Budget, had proposed an increase in rail fares and advocated de-politicization of the Railways, a move that met with much criticism, even from his own political party and led to his removal from the Ministry.
The latest railway budget from Suresh Prabhu, however, appears to be pragmatic in nature and squarely puts the focus on customer service and efficiency. With Rs 8.5 lakh crore earmarked for investment in the railways over the next 5 years, Prabhu promised the much needed modernisation of the Indian Railways in the Budget he placed before the Parliament in February.
"We want to work on these four goals; to deliver a sustained improvement in customer experience; make railways a safer means of travel; modernise infrastructure of railways and expand capacity and finally make railways financially self-sustainable," said the minister in his budget speech. Prabhu's budget aims at relieving the sector from its financial woes mainly through market borrowings, insurance and infrastructure funds, Special Purpose Vehicles (SPVs) and partnerships.
But while the budget speech focused on efficiency, cleanliness, speed and general ease of travel for its millions of commuters, there has been no explicit mention of improving medical facilities and emergency services on trains. Manivannan makes a strong pitch for this and has already taken up the cause with the authorities.
"I have written to the General Manager of the Southern Railways. If need be, I shall even escalate the matter to the Railway Minister but I shall not stop pursuing the same. This is something that can happen to anyone," he says, evidently shaken by his recent experience.
As the railways ministry promises to deliver on modernisation, one can only hope that voices such as Manivannan's will be heard.