A participant could be forgiven for feeling a bit confused when attending the first conclave called "Difficult Dialogues" in Goa from January 28-30. It was jointly organised by the Delhi-based South Asia Centre of the London School of Economics India Summit 2016 and Television Trust for the Environment (TVE), also based in the capital. This is now planned as an annual event.
The fact that the TVE's segment was sub-titled "Dialogue Derivatives" only added to the confusion. Actually, for the most part, each session's speakers ended up talking to like-minded panelists. The LSE team represented the upper echelons of society, with sessions like Global Finance, Infrastructure, Wealth for Personal Possession or Social Change and India and West Asia.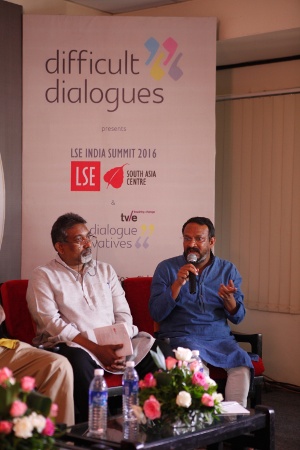 Bezwada Wilson (right) with Paul Divakar participating in Difficult Dialogues in Goa. Pic: Difficult Dialogues

TVE focused on the lower echelons. The different venues – the Cidade de Goa five-star resort and the International Centre Goa respectively – only served to heighten the dichotomy. Most sessions overlapped, so one had to choose. Ideally, the really difficult but more meaningful dialogue would have been between the two distinct segments.
The LSE session
The one common strand, however, was the focus on that much used and abused term, civil society. A speaker referred to the "uncivil" society that prevails today. Questions were raised about whether the demographic dividend, with the median age of the population being 29 years, was really a boon or a liability. Educated youth are coming onto the labour market with no jobs in sight and their discontent could prove explosive in the decades to come.
Shubranshu Choudhary, who has created CGNetSwara, the first-ever cell phone-based news and current affairs network in Chhattisgarh, cited how there could also be anti-social media, where the state doesn't permit communities to open their radio stations.
For that matter, even private FM channels can't broadcast news, which is an anomaly since TV, including foreign channels, are more than free to do so. Choudhary learned that young adivasi boys, even unschooled, are using "Baltu"– a corruption of Blue Tooth – to exchange files and pictures.
Meera Devi Jatav, who has founded Hamara Khabar Lahariya, detailed how this weekly newspaper in several UP district dialects is brought out with 26 women reporters. They face patriarchy at home as well as at work, and are seen as women, homemakers rather than reporters. It has taken much perseverance for these former activists to now be treated as journalists. "There are difficult conversations at home," she said.
With characteristic lucidity, Yogendra Yadav of Swaraj Abhiyan dissected what civil society comprised. While the 20th century, with scores of countries gaining independence from colonial rule, demonstrated people's enchantment with the state, this century marked the ascendancy of the private sector.
Pratap Bhanu Mehta, who heads the Centre for Policy Research in Delhi, mentioned how the line between public and private was getting garbled. Sectors like health and education were getting privatised; public sector banks were performing worse than private banks.
He alluded to the spectre of doctors and hospitals being given revenue targets and the former becoming shareholders in the latter. They would then be maximising profits, at the cost of patients' wallets, if not their health and lives.
As they discussed the prevailing scenario, speakers recalled how Ambedkar had asked people to "educate, investigate, agitate" (or organise). Yadav listed four Cs in this context. The first, contestation, has been "outsourced" to professional agitators, as demonstrated in university politics of both the left and the right.
The second, constructive work has been disconnected from politics. He cited the example of Shankar Guha Niyogi, who founded the Chhattisgarh Mukti Morcha, a labour union in the Dalli Rajhara mines and was murdered.
Niyogi had a vision for an alternative path to development which led him, among other causes, to call for a ban on liquor. This was responsible for the workers' addiction and incurred the wrath of liquor barons in the area. Constructive work – development – has now been outsourced to project- and donor-driven NGOs.
The creation and dissemination of knowledge has been outsourced to universities, which are not engaged in teaching but have become degree-dispensing outfits. Due to the shortcomings in the conventional university network, private players have entered the fray to fill the gap. With corporates Jindal, Nadar and, most recently, Bennett (of Coleman fame) starting their own universities, the point hardly needs elaboration.
A final C was connecting with the inner self, or "inner engineering", which has been outsourced to a wide spectrum of babas. However, in what seems to be ironically making a full circle, with godmen beginning to enter the mass market for foodstuffs and departing, at least partly, from their spiritual mission. Following in the footsteps of Baba Ramdev's Patanjali, the controversial godman Gurmeet Ram Rahim is launching his own brand of food products in an attempt to give multi-nationals like Nestle a run for their money.
The TVE session

In a TVE session on social exclusion, Bezwada Wilson, founder of the Safai Karmachari Andolan and a leading Dalit activist, made an impassioned plea to eradicate manual scavenging. All scavengers are Dalits and 82 per cent are women, who earn just Rs 400 a month. Only Indian Railways hires male scavengers for around Rs 40,000 a month. This isn't treated as a women's or patriarchal issue, which it also is.
Constructing toilets is no solution to manual scavenging, contrary to the thrust of the Swacch Bharat Abhiyan. Wilson himself comes from a community which is engaged in this practice. When he first came face to face with it, it almost drove him to suicide.
Sudharak Olwe is a Mumbai-based photojournalist, also a Dalit, who has published a book with searing images of these scavengers, engaged in emptying out sewers, which should make all of us hang our heads in shame. It was only an accident of fate that he escaped this ignominy.
In Mumbai, there are 65 km of underground sewers, sometimes a storey deep, filled with nauseating filth, into which human beings have to descend up to their necks and even their noses in some instances. For a living, since they are excluded from other occupations, they have to cover themselves in shit which the rest of society produces. They often die from fumes, disease or simply drown in other people's excrement.
A 1993 act prohibits this practice throughout the nation, but for nine years the rules weren't framed. The Andolan went to the Supreme Court in 2003 and found that the central government hadn't even notified the act by gazette. The court ordered states to act.
Politicians and bureaucrats blame each other for failing to do so. Not a single of the 650 odd Collectors and District Magistrates in the country, all highly designated IAS officers, has admitted to the Supreme Court that manual scavenging is taking place under their noses. The Andolan has been in court for 13 long years, but nothing has changed.
A District Magistrate in Haryana actually had the temerity to report in writing to the court, after its order, that he had visited rural areas where none of the women were carrying the waste on their heads, so there was no manual scavenging. The act clearly says that any form of clearing, carrying or disposing waste constitutes this malpractice. The problem clearly lies in the official's own head.
Paul Divakar, the general secretary of the National Campaign for Human Rights and formerly from the Dalit Bahujan Shramik Union in Andhra Pradesh, was asked by the moderator how, even as Ambedkar's 125th birth anniversary comes up this April, the National Crime Records Bureau has shown an almost 80 per cent rise in crimes against Dalits. This, when the ruling and other parties were all trying to appropriate his legacy. The RSS was propagating "one temple, one well" in villages.
Divakar cited gory tales of violence, how Dalit women were being stripped naked in public, raped and burnt alive, their houses razed to the ground.
According to the budgets of the Ministry of Human Resource Development, there is a special provision to bridge the gap between scheduled castes and others. The University Grants Commission allocated Rs 1,087 crores two years ago for this purpose, as revealed under the RTI Act. However, these funds are being used to create capital assets which don't benefit Dalits, on grants in aid to institutions which are paying salaries from these allocations.
Only Rs 103 crore is being used for some meagre scholarships and hostel accommodation for these students. Even the spending of Rs 103 crores was delayed till the last quarter of the financial year. He termed this also a form of violence and exclusion.
In Rohith Vemula's case, his scholarship had been delayed for ten months. During the Commonwealth Games, Rs 744 crore were to have been spent for the welfare of scheduled castes in Delhi, but the Delhi government wasted much of this in bringing the Games' baton from the UK and so forth. There was a mindset which sought to perpetuate the system, rather than eradicate it.
Despite these formidable barriers, there was a great deal of resilience on Dalits' part. For instance, in Haryana, scheduled caste girls go to school despite threats to their lives and limbs. One should not pity Dalits, Divakar asserted, but interrogate the mind of a society which despite its tremendous intellectual prowess, is unable to address the two highly toxic viruses of caste and gender.
Difficult Dialogues got off to a promising start and should become an annual event. However, every session could have gained by juxtaposing proponents and opponents who could debate and deliberate issues in a dignified and revealing manner, avoiding the sound and fury of nightly TV talk fests.