Sarumai Kalita (70) has a long acquaintance with floods and erosion. Many times in her life, she and her family have been displaced from their homes by the ever-changing Brahmaputra river, and they learned to cope. This time, however, this elderly lady from Salmora village of Majuli, the largest inhabited river island in the world is not sure how she will be manage. The devastating flood and subsequent erosions on 26 June 26 have completely ruined things for the family, and the river embankment has become their permanent address.
Sitting inside the temporary shed her son has built - on the spur that has been constructed to protect the main embankment - under the scorching July sun, she looks helplessly at the rising water level. This elderly lady, half-fed, soothes herself recalling more pleasant times from her childhood days in the original Salmora village. That part of the land is now in the middle of the main watercourse of the river; the flood waters eroded away the habitations of 26 families of the village before they could do anything.
"You see, whenever the river moves forward to our habitation, which is not an unusual phenomenon, we retreat, wait for a while, and make another move to settle and survive in some new space. The may be anything, even a swampland. Or sometimes we purchase small plots from neighbours. This has been our course of life. Being inhabitants of a very ancient village in the river island, we consider it disgraceful to dwell on embankments. But this time the whole thing has become entirely different. We have now no space to go or survive. The villagers whose houses are safe for this time, they too have no space to offer us, even if they wished to. Constant erosion has made the village already congested and over-crowded", says Sarumai, mother of six.
Sanitation and safe drinking water have been major issues for those living on embankments, apart from a constant battle to overcome hunger and find a steady livelihood. People are getting some rice and dal in the name of rations, but these are not adequate, say the victims.
The village has 400-odd families, all of them have the experience of making new settlement inside their habitations to escape from constant erosion, says Bhutuki Hajorika, another victim of the flood, who could just about escape displacement this time. "If something happens harsh this time, there is no other way, but all of us will have to go to the embankments for settlement", she says.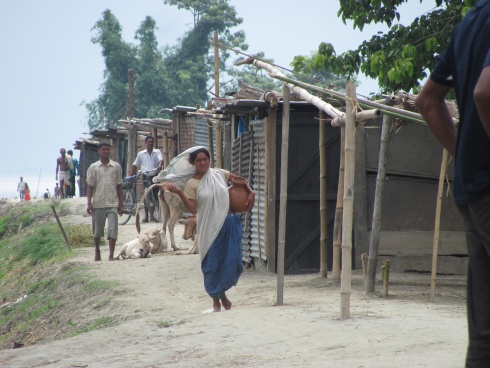 A view of the embankment where 26 families of Salmora have been living since 26 June.
Have they ever tried to move to safer places earlier? After all, the erosion has been a regular phenomenon and the river is so nearby. In response, Sarumai and the other villagers have similar stories to tell.
The people of this village belong to a particular community, which they call as kumars, keeping alive a primitive tradition of making pottery by hand, which is considered to be a missing feature of primitive human societies from the early part of human civilization and settlements. Clay, the essential raw material, is easily available in those areas on the banks of the river where the kumars live traditionally, and which is the main reason why they have been living there for generations, even though there is a constant threat of habitation loss.
All the areas where kumars live are outside the main embankment constructed long ago to protect the island from the flood. Clay is usually collected from deep inside the earth, from bores of up to about 40 feet. The community extensively relies on this ancient tradition of pottery-making. They make different household utensils and these products have a supportive market in and outside the river island. Women constitute 80 per cent of the entire workforce of this labour intensive home-based industry, and they contribute substantially to the family's earnings. Men folk look after the marketing of the products made by women. A family may earn between Rs.30,000 and 60,000 a year from this craft.
This time, when floodwaters have devastated their homes, and also washed away the clay they had collected and stored, along with some of the instruments as well. Constant erosion has also reduced the areas where clay can still be collected, further causing risk to livelihoods. Living conditions are also not much better for thousands of families from nearby areas - Besamora, Dakhinpat, Baghargaon and others. The damage is wide-spread.
People are trying to live on their daily wage-earning jobs, which are not easily available. Many adults and children alike are half-fed or unfed. Women and girls, who mostly look after the kitchen work, are the worst sufferers in such situations. Most of the poor families, including those who have their Below Poverty Line (BPL) or Antodyaya Anapurna Yojna( AAY) ration cards, say they can not purchase the allotted rice, as they do not even this little money. This has also raised, once again, the question of the usefulness of these schemes in severely affected rural areas; a different mechanism for life support has to be found for families that lack the means to buy even subsidised grains.
Mothers, however, are a bit relieved that children have been given cooked food under the Midday Meal Programme in schools, and in the anganwadi centers, so that they get some nutritious food during the daytime. But the June flood has put the academic future of most of the students, particularly the girls, in doubt, as books and school uniforms have been washed away by floodwaters along with other properties.
"If a such situation arises, when our parents have to take a decision whom to send to school and whom to be dropped, it is always the girls who make sacrifices. So I am afraid that I may not be able to continue my education further," says Bonti (10) a girl student of class VI studying in the village Middle English School. She is the eldest sibling of the family, and has two younger brothers, but her risk is the highest.
What is absent in these severe flood-hit areas is institutional support for these people. Women is particular are out of reach of any support system. A few of the elderly persons like Sarumai and some of the widows are eligibile to get a little money under Old Age Pension and Widow Pension shemes, but this has happened only once or twice in their lives so far. They bitter from their experience, and don't even bother to try to get these funds anymore.
The condition of the kumars is worrying, but they are hardly alone. The Sonowal-Kacharis, a small tribe who were earlier engaged in collecting gold from the river bed of the Subansiri river during medieval times, and later turned to agriculture, are faring no better. Seeing them, the failure and apathy of the authorities to address hunger and poverty issues of these tribal people is evident. Duirng the same 26 June floods, river waters breached the embankment and poured into 20 of their villages. Many families have been displaced temporarily, and eight are particularly badly off as their houses, agricultural lands and other belongings were all washed away.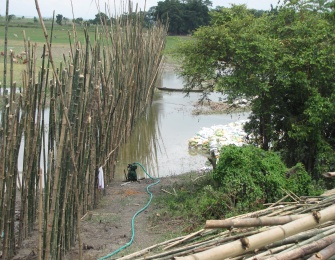 Inexplicably, the government has decided to erect bamboo fences with sand bags along the edge of the river, at a cost of Rs.4 crores. Villagers are angry at this waste of public money, saying, "even simple rural people like us know this can never hold back the river".


• River erosion threatens Majuli
• The wrecking sand dunes

All of them are now dwelling on the embankment under a single-roof provision, constructed by the villagers. The river also caused havoc to the fields of several villages, covering these fields with heap of sands of up to three to four feet.
"The embankment looked strong in this section, and no one could imagine that such devastation was going to happen. Everything took place all of a sudden before we could do anything to save our properties" says Padumi Sonowal, a victim of the devastation. Padumi's family owned a brick factory, apart from their agricultural land.
Now, when these flood-hit, traumatised families are languishing on embankments, deprived of food, drinking water, sanitation and shelter, the concerned authorities, instead of supporting them with relief, some shelter and necessary funds to get by, have allotted Rs.4 crores to erect a bamboo-porcupine fence with sand bags into it, in the name of safeguarding the habitation from further spells of flood and erosion!
"When we protested the erection of these bamboo-porcupine here, arguing that these would be futile to fight merciless waves of the mighty Brahmaputra, the local contractor threatened us not to raise any protest. Even for simple rural people like us it is easy to understand that such attempts would never resist even a low intensity flood of any river, but the same thing is simply not understood by these senior officers of the Water Resource Department and their contractors entrusted with protecting our land from flood and erosion!" says Duluma Hajarika, another victim of the village who has been residing on the embankment.
"Even if the government decides to give us Rs. 1 lakh per family as compensation instead of throwing public money into those futile attempts in the name of protecting soil, we would have been able to purchase new plots of land in some other parts and settle there. It is difficult to see the misuse of public money in front of one's eyes," she laments.
While affected people on the ground express their anguish over not receiving adequate relief and compensation, the state government has stated on the floor of Legislative Assembly on 17 July that it had planned to provide erosion-hit families two bundles of tin sheets and Rs.2000 as compensation!
One thing that the government did right was send teams of medical experts on frequent visits to these flood-hit areas, spreading messages of how to maintain health and hygiene in such adverse conditions, and particularly to check the emergence of water borne diseases.
According to statistics tabled on the floor of the Assam Legislative assembly on July, altogether 67 revenue villages of the river island, considered as the cultural capital of the state and nerve-centre of Vaishnavite tradition, have been completely eroded away by the river. The river island has a total of 243 villages. Of the total 16,254 people of 2709 families living on 12 embankments, Public Works Department (PWD) roads and high lands of the river island, 8100 are male, 7158 are female and 1000 are children. However, in addition to them, a sizeable section of affected villages like Salmora and others are in no better condition.
Assam Chief Minister Tarun Gogoi, in a memorandum submitted to the Prime Minister when the latter visited the state on 22 April, stated that in Assam, "approximately 8000 hectares of land have been eroded every year, and since 1954 Assam has lost more that 4.30 lakh hectares of land affecting about 9 lakh people and resulting in the displacement of more that 1.25 lakh families." He also urged the PM to give importance to large scale dredging and desiltation works of the Brahmaputra river, and reclamation of lost land, and special attention to protect Majuli island from severe erosion by the river.