27-year-old Ratnamma, a garment factory worker, was forced to deliver a baby on the streets of Bangalore because her manager insisted on her filling out a leave application, despite the fact that she was in severe labour pain. The manager also insisted that no other worker accompany her to the hospital lest the production process be affected. Ratnamma delivered the baby just outside the factory. The baby did not survive.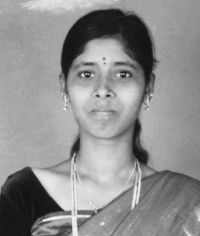 Gayathri who was killed in an accident.
More recently, 20-year-old Gayathri, another garment worker, was run over by the bus belonging to the same factory she worked, in front of her factory. Two others were also injured in the accident. While most factory workers were shocked at the incident, what outraged them was when the supervisors asked them to move on so as to not affect the production. Angry workers staged a protest and stopped traffic for nearly three hours on Mysore road where the factory is located.
The Indian textile industry is the second largest employer after agriculture in the country. Statistics available with the Federation of Indian Chambers of Commerce and Industry (FICCI) say that the industry provides direct employment to over 35 million people. It contributes to 17 per cent of the country's exports. The Indian textile industry is estimated to grow to a whopping 115 billion dollars by the year 2012. The projected growth rate stands at 16 per cent per year. While the country's number crunchers are rejoicing over this, it brings very little joy to the families of Ratnamma and Gayathri.
Bangalore, better known for being the IT hub has more than one thousand ready-made garment factories, providing direct employment to close to five lakh people. According to the Garment and Textile Workers' Union (GATWU), 85 per cent of the workers are women from rural areas around the city and from far flung areas across Karnataka and neighbouring states. Most of them are denied even minimum wages, and are subjected to long working hours without breaks and abused at work. GATWU is an exclusive garment and textile workers union, established in 2006 by people who worked the garments industry. It has more than 1000 members and is associated with AITUC and other trade unions.
Flouting labour norms
Bangalore, better known for being India's Infotech hub has more than one thousand ready-made garment factories, providing direct employment to close to five lakh people.


• New coalition for garment workers
• Cochin's special exploitation zone

The state's labour department has stipulated a minimum wage of Rs.88.75/- per day but in many cases this is not practiced. The law also states that the minimum working hours cannot be more than 8 hours. However the garment factory workers end up working up to 12 hours without any overtime paid. The management however claims that this happens only during high production phase. Requests for leave are never honoured in most of the factories but threatened with dismissals.
Meena, a migrant worker from neighbouring Tamil Nadu quit working in a garment factory and preferred to work as a domestic help for much lesser salary. "I could not continue to work there because my manager swore at me all the time. Even my husband who's drunk most of the time doesn't abuse me so much. I have a child to take care off but I cannot continue to take abuses even for her sake", she says.
K R Jayaram, Vice President, Garment and Textile Workers' Union (GATWU) says the garment factories have the highest human resource turnover because of bad working conditions. He says "all labour laws are openly flouted. The women face sexual harassment besides low-pay and long and arduous working hours. The men are beaten up to keep up the production pace. Everyone knows about it but the factories know how to use the loopholes in the law for their benefit which leaves the employees in a quandary."
For instance, the minimum wage norm is flouted by hiring people on temporary basis without any documentation provided to the employees. Thus keeping no records that could otherwise be questioned during a labour inspection. The factories have also worked out a way for not paying overtime by making the security guards punch in the timecards of workers even when the employees work atleast an additional two hours a day. Jayaram says "this is a practice in almost all factories and we cannot even file a case because we do not have any documents to prove this."
At the time of publishing this article, Karnataka's labour commissioner K S Manjunath and joint labour commissioner Manjunath Sastry were both unavailable for comment.
Compensation without sign of reform
Ratnamma whose labour pain started around 11 am did not go up to the manager till she couldn't bear it for the fear of being sent out of work. The factory management of Shalini Creations, a unit of Texport Overseas in which Ratnamma worked for over 9 years did not check on her till GATWU brought the issue to its notice. The company management however has a different version. The report submitted by Vijayalakshmi Shetty, a counselor with the company says "according to the welfare officer and the staff nurse, a(n) employee named Ratnamma (did) not revealed or recorded that she is pregnant for a third child and due her body structure they were not able to know that she was pregnant for nine months." (sic)
Shetty says "It is mandatory for the women to record their pregnancy in their medical record and since there was no record of Ratnamma's pregnancy the staff nurse was not prepared at all." She goes on to add that the incident occurred not due to company's lack of responsibility but Ratnamma herself was responsible. When GATWU decided to take up the issue, alarm bells rang at the company. The San Francisco-based multinational GAP, for whom the company manufactures the clothes would not take kindly to such violations. Shalini Creations finally decided to compensate Ratnamma with Rs.1.5 lakhs in the presence of members of Vimochana, a women's organisation. In return Ratnamma had to sign a letter saying she was compensated for the trauma she suffered and that she will close the issue permanently. Nowhere in the letter is it explained what sort of trauma she went through or who was responsible for it.
Earlier, on 13 February, the body of Ammu, a garment worker was discovered at the premises of Triangle Apparels, a Gokhaldas Exports group company. Ammu was 25. The police report shows that she had committed suicide 3 days ago and the body was not discovered because the factory was closed on 12 February owing to a Karnataka bandh. The company refused to accept any responsibility for her death. But her co-workers alleged that Ammu was humiliated publicly by her supervisors which might have led to her suicide, indicating that Ammu was another victim of harassment.
A fact finding committee was setup by the Joint Action Committee for the Rights of Garment Workers to look into the matter. The Joint Action Committee consists of 15 non-governmental organisations, labour organisations and human rights groups. The four member fact finding committee comprised of members from Vimochana, Alternative Law Forum, Stree Jagruti Samiti and Openspace. The team was stonewalled by Triangle Apparels and no information was divulged. However the team found that statements from Ammu's family were conflicting with police reports, indicating a possible foul play. Here again a compensation of Rs.one lakh was paid to her family and the company did not acknowledge any responsibility.
Union push
The fact finding team submitted a report on 6 March recommending strict adherence to the labour laws to avoid such incidents in future. They also recommended that international companies that procure produces from such companies should investigate into Ammu's death and ensure the safety of the workers. The committee insisted that workers' unions should provide the necessary support to bring justice to Ammu's family.
Lack of organised endeavour has been a major setback to the welfare of the garment workers. Any attempt to organise themselves as a union has been met with stiff opposition from the management ending in dismissal of such employees. V P Rukmini, an employee of Texport Creations was suspended in 2006 because of her involvement with GATWU. Jayaram says "Even today the companies and the employees have a very regressive impression of trade unions. While the companies assume we are here to demand excess salaries, the un-informed employees are led to believe that unions mean losing jobs. But organisations like GATWU are working to change this impression atleast among the employees." GATWU has also set up a 'Munnade' (a women garment workers' union) to help the women in the industry.
The going has not been easy, but with GATWU taking up their cause, the women in the garments industry are slowly becoming aware of options. Meena says "I did not know that there was someone who could help my situation. All of us in the factories go through such horrible situations and never did it occur that there was a way out other than quitting the job."
The first priority GATWU says is to provide a safe and peaceful environment for the workers and not demanding salary hikes. The workers too prefer this over high salaries. Many of them look for genial supervisors while applying for jobs. However they do acknowledge that this criterion limits their options. And until the companies and government authorities take steps to safeguard the workers' interests, the workers have only two choices either quit the job or succumb to the exploitative system they are in. (Quest Features & Footage)