Almost exactly a year since it was formed, the Aam Aadmi Party, having its roots in the protest politics of the national capital territory, suddenly seems very listless today. But while it may appear to be down and out, the wind has not completely gone out of its sails.
Even as early trends started to come in within the first hour of counting of votes on 16 May, Punjab emerged as a state showing four AAP candidates leading - in Sangrur, Patiala, Faridkot and Fatehgarh Sahib. One was curious if this early trend would flow southward and gain strength.
A quick check of early trends on the website of the Election Commission of India may have led the party's social media manager to come out with a post on its Facebook page that read:
"AAP leading in 4 Punjab seats according to initial trends. We are on 2nd number at several seats and may close in. Whatever number of AAP MPs get in Parliament, we assure we'll make it count."
As the day progressed, the party appeared to tweet a couple of more times to send out messages to the effect that it has entered the electorate's mindscape and is here to stay. The first of these tweets was about the number of votes it had managed to lay claim on: 1,65,005. Even if this number based on early trends could turn out to be less than margins in some constituencies at that moment, it did show that the AAP had garnered 3.6 percent of votes across states.
Over the next six hours, the number of votes coming AAP's way rose to 98,39,036 even as its share in total polled votes went down slightly to 2.4 percent. However, in those five-six hours the party's vote share did not translate into spectacular wins in individual seats, except in the four that had emerged in the early trends.
Finally, the AAP ended up commanding 2.05 per cent of the vote share across states by laying claim on 1.5 crore votes. In terms of its position on the pie chart, AAP comes below 10 other political parties, some of which curiously didn't open an account at all. The Bahujan Samaj Party, for example, is at third position in terms of vote share nationally, bagging 4.1 per cent or 2.3 crore votes, without winning a single constituency.
The end of AAP or just a humble beginning?
The AAP had made a historic debut by sweeping the Congress out of Delhi in the Assembly polls held in 2013. However, we must recall that on counting day, even as the results of four assembly elections were being telecast, senior journalist Swapan Dasgupta kept reminding viewers how the CSDS-Lokniti survey had projected that young voters who had elected Kejriwal to the Delhi assembly would be voting for Modi in the Lok Sabha election.
Nevertheless, the last performance did create hope amongst a section of intellectuals of an action replay in which AAP would win all seven Lok Sabha constituencies in the National Capital Territory, or at least a good share of them. In reality, however, in all these constituencies, AAP candidates got defeated and by a considerable margin too. Nevertheless, one cannot deny that it left a transformative impact, changing the bipolar polity of Delhi and turning the electoral fight into a triangular one.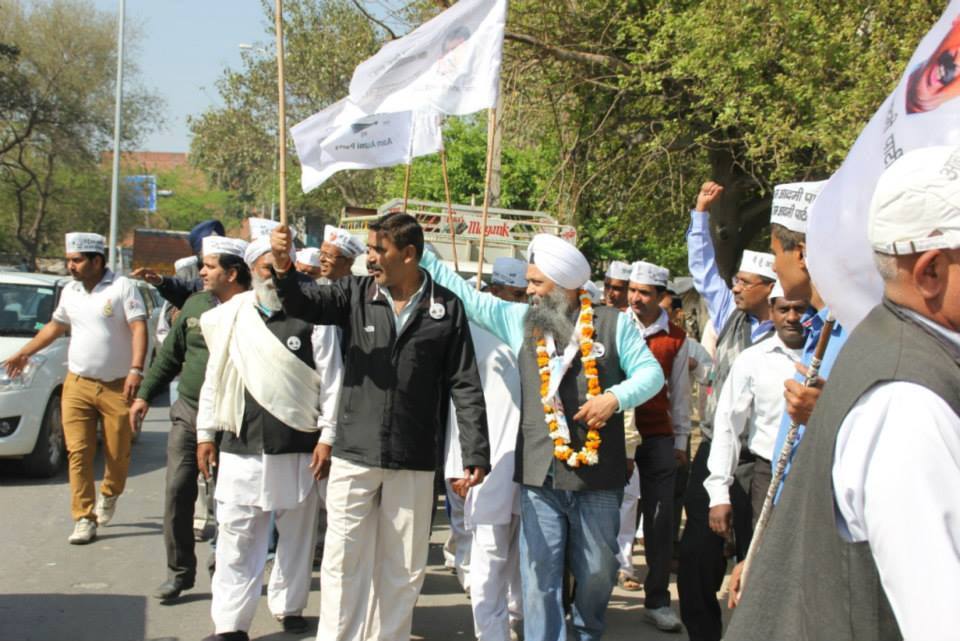 In Punjab, the party has clearly emerged as the fourth major political entity, besides the BJP, SAD and Congress. AAP lost the Ludhiana constituency by only 19,709 votes, where its candidate Harvinder Singh Phoolka polled 2,80,750 votes and became a close second to Congress' Ravneet Singh Bittu.
It should be underlined that this constituency witnessed a tough quadrangular contest, with Shiromani Akali Dal's Manpreet Singh Ayali bagging 2,56,590 votes and an independent candidate Simarjeet Singh Bains bagging 2,10,917 votes.
Thus it won four seats, came second in one and stood at third position in the other eight. Having secured a much larger size of vote share at the individual constituency level, in Punjab AAP has left a footprint that is unlikely to fade away easily. In Chandigarh, its star candidate Gul Panag ended up in a modest third position, but the vote share she commanded is considerably high at 24 percent, with 1,08,679 votes.
Even in Delhi, AAP bagged 27.22 lakh votes, which is 32.92 percent of the vote share – up from 28-29 percent in the December 2013 assembly elections. In Punjab it got an overall vote share of 24.4 percent by bagging a spectacular 33.73 lakh votes.
In the North West Delhi constituency, its young candidate Rakhi Birla might have lost to BJP's Dalit face, Udit Raj by a margin of more than 1 lakh votes, but still polled an impressive 5.23 lakh votes. Amongst all first-time candidates, she appears to have emerged as the most popular in her home constituency. How many others could have made it to the club of contestants polling more than 5 lakh votes at such a young age in a Lok Sabha election, and from such a fledgling political formation?
Hindsight
Having said that, there is a sense of dejection among many who had rooted for the AAP. Where did the party go wrong in its strategy, tactics and campaigning style that it lost all seats in Delhi and failed to make inroads in any of the other metros?
A look at the list of constituencies where it fielded candidates might give us a clue. For a political formation in its infancy, contesting 426 out of 542 seats definitely proved to be a stupendous task, and even over-ambitious.
On the contrary, if the AAP had concentrated on building its organizational base in a few of the Northern and Western states, where the faction-ridden Congress had failed to prove itself as a sincere and effective opposition party in the state assemblies, it probably would have scripted a better performance.
Over the past few years, based primarily on the anti-corruption plank, AAP had captured a lot of anti-Congress space but it failed to translate that anti-corruption articulation to carve out a non-Congress, non-BJP political space. In the course of the last three years, the manner in which Arvind Kejriwal and his core group managed the movement had allowed right-wing hardliners to occupy the podium of the protest. Who can forget the fervent waving of the tricolour by Kiran Bedi, who jumped out of the bandwagon as soon as she saw the Congress on its way to oblivion and the ascendancy of Moditva?
In trying to provide a sustainable non-Congress, non-BJP political formation, clearly driven by the principle of non-alliance and rejection of traditional and corrupt political parties, the AAP should have focused its energies with much more vigour on Rajasthan and Madhya Pradesh. In both these states, it could have tried to work much harder, but from the final results, the party does not seem to have succeeded in challenging the bipolar political orientation of voters in either of these two states.
In Madhya Pradesh, the AAP's vote share turned out to be merely 1.2 per cent and it couldn't win a single seat. In Goa, AAP's vote share turns out to be 3.32 percent. Similarly, in Maharashtra and Haryana, where the voters have shown multi party political orientation, AAP ended up getting 2.3 and 4.2 percent of votes.
After having emerged victorious in National Capital Territory, the AAP had made many political commentators feel that its refreshingly new style of doing politics stood a good chance in other metro constituencies too, such as Mumbai, Bangalore and Chandigarh. In Bangalore, it appears to have already started a process of critical reflection as the state convenor expressed shock at AAP receiving around 89,000 votes in three city constituencies, while its members in Bangalore add up to one lakh.
There are signs that the AAP in Bangalore might now turn its focus on what it terms 'Mission Capture Bangalore' through the municipal elections scheduled for the year 2015. In the months to come, Bangalore citizens are set to witness a sustained campaign by the party on issues of urban governance.
AAP needs to immediately turn an inward gaze and start working hard at the ground level. The year of 2013 ignited hopes for a non-traditional style of politics, but when it came to a high decibel, heavily-funded election campaign, this refreshingly new party appears to have lost out. The only message that needs to be remembered from the 2014 general election is that the AAP phenomenon has not been wiped out. In the interest of democracy, one can only hope for its tribe to grow in the years to come.