Murtijapur, Akola, April: Two days before he hanged himself to death on March 24, fifty-year-old farmer of five acres Shrikrishna Kalamb penned his last poem – all of six lines.
"My life," his poem reads, "is different; my death will be like untimely rain. The cotton in black soil is like a poem to me, its roots as sweet as sugarcane…" Symbolism and emotions fill the strong poems of Kalamb, who ended himself at his sister's home in Murtijapur town, 25 km from his native village Babhulgaon (Jahangir) in Akola district. Like other farmers, he had debts and responsibility – of marrying five daughters.
Kalamb's life as a poet-farmer and his musings symbolise the agrarian crisis that is wrecking havoc in the countryside, and taking a toll on the farmers. In his striking muse, 'Vasare' (calves), he pens: 'Amhi vasare vasare, muki upasi vasare' (we are calves, dumb hungry calves), gaya panhavato amhi, chor kalatat dhar (we tend to the cows, thieves walk away with milk and cream), tapa tapa gham unarato, unarato bhuivar (we sweat and sweat on fields), moti pikavato amhi, tari upasi lekare (we cultivate pearls, but our children remain hungry)…'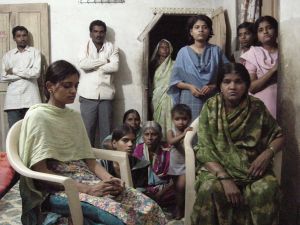 Usha, Shrikrishna Kalamb's eldest daughter, sits in grief with her mother and four sisters. Pic: Jaideep Hardikar.
Soaked in chaste Warhadi, a sweet Marathi dialect in Vidarbha, Kalamb's poems reflect on and resonate with life of an Indian farmer in changing economic order. Through his 50-plus poems, he commented on varied subjects from politics to the social changes, while keeping rural India at the centre of sweeping realities.
In one of his poems titled "Lek" (daughter), he goes on to showcase the tensions of a father, whose vocation is farming. The poem remains relevant for all times.
In "Itihaas", he questions 'Time' for preserving only the glorious history of rich and mighty, but willfully burying the resilient struggles of millions of poor. Kalamb was determined to die if one goes by his latest musing. His crisis went well beyond the issue of outstanding bank loans. He could not earn enough to make both ends meet. The loan waiver won't raise his income levels magically.
He too had perhaps cracked in the face of a gigantic crisis plaguing not just him alone but his entire farm neighbourhood. He had failed on financial front. There was virtually no income from his five-acre farm. But he owed Rs 20,000 bank loan, and over Rs 50,000 private debt. The private borrowings may be more.
Ten years ago, Kalamb had sold three acres to repay his private loans, pay for his daughters' education, build a small house and start a small business of thresher in his village. His business remained a non-starter and his investments in equipment sunk. His fixed deposits got stuck in a private financial instititution about which his family has no knowledge.
"He sustained us on that money for ten years. But now, we had little options so he was contemplating selling remaining land," says his eldest daughter, Usha, 20. "He had asthma and would not work hard in the fields," she says.
On March 22, Kalamb went to his nephew Vivek Patond's home in Murtijapur. "My uncle had the knowledge of veterinary, so he would come here and nurse the cows rescued by us from slaughter houses," says Vivek, whose eldest uncle Pundalik Maharaj was a spiritual seer. The Patonds look after a 'Math' built by the seer. Kalamb's sister was married to his younger brother and Vivek's father, Narayan. Kalamb carried the spiritual legacy of the seer.
Usha has carefully rewritten all her father's poems in a register and wishes to see it published in the form of a collection.

On that fateful day, Kalamb tied up a rope to a door beam and kept tryst with it. People saw him walk into his room, but did not suspect his intentions.
Says Vivek, proudly reciting a few of his poems in remembrance, "It's difficult to fathom that the man who always supported others ended himself in isolation." "A mass clinical depression is silently sweeping the farmers of Vidarbha", warns Dr Sujay Patil, a leading psychiatrist in Akola. Dr Patil offers a free treatment and counseling to farmers suffering from depression with roots in economic slide.
Millions of farmers, he fears, are suffering silently from mental instability owing to a long prevailing economic depression. "It won't subside merely with waiver; the issue of income will have to be addressed seriously," he insists.
Nearly 50 farmers have taken their own lives in Vidarbha from Holi festival on March 21, and more than 250 since January 1, 2008.
"Financial problems played heavily on his mind. But he would never show it. He would abhor an exploitative system and rebel against it," says Kalamb's childhood friend and Pundalik Maharaj's youngest brother, Vitthal Patond.
Another major worry for Kalamb was the marriages of his daughters, his bereaved wife Rukmini reveals. "He was also sad that Usha was saddled by the family responsibilities and had to cut short her education," she says.
Usha took up a job with agriculture department on daily wages five years ago, and got absorbed last month on permanent basis. "I can sustain my family now," she says.
Kalamb's second daughter Smita is a SSC failure; third one, Pratima is a bright student in final year of Polytechnic, who aspires to become an engineer. Two others, Priyanka and Arti are in SSC and eighth standard, respectively, and are diligent students. Kalamb himself studied only up to SSC, but was a born poet. He was shy of popularity, but highly revered by his villagers and friends.
"He would hold us in rapt attention and sometime in tears, when he would recite his poems," remembers Vitthal. Usha has carefully rewritten all her father's poems in a register and wishes to see it published in the form of a collection. She says: "My father died as a farmer, in perpetual debt and worries. But he lived as a poet, and will remain immortal in his poems."