Akola, Vidarbha - First, it was Purushottam Manikrao Deshmukh, in 2003. Then, his younger son, Sunil, the very next year. And a month ago, it was his elder son, Santosh. They all lived on credit, but died in installments, with burden of debt piling up.
In four years, one family of the Deshmukhs in Katyar – a cotton producing village of about 3000 people 35 km east of Akola – lost all its men, one by one, to a crisis that has for sometime now, threatening to swallow families unto families across rural Vidarbha.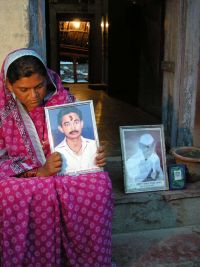 Picture of Jyoti Deshmukh at her home in Katyar village. Jyoti's husband, brother-in-law and father-in-law committed suicide in a span of four years owing to unending and vicious debt cycle. Pic: Jaideep Hardikar.
The father and his two sons embraced death with a sip of pesticide. And each of them did so for different reasons, all features of the same tragedy. The men did put up a fight, but a futile one.
Purushottam killed himself due to rising indebtedness. Sunil did so in the wake of atrocious global market fluctuations that pushed him into huge losses. And a depressing agrarian scenario, that refuses to brighten up farmers, did in Santosh, left alone to shoulder the burden of debt and responsibilities of the family.
"When my father-in-law committed suicide, we did not inform any one from the administration, but he had debts that he could not pay, and huge crop losses due to three consecutive years of calamities," informs Jyoti, the widow of Santosh.
Purushottam end his life following huge crop losses. That year, he went for Bt cotton – it was the first year of genetic seed for the region. The cultivation cost spiraled many fold, due to high cost of seeds. But despite good prices to cotton that year, the crop damage due to excessive rains left him in phenomenal losses. "We all sunk into tension of how to repay the debt to private borrowers and banks," remembers Jyoti. "My father-in-law could not overcome it."
The Deshmukhs own 22 acres of land. After Purushottam's suicide, the two sons got 11 acres each, and an equitable burden of outstanding bank loan of Rs.2 lakh.
Jyoti is not giving up the fight. She plans to try her hand at farming, aware of the trouble ahead.


• Relief cows milking farmers
• Burning down sugarance crops

Following Purushottam's death, Sunil decided to "diversify" into allied business in 2003-04 farm season. The previous season's competitive prices lured him to give a try at being a small-time cotton trader as well. One more factor cemented his thought. The same year, the Maharashtra Government had folded up the Monopoly Cotton Procurement Scheme, allowing private buyers to enter the fray and buy cotton from farmers even at doorsteps.
Sunil purchased cotton from farmers in his villagers at a price ranging between Rs.2,500 and Rs.2,700, thinking that even if cotton clings on to the previous year's base index of Rs.3000 a quintal, it'd mean a commission of Rs.300 a quintal. For a total procurement of 500 quintals, that would have fetched him Rs.150000. That, alas, was a far-fetched dream. The prices crashed to Rs.1800. Sunil was doomed.
He did not realise that he had ventured into an alley wrought with risks, brought about by highly volatile global markets.
"Instead of making profit, Sunil suffered huge losses in that business," laments Jyoti, who is now alone handling the household and tending to the family farm. Sunil had bought cotton from the capital he had borrowed from private lenders at an interest rate of 10 per cent per month. On each quintal that he purchased, he suffered a loss of Rs.500-700. The total loss stood at Rs.2.4 lakh, and at 10 per cent interest per month – or 120 per cent annual rate – he was in for trouble.
Concurrently, their own farm income too dipped sharply, with prices crashing. It was a blow from both the sides. Sunil could not withstand the pressure from his borrowers. Sunk in debts, the 34-year-old committed suicide on 10 March 2004, leaving behind Arti, his wife, and Ekta, his daughter (then three years old).
A bereaved but well-composed Jyoti says: "After Sunil's suicide, moneylenders started harassing my husband (Santosh) to no end. I could sense his growing tension."
Santosh mortgaged his land in 2005 and sold two of the three pairs of bullocks to bail him self out of indebtedness and ease his financial burden to meet the exigencies. He repaid the old loans, part by part. But he could not break the vicious cycle. So when the heavy rains swept away the first sowing and destroyed his land earlier in June 2007, a heart-broken Santosh sunk in worry, never to come back out of it.
Jyoti says her husband had borrowed fresh loans from Gramin Bank, the District Central Cooperative Bank and the Bank of Baroda to the tune of Rs 1.14 lakh. She says Sunil's outstanding bank loans of Rs.96,000 are also yet to be repaid. "This year I have borrowed money from my relations and well wishers," she reveals.
Ironically, the tehsildar G Solanki visited the family only after Santosh's suicide, but offered no help from the government. The first two suicides virtually went unnoticed. Jyoti has now shifted her son to the brother's home in Khamgaon for studies. Both her children are doing a diploma course in agriculture, she informs.
Battered by a series of suicides and loss of her husband, Jyoti is not giving up the fight though: She would try her hand at farming, aware of the trouble ahead. But then, she adds, trouble is not a new thing either for her, or the farming fraternity.