Come July-August and most Delhi roads are dotted with orange-clad men carrying decorated paraphernalia on their shoulders. While certainly arousing curiosity with their unique outfits, group formations and chats, one almost never finds out where and what they're headed for.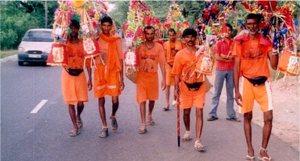 Kanwariyas march along on Delhi streets. Pic: Varupi Jain.
Kanwarias, as they're popularly called, are devotees of Shiva. Dressed in orange coloured clothes, they carry holy water (kanwar) of river Ganga from Neelkanth, Gomukh or Haridwar to be poured on the Shivlinga in their hometown on the occasion of Shivratri. This journey on foot, when completed, is supposed to fulfil their wishes and endear them to Lord Shiva.
Legend has it that at the time of 'samudra manthan' (turning of the seas upside-down) both ambrosia and poison surfaced. While many gods and goddesses eagerly tasted amrit, no one wanted to have poison. Yet, consuming poison was crucial or else it would have caused enormous destruction had it touched the Earth. It was then that the 'God of Gods' -– Shiva put the poison in his throat – which caused tremendous heat in his body. It is to pacify this heat that gangajal (water of the Ganga) is poured over Shivlingas -- a process known as Jalabhishek.
Shiva devotees in most cities who do not travel to Haridwar organise camps along the route followed by kanwarias to serve them food and water. Shiv Shakti Sewa Sangh, Punjabi Bagh (the camp is on the Upper Ridge Road, New Delhi) is one among 45 organisations in Delhi dedicated to serving the kanwarias on their return journey from Haridwar. These organisations typically run on voluntary contributions and provide the kanwarias walking back home with food, drinks, night shelter, medical-aid and bathing facilities. At this camp alone, around 30 – 40,000 kanwarias stop by for food, medicine etc.
However, as Ram Niwas, a worker of the organization points out, "during the one month preceding Shivratri the number of devotees visiting Gomukh and Haridwar could be anywhere around 20 – 25 lakhs. Devotees come from as far as Nepal and Tamilnadu. Once the kanwaria stops for rest at any camp situated along the roadside then he has to take bath as well as wash his clothes before moving on. He is not supposed to even think of any wrongdoings".
A kanwar typically comprises a long bamboo stick with small containers carrying gangajal tied to either end. It is decorated with red and orange cloth strips and other glitzy material and is balanced on the shoulder of the person carrying it. There can be many types of kanwars: the 'standing kanwar' need not run with someone continuously – the only condition is that until reaches its destination, the water has to be continuously carried on someone's shoulder, even if the person carrying it is only standing and not walking. The 'hanging kanwar' also need not run continuously; in fact it can be placed on a stand while the owner rests or bathes. The 'sitting kanwar' can even be placed on floor while the owner does something else. "The 'mail' or 'dak kanwar' has to keep running like an Olympic torch," says Ram Niwas. "Someone walks along with the person actually carrying the kanwar in order to make the run of the kanwar continuous. A 'dak kanwar' takes about 12 – 15 hrs to reach Delhi from Haridwar," he says.
The government, the devotee community, voluntary donors and scores of others – all come together to organise and support this religious tradition. It is a reminder of an associativeness that seems to work.

According to Om Prakash, who carried gangajal form Haridwar to his hometown Jaipur, "true devotees want to practice japna (chanting of holy mantras), tapna (developing will-power by making the body tolerant to pain) and vrat (fasting). Our walk from Haridwar to the hometown gives pain to our body which helps us practice tapna."
One wonders if everyone who carries holy water from Haridwar also reaches their destination. "Even if someone gets sick or too tired on the way, that person is free to break his journey and passes on his kanwar to others from his group also going to the same city. These devotees usually travel in groups and even if they start their journey alone, they're 'adopted' into one of the many groups," says Om Prakash.
Are the kanwarias a particular community? "Anyone can be a kanwaria. However, relatively few women and children opt to walk down from Haridwar," says Satish Kumar Gupta, another devotee. "We are indirect devotees of Shiva. By serving the kanwarias who walk all the way to pour gangajal on the Shivlinga in their hometown, we are indirectly serving Shiva," he says.
The Delhi city government pitches in by providing doctors and medical-aid, water and all the tents, chairs and tables. But the voluntary organisations take care of all other organizational aspects like securing cooks, workers etc. The government also contributes by making separate lanes on at least some of the roads for the kanwarias. "However, still, on their long journey which totally drains them out, once in a while they do get injured in traffic accidents," says Gupta.
Every year there are reports about friction and accidents along the roads that the kanwarias follow. According to media reports, this year traffic police met with kanwarias and religious organisations to suggest that they take an alternative route to avoid main city roads. But the alternatives were rejected by the devotees. Some traffic concerns and congestion problems are bound to be there because of any special movement, more so on streets as choked as Delhi's, says Sunil Bhisht, a devotee from Kanpur. "But why single out the kanwarias? Have the traffic police been able to rectify similar situations caused by other religious processions or by the massive construction projects going on in Delhi?" asks Bhisht. But he adds that in any case, devotees were satisfied with the support of the traffic police.
The support that the kanwarias' journey finds is a reminder of how religion still fosters solidarity and unity, besides of course (sometimes unintentionally) creating divisions. That the government, the community, voluntary donors and others – all come together to organise and support this tradition is indicative of an associativeness that seems to work. If only these values – mutual support, solidarity, purity, sense of community and service – were to extend beyond the roads leading back from Haridwar, to seep into government daftars, post offices, community centres, traffic signals, public toilets and community parks, Lord Shiva would surely have an added reason to smile.