"Are you a clerk or are you a journalist?" He yelled those words and then almost threw a box file of archived magazine issues at me. "Find out what in your story is important to your reader and write about that." That was Prakash Kardaley, the then resident editor of the Pune edition of the Indian Express, and I was a fledgling reporter, just six months old in the profession. Today almost a decade down the line, those words still ring loud in my ears whenever I sit down to write - even right now, as I struggle to tell about this sharp and astute journalist, who honed dozens like me into reporters, who taught us how to recognise news and how to write it right, and who died on the afternoon of 15 July 2007 at his residence in Patrakar Nagar in Pune, following a heart attack. He was 66.
Kardaley, or Master as he was known in the newsroom, was a loud man --vociferous in his criticism. He was often dramatic, hurling objects at those who disappointed him. His very appearance in the newsroom was traumatic for his reporters. But they loved him and respected him tremendously and were fiercely loyal to him. For they knew that behind the hot temper and the abusive language was a journalist completely wedded to his newspaper, a reporter who cared passionately about the city he lived and worked in, and an editor who respected his readers and their concerns so much that he strived hard to give them true and fearless reportage every single day. Yes, that's how the Master was -— a true representative of the fourth estate.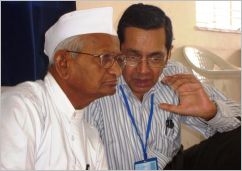 Prakash Kardaley (right) with Anna Hazare. Picture credit: RTI e-group Hum Janenge
Kardaley began his journalism career with the Hitvada in Nagpur and then joined the Indian Express in 1967. He spent nearly four decades of his 66 years working with the Express. He shaped the paper's Pune edition and spearheaded it as its resident editor from 1989 to 2000 after which he moved on to be a senior editor (Express Initiatives). His personal integrity and unflinching courage to uncover the wrongs in society were an inspiration to his colleagues and also lent a certain character to the paper. His mission as their editor was to teach his team to think sharp, to ask questions that elicited responses that were important to readers, and to analyse situations such that the end result was flawless and fearless reporting.
One of his greatest contributions to Pune and local activism was the Express Citizens Forum, a joint initiative with citizen activists. Together, they fought many battles – to save Pune's hill tops, to keep roads free from encroachments, to keep the city noise pollution-free during Ganeshotsav and more. He even succeeded in getting the government to cede a piece of land from the Raj Bhavan property to widen the adjoining road, thus easing the traffic a bit. Pune's well-being and the welfare of its citizens were very dear to him all his life.
Kardaley was a storehouse of information when it came to all matters Puneri. Pune's history – the Peshwas who ruled Pune, the various battles they fought with the Moghuls and the British, the intricacies of inhouse conspiracies – was literally on his fingertips. And of course, he had enough maps and books in his pigeon-hole cabin that he loved to bring out and pore over in order to explain a point. I can't say what used to enthrall me more – the actual story he was telling or the excitement writ large on his face as he narrated it. He would love it if any of his staff would approach him with a problem. Promptly the keyboard would be pushed aside and thick and thin books would take its place on his desk. Those outside the cabin would heave a sigh of relief. "The Master will take another half hour at least before he ventures out."
Kardaley was a storehouse of information when it came to all matters Puneri. Pune's history – the Peshwas who ruled Pune, the various battles they fought with the Moghuls and the British, the intricacies of inhouse conspiracies – was literally on his fingertips.
Kardaley on India Together
• Can I have my answer papers, please?
• Unleashed from the bottle

The defence forces occupied another special corner in Kardaley's heart, right from the traditional Maratha heroes of Shivaji's time to the valiant soldiers who fought in the post-independence wars. I remember the passion with which he put together a special issue of
Citizen
, a now-defunct city fortnightly magazine brought out by the
Express
in Pune, to commemorate the silver jubilee of the Bangladesh war of 1971. Every single word that went into that issue had to pass his scrutiny. He remembered exactly which of those dozens of colonels or brigadiers or major generals that we interviewed in Pune had fought at which location and had been awarded which medal.
One of the unique roles he played was as coordinator of the Express Citizens War Memorial. He successfully led a people's initiative to erect a war memorial which would have the names of all the post-independence martyrs from Maharashtra. On 15 August 1998, when the then governor of Maharashtra Dr P C Alexander dedicated the war memorial to the nation, many a family member shed silent tears that their martyrs had finally been paid due respect. All thanks to this one man who silently crusaded for their honour.
As Kardaley withdrew from daily management of the edition, he espoused newer causes. For the past seven years, the Right to Information was dearest to him. For him the RTI Act was a weapon that held tremendous power to better society and he insisted that ordinary citizens were the warriors who had to wield it. He worked relentlessly to create awareness about the Act and guide citizens to understand and use the provisions of the Act. In October 2004, he started a an Internet group called Hum Janenge, a discussion forum for people interested in knowing about the act through experience sharing between members. At the time of writing, the e-group has 673 members.
Says Bangalore-based Ashim Jain, a member of HJ, "He took pains to promptly and personally communicate with the hundreds of activists/volunteers/people that he came in contact with." Along with Anna Hazare and other activists, he got the state government to make suitable amendments to the Maharashtra RTI Act, which was replaced in 2005 by the national RTI law. Applauding Kardaley's contribution to the cause of RTI, Shahid Burney, journalist and RTI activist, says, "The Prince of RTI has gone."
Till his last day, Kardaley was breathing fire, striving ceaselessly to make something work better somewhere. His booming voice and equally loud laughter will always echo in the hearts of all those who had interacted with him. His colleagues will always hold on to his tenets of journalism that guided them in their newswriting. And most of us, through the course of our work ahead, will want to assure him, "No Mr Kardaley, we are not clerks. We are journalists."