The success of Shri Mahila Griha Udyog Lijjat Papad (now onwards Lijjat) lies, among other things, in its ability to offer self-employment opportunities to women at all its 61 branches. Any woman looking for work can approach any of Lijjat's branches and join the 40,000 plus strong team of Lijjat's sister-members without any fuss, and earn Rs 2,000 to Rs 3,000 every month for her roughly six hours of work everyday from home. That such a system did not collapse under the weight of its growing number of workers but, on the contrary, gathered strength from them and became a shining example of a business based on the sound but apparently impractical Gandhian concept of Sarvodaya and trusteeship is the biggest surprise element in Lijjat's success story. The company has grown into a corporate with an annual turnover of Rs 300 crore for many years.
How does it work?
After a woman has signed the pledge form, which serves as her formal entry and introduction to the formal working environment, she is considered as a sister-member. The branch office normally operates from 6.00 to 10.30 am during which time some sisters prepare the dough, while others receive ready papads from those who had taken the dough home the previous day. Payment, called vanai charge, is made straight away, before fresh dough is given for the day's work. Accounts are never kept pending even for a day nor is any credit given to a dealer no matter how big or important he is.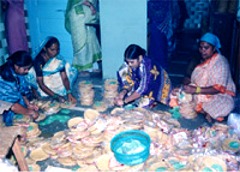 Success in their hands: Lijjat has fired the imagination of women and rural folk
Every branch is headed by a sanchalika (branch head) who is chosen from among the sister-members by consensus. Similarly, allotment of different works like dough-making, distribution of dough, weighing and collection of papad, packaging, etc. are all decided by the sister-members by consensus. The wage pattern is such that the same amount of work fetches almost the same wages. In any case, it is the collective responsibility of the sister-members to manage all branch activities efficiently and profitably. Apart from production, the branch is also responsible for marketing its products in the area allotted to it. The wide network of dealers and the goodwill that Lijjat products enjoy with customers make the marketing relatively easy. To maintain the high quality and standard of Lijjat products and uniformity in taste for the same product from different branches, the central office supplies the raw material – mung and urad flour -- to all its branches. This remains the only involvement of the central office in the entire production and marketing exercise of the branch office.
Vanai charges (rolling) differ from branch to branch, between Rs 14 and Rs 18 per kilogram depending on the profit of the branch. Each sister-member is expected, as also bound by the pledge, to roll out at least three kilograms of papad everyday. A new member, after about 15 days of on-the-job training, starts achieving this target in about five to six hours and goes on to roll out one kilogram per hour after some months. Helping hands at home shoot up production and accompanying monetary returns. If there is any loss, sister-members, as the owners of Lijjat enterprise, absorb this by taking less vanai charges. Similarly, profits are distributed among the sister-members as extra vanai charges at the discretion of the branch concerned.
Challenges and potential
The story of seven illiterate and poor women who borrowed Rs 80 to start a papad business, and took its turnover from Rs 6,196 in the first year to Rs 300 crore in the next four decades, involving over 40,000 women on its revolutionary march, is fanciful at any rate. But to say so would be undermining the contribution of a well thought-out Gandhian business strategy, equally well executed by his followers, late Chhaganlal Karamshi Parekh and Damodar Dattani, who worked tirelessly from behind the scene. Their vision was clear – an exclusive women's organisation run and managed by them, a quality product that these women had the expertise to make, and, finally, a work environment which is not competition-driven and mechanised but based on pure labour and love for the organisation and its people.
Lijjat is today guided by separate divisions of advertising, marketing, sales promotion and exports. There is greater coordination between branch offices (different production and marketing units) and centralised marketing, advertising and exports departments. Transfer of finished products to centralised marketing offices from different branches was worth Rs 113.52 crore and ad-spend stood at Rs 2.55 crore for 2000-2001.
But more than its much-hyped sales figure, Lijjat's experiment in the realm of corporate governance stands out as one of a kind. All the centres are autonomous, profits remain with the respective branches and are normally used to augment the business after a due share is distributed as extra vanai charge to sister-members. Employees, numbering about 5,000 including the chairperson herself, are in no way superior to sister-members, and are therefore expected to behave accordingly. Besides, the phenomenal growth and expansion of Lijjat into a multi-product company has opened up new employment opportunities for the sister-members; eligible candidates are chosen and trained to work in its modern Polypropylene, Sasa detergent & cake and printing divisions.
The Lijjat system did not collapse under the weight of its growing number of workers but, on the contrary, gathered strength from them. It's story is one of teamwork and profit-sharing.

Lijjat's Ranchi branch was established in November 1997 bifurcating it from the only branch in Bihar at Muzaffarpur. It pays Rs 11,000 per month as rent for the building which houses its office and workshop. A "trekker" (thirteen-seater passenger vehicle) has also been purchased for the conveyance of sister-members from home to the Lijjat office and back. This branch has 165 sister-members and sold papad worth Rs 0.65 million in November 2002. Vanai charge is Rs 14 per kilogram of papad and each sister was paid Rs 250 as extra vanai charge on Dipawali this year. The Muzaffarpur branch, according to Lijjat sources, paid Rs 2,500 as extra vanai charge to its sister-members. Similarly, the Mumbai and Thane branch distributed gold coins of five grams to each of the 4,056 sister-members a couple of months ago. The branch averages around four rupees as gross profit and one rupee as net profit from per kilogram of papad.
"As an experiment, Lijjat has insulated its sister-members from joblessness. These women also work from their homes, where help from other family members not only adds up to the income but also makes the work more enjoyable. At the workplace they are self-respecting, hard-working and sisterly to one another. More importantly, besides the strength of womanhood, Lijjat is also an experiment in the restoration of the essence of womanhood. The Lijjat women offer an alternative to the highly competitive and stressful work environment defined and dominated by men in which a woman competes with a man more as a man than a woman," says an elderly Gandhian, TK Sumaiya, of Bombay Sarvodaya Mandal.
How is Lijjat placed in the market?
As a business enterprise, the declining sales figure for three consecutive years – Rs 298 crore (1999-2000), Rs 288 crore (2000-2001) and Rs 281 crore (2001-2002) – is a matter of concern for Lijjat management. Some of its home turf in Maharashtra and Gujarat has been captured by a growing competitive local market. But Lijjat has also expanded to the North – Delhi, Punjab, Himachal Pradesh and, with the latest branch in Jammu, to the Kashmir market as well.
Though each branch is responsible for the marketing of its products in the areas allotted to it, the new centralised marketing offices now procure surplus production from different branches and market it at an all-India level. This coupled with a healthy upward trend in the export of Lijjat papad positions Lijjat as the strongest brand in the papad industry. The other big brands in the papad market are Bikaner, MDH and Saktibhog, but none seem to be able to make any dent in Lijjat's share of the industry as their core business is not papad.
Lijjat markets its products through a wide network of dealers and distributors all across the country, and has never chosen to sell or push its products directly through the vast network of its offices and sister-members even during the initial years. Rather, over the years, Lijjat has developed cordial and mutually beneficial relationships with its dealers. Sisters claim they believe in doing the business wisely and on sound business ethics. Dealers are given a set commission of seven per cent and retailers' earnings are fixed between Rs 2.25 and Rs 26 on the investment of Rs 14 for 200 grams and Rs 150 for 2.5 kilogram packs respectively.
There are 24 dealers for Ranchi branch in cities like Ranchi, Jamshedpur, Dhanbad, Bokaro, Patna, Gaya. During the month of November 2002, around 40,000 packs of 250 gram pack of papad were sold and the total income crossed Rs 0.65 million. According to the accountant at Lijjat's Ranchi branch, who wishes to remain unnamed (as that would shift the attention from sister-members to employees and thus violate Lijjat's principles and traditions), from 2003 Lijjat is aiming at a sales target of a million rupees every month.
Thanks to sound advertising, Lijjat has already become a household name as a symbol of women's strength and resurgence, and its recipe combining udad, moong, pepper and hing has conquered the papad-eater's palate.
Appeal of the strategy
Can the formula work again with another product and in another region? Says Dr Suresh Kumar Agarwal, a Ranchi-based doctor with MBBS, MS degrees, a herbal medicine practitioner, a researcher and leading supplier of medicinal plants, who has also experimented with the running of a co-operative hospital for five years, ``Ninety per cent of health problems do not require a visit to a doctor or the consumption of allopathic pills, but can be prevented, checked and treated with locally available medicinal plants in the house itself by informed family members or local vaids for no money. But the fact that there is no money to be made from it has resulted in the poor growth rate of home-grown medicine systems."
The same is true about the Lijjat experiment. It makes almost equal money for all its people and makes just enough money. No one would become a millionaire by setting up another Lijjat. If this aspect of Lijjat's operations is not very good news for machine and money-driven corporates owned by tycoons, the essential message that Lijjat's success conveys has definitely fired the imagination of women and rural folks. In many parts of Maharashtra and Gujarat, locally manufactured and marketed eatables are catching on. There is hardly any NGO or voluntary organization nowadays which does not try to create employment and funds, small or big, along Lijjat's line.
As a business house, Lijjat itself has been trying to rewrite its own success with another product with varying degree of success. Grounded spices, khakhra, black pepper powder, detergent powder and cake, vadi, bakery products, wheat flour are on Lijjat's menu but papad with a sales figure of Rs 288 crore remains at the top. Among similar ventures which came a cropper are incense sticks, leather bags, tiffin boxes and matchsticks.
But most promising among them is the chapati division with six branches in Mumbai. Here, the women come in to work at around seven in the morning and make chapatis as they are prepared in homes. Packed Lijjat chapati, four for Rs five, are available at retail shops in Mumbai. These centres also procure orders from hotels, office canteens, etc. and the clientele in Mumbai includes some big names from the hotel and catering industry. "As the pace of life increases, little time is available to most people in metros like Mumbai to cook their own food. There are good prospects for women forming small groups and catering to the local demand for homemade chapatti or similar products," says Ashok Bhagat, a leading social worker engaged in tribal welfare activities in the Gumla district of Jharkhand.