People in large numbers, mostly tribal in Sonapur area of Dimoria block of Kamrup (Metro) district in lower Assam, thronged the health-fair premise, organised by the state health department under the National Rural Health Mission (NRHM) programme. They stood in a long queue before the temporary malaria clinic of the fair to undergo blood tests, following advice from doctors to check possible attack of malaria.
The three day health fair that started from 6 April was a part of a series of such programmes organised throughout the state at district level. The objective was to make people aware of availing government healthcare services. The fair was attended by over 30 doctors, nurses, lab technicians with provisions of mobile pharmacy, mobile medical unit with ultrasound, x-ray and others to offer treatment for different categories apart from the special malaria component.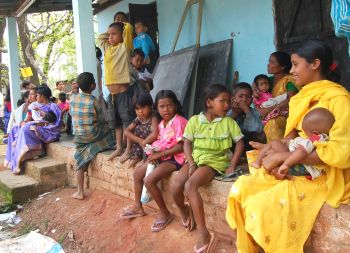 The health fair held at Sonapur. Pic: UB Photos.
Malaria diagnosis was accorded a priority in the fair, as the Sonapur Primary Health Centre (PHC) is one of the 27 PHCs in the state, that have been declared as resistant to chloroquine used in plasmodium falciparum malaria cases. This makes patients highly prone to malarial death if they do not receive treatment promptly. The region is a malaria high-risk pocket with 70 per cent tribal population though there is no malaria outbreak in epidemic form this year as of now.
Monsoons and malaria in Assam
The South-West monsoon that brings heavy rains would start only during May, and the disease usually follows monsoon. Preparing for this, doctors at the temporary clinic of the fair this time have taken all possible measures to check malaria attack and death in this region.
A group of Accredited Social Health Activists (ASHA) of the block, the intermediaries between the community people and the healthcare facilities, who were instrumental in making health fair a success, were busy in assisting poor people to avail treatment, so that they would not face any problem.
The Sonapur district is a malaria high-risk pocket with 70 per cent tribal population. Patients are prone to malarial death if they do not receive treatment promptly.

Apart from the machinery of the state health department, the malaria clinic of the fair was also attended by a team of laboratory technicians and experts of the Sonapur field station of National Institute of Malaria Research, which is located near the PHC for early diagnosis and care of the disease. The Sonapur area contributes over 50 per cent of the malaria cases of the Kamrup (Metro) district.
The institute, established in 1986 has been carrying out research activities on malaria in northeastern states, also pioneered in introducing successfully the insecticide treated bed nets in Sonapur area as a measure of malaria prevention in the country to prevent malaria attack. The field station was set up as Science and Technology project on Integrated disease Vector Control on Malaria to field evaluate the alternative technologies for malaria and vector control with special focus on insecticide treated nets (ITN).
The ITN programme was later included in enhanced malaria control project of the National Anti Malaria Programme. Prior to the health-fair organised this time, a total of 10,000 ITNs have been distributed freely to poor families in the block with the help of ASHA network and Panchayat system, says Dr Arun Kumar Baruah, in-charge of the Sonapur PHC.
Dr Vas Dev, assistant director of the centre claims that following introduction of ITN as an experimental basis, malaria cases in Sonapur area have been the coming down drastically.
"The tribal people earlier did not have the concept of using bed nets and thereby were severely prone to malaria attack. But we have gradually arranged a series of awareness and motivation programme to use such nets. The efforts have worked now and reporting of malaria deaths have come down marginally during recent times," he says.
The number of malaria deaths in Assam in 2006 was 304, which came down to 150 in 2007, Dr Kamal Khound, sub-divisional medical officer in charge of vector born disease control, Guwahati, says. This is however, only the official statistics. There is large scale under reporting of the disease in remote and inaccessible pockets in the state, where medical infrastructure is practically zero. With 610 PHCs and 100 Community Health Centres (CHC), there is still requirement of 216 PHCs and 106 CHCs in the state. Even, the existing health institutions do not have required skilled manpower.
Free distribution of ITNs to poor families has been one of the instrumentals in combating malaria proliferation in Assam, and the distribution was conducted this year much before the malaria season arrives, Khound adds.
"During the year 2007 as many as 2,00,000 ITNs had been distributed freely to BPL families in the state. This has increased to 6,32,500 in 2008, and distribution have already completed. Apart from these, the UNICEF has also provided 10,000 ITNs in 2006, which increased to 50,000 in 2007," he says.
Malaria and Assam
The thrust on malaria is important in Assam, as with only 2.5 per cent of country's total population, it records 5 per cent of the total malaria cases and over 20 per cent of the total malaria deaths of the country. Rising number of plasmodium falciarum parasite that often lead to fatality combined with increasing resistant to chloroquine, inaccessibility and remoteness of the severely malaria prone pockets and other factors have made citizens in those regions more vulnerable.
Resistance to chloroquine was first detected in Assam in 1973 in Manja PHC of Karbi Anglong district. Today all the 11 PHCs of the district have been declared as resistance to chloroquine. Dr Khound says while malaria cases have been registered in all the 27 districts in the state, some districts including Karbi Anglong, Nagaon, NC Hills, Hailakandi, Kokrajhar, Goalpara and Basks have been identified as more vulnerable. However, four districts including Dibrugarh, Sivasagar, Jorhat and Tinsukia have registered significantly less number of malaria cases.
The problem of resistance to chloroquine in plasmodium falciarum can be addressed by using second line of drugs, but for this, early detection, diagnosis and proper treatment is necessary, he says.
The use of rapid diagnostic kits helps in timely detection and treatment of malaria. But norms of the National Vector Borne Disease Control Programme stipulate that only those casualties, where the occurrence of plasmodium falciparum is confirmed by an analysis of blood slides can be declared malarial deaths.
Areas with international and inter-state border in the state are more prone to malaria. Due to peculiar climatic condition with an average of 200-250 rainy days, topography and terrain the entire northeastern region including Assam is rich in flora and fauna sheltering large varieties of mosquitoes. As many as 130 species of mosquitoes including 37 anophelines and 93 culicines belonging to 12 genera have been recorded in the region. Assam, being the largest state of the region contributes maximum number of malaria positive cases of the region with over 60 per cent. Close contact and free movement of people in bordering areas make these pockets more vulnerable to malaria.
Government strategies
In this backdrop, malaria combating programme under the National Vector Borne Disease Control Programme (NVBDCP) through early diagnosis and prompt treatment has been gaining momentum with number of interventions at government initiatives including early diagnosis and complete treatment involving ASHA network, strengthening of microscopy and referral services, epidemic preparedness and response, integrated vector management, indoor residual spraying of DDT in selected malaria high risk pockets, use of larvivorous fish apart from free distribution of ITNs for BPL families.
An optimistic Dr Khound says that a strong surveillance system involving health workers, laboratory technicians and the potential network of 26,235 ASHA is expected to minimize the number of under-reporting of malaria cases as well as early diagnosis and prompt treatment. A series of vigorous training have been going on to train them phase-wise, so that they can detect malaria cases at home, prior to bringing the patient to nearby hospital.
"At least one ASHA have been selected per 1000 population and malaria training have been provided to them phase-wise so that they can collect blood samples. The ASHAs have been provided with chloroquine tablets and rapid diagnostic kits to detect plasmodium falciparum cases, which is responsible for over 60-70 per cent malaria deaths in Assam," he says.
There is no dearth of supply of medicine to combat the disease under the NRHM programme, claims Dr Khound.
DDT usage
The strategies of the state health department also include indoor residual spraying of DDT in high risk areas. Instead of outdoor spraying, more thrust has been given to indoor residual spraying as mosquitoes have the tendency of resting on house walls after biting persons.
When asked as to why DDT was still being used in malaria control despite being banned in other parts of the world as it supposed to be a dangerous chemical, Dr Khound said that anopheles minimus mosquitoes are susceptible to only DDT and prevails mostly in rural pockets due to which the department has been using it in high endemic areas. Only these high endemic areas have been identified for DDT spraying.
The selection of high malaria endemic pockets has been completed in 2006 using a GIS mapping. The indoor residual spraying also reduces the possibility of causing harm to surrounding environment, he claimed. Admitting that DDT has an adverse impact on health, Dr Khound said that adequate care is taken to make the residents of these pockets aware about the health hazards of DDT and they are asked not to touch the walls at least for three months till its effect lasts.
Acceptance of people regarding DDT spraying has increased following series of awareness campaign, Khound adds. The awareness campaign has been carried out during a hectic schedule of observance of health-day at Panchayat level in the line of district level health-fairs. During the year 2007-08, as many as 1,42,252 health days have been organized covering every village in the state, according to reports of the NRHM.
Apart from free distribution of ITN to BPL families, the APL families of malaria prone areas have been asked to use impregnated mosquito net treated with Delta Methrin medicine. The medicated treatment of the bed nets is done in all PHCs and has a lethal impact on mosquitoes that lasts for six months.
Releasing larvivorous fishes
The health department has also given stress on releasing fishes in water-bodies that eat larva of mosquitoes as a measure to control mosquito breeding. The Guppy variety of larvivorous fishes has already been released in dirty water including drains in city areas. The health department has constructed two hatcheries in its premises for production of another species termed Gumbusia fish which is meant for clean water-bodies in the state. The fish species has been procured from Bangalore and have been released in several ponds apart from the departmental hatcheries. Four districts including Karbi Anglong, Lakhimpur, Kamrup and Hailakandi have been selected for release of this species in its first phase.
Too much stress on ASHA workers
Although the Health Department is hopeful that 26,235 ASHAs armed with rapid diagnostic kits, chloroquine tablets and blood slides will be a force multiplier in the combat against malaria, State Programme Manager, NRHM, Assam Dr P N Bora feels that since ASHAs have been appointed primarily for the Janani Surksha Yojana, desirable success of availing their services in successful implementation in other health programme like anti-malaria drive would require greater motivational efforts and incentive-based support to the ASHAs.