"Wa hamluhu wa fisaluhu salasuna sahran" - "carrying of the (child) to his weaning is (a period of) thirty months", says the Quran (46 Ayat 15). This religious recommendation, from centuries ago, urges families to keep their children at least two and a half years apart. In modern India, this remains a useful tool in the government's efforts to promote smaller families.
Dr. Ilias Ali, Associate Professor of Surgery Gauhati Medical College and the State Nodal Officer of No Scalpel Vasectomy (NSV), Assam, finds this a very helpful source of inspiration and justification for his professional work. Recently, he addressed a huge crowd of medical practitioners, nurses and male participants gathered to attend an NSV camp organized in Boko First Referal Unit hospital in lower Assam's Kamrup district.
This is among a few verses deliberately picked up by the doctor from holy texts, which he uses in his regular motivational lectures titled "Population Explosion and Its Dangerous Impacts on Earth and Mankind and Religious views for Protection of Earth." He gives these talks at the beginning of each NSV camp, particularly targeting the Muslim community, reminding them that religion is not a bar for adoption of family planning measures by men.
The lectures that Dr. Ali delivers during his frequent visit to these camps have become quite an inspiration; 43 per cent of men who particpated in recent NSV programmes were Muslim, he says.
"This is a very encouraging trend, that poor Muslims have started adopting NSV as a popular population control method. In fact, population growth among the indigenous Muslims and elite group of the non-indigenous (usually Bengali speaking) Muslims in Assam is similar to other population groups. However, among the poor non-indigenous Muslims, mostly living in river banks, river islands or islets, population growth is explosive owing to their low socio-economic status and pathetic living conditions."
"Additionally, child marriage, multiple marriages, religious misbeliefs, and misinformation regarding family planning have made the picture more volatile. My aim is to make them aware about religious sanctions for a healthy human life", says Dr Ali.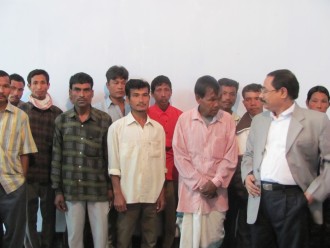 Although NSV was developed way back in 1974, it was included in family welfare programmes in India only in 1993. And first NSV camp in Assam was organised only in April 2008.
(Above: Dr Ilias Ali talking to some male participant belonging to different communities at an NSV camp organised at Boko First Referal Unit hospital, in lower Assam.s Kamrup district. Picture by Ratna Bharali Talukdar)

NSV, a permanent birth control operative measure for men is an advanced and highly successful method. It is easier than female sterilization. A small hole is made with a special instrument in the mid part of the scrotum and the sperm carrying tubes are taken out through this whole and the canals are blocked. The entire process, virtually painless takes only 10-15 minutes, and the patient can resume normal activity within 4-5 hours. The thrust on men for such programmes is sure to benefit women too, as they in turn are more burdened with household activities and poor health conditions, he feels.
Initiation of such programems in Assam, however, was not easy. Male sterilisation itself is a very sensitive issue throughout the country, even today. The department of Health and Family Welfare, too, was quite reluctant to spread the awareness on adoption of such methods. To make it popular among poorer Muslims, gripped with endless superstition, was particularly difficult. But the State Nodal Officer, who is himself Muslim, has become successful in making the methods more popular among them, by scientifically interpreting religious sanctions for a better human life. Once the people were motivated, it became quite easier. Even the religious leaders now cooperate in organising such camps in different localities.
Although NSV was developed by Chinese medical practitioner way back in 1974, it was included in family welfare programmes in India only in 1993. And first NSV camp in Assam was organised only in April 2008, at the initiative of Dr. Ali, with 16 surgeris performed then. During September that year another nine operations were performed. In February 2009 he was appointed the state nodal officer of NSV. Soon he became instrumental in organising NSV camps throughout the state, targeting groups where population growth rates are higher than average. The objective was to reach those usually not served by the Department of Health and Family Welfare, and to bridge the gap between medical practitioners and those in need of their servics.
Dr Ali's missionary approach immediately received a tremendous response. "It was quite surprising for us also that total NSV cases increased to 1144, practically between January and March 2009, from only 19 cases in 2007-08. During 2009-10 the target was only 10,000 but we had performed 14,073 cases", says the enthusiastic doctor.
The doctor also points to another text he finds very helpful in his work: Wal walidatoo urdina aoladohunna haolaini kamilini (Al Quran, Chapter 2, al Bakara, 233 para), which urges mothers to "suckle their offspring for two whole years", and cautions women against giving birth to a new child while still breast-feeding the older one, waring that this will hurt both young ones.
Across India, says Dr Ali, male participation in family planning measures is low, at approximately five per cent, but in Assam the growing use of NSV has seen men's participation rise to 19 per cent. The NSV approach of male sterilisation has also acted as a boon in improving female health conditions, as women in economically backward communities typically have to perform endless duties with a poor diet. Men who come forward to adopt such methods are a source of immense mental satisfaction to their wives. Their choice also helps in maintaining a healthy family atmosphere. In some areas, however, both the husband and wife have come forward to adopt family planning measures - an even better trend.
Dr Ali travels on bullock carts, as a pillion rider on bikes, by country boats and sometimes walks several kilometers at a stretch depending on whatever mode of transport is available, to reach people living in some of the most backward pockets of the state. The Department of Health and Family Planning has the provision of providing each NSV beneficiary a cash incentive of Rs.1100 on the spot, and another Rs.200 to those motivating them to come forward.
Dr. Ali, however, believes that spreading education among women in rural pockets is the best family planning policy. Citing examples from studies in Nigeria and Yemen, he says that illiterate women usually have two children more those educated up to primary school, and four children more than a woman who has a higher secondary level of education. The most effective intervention, therefore, is to ensure that every girl receives at least a higher secondary level of education, to have a balanced population group, he adds.