New Delhi (WFS) - There are brown ones, black ones, and even grey ones. Teddy bears of all sizes and colours tucked in her bed, beside her pillow. "Have you met my babies? They are all sleeping right now. Don't they look sweet?" asks Rita Sikand, 86.
Sadly for Sikand, these teddy bears are all she has now. Thrown out of her house by her daughter, she has been staying at a private old-age home in Delhi for the past five years. Here, her basic needs of food and shelter are looked after and she is able to live a life of dignity. However, the home is unable to fulfil her longing for the love of her family.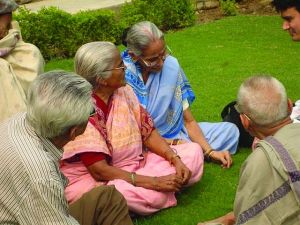 Octogenarian Rita Sikand lives at a private old-age home in Delhi, where her basic needs are taken care of, but she longs for the love of her family. Pic: Joginder Chawla.
With the breakdown of joint families, it is not just values that have changed but also traditions. "It was taken for granted that you would grow old with your children around you. But now, there is no guarantee of that," says Matthew Cherian, chief executive of HelpAge India, an NGO working for the elderly.
The worst affected by this phenomenon are women, who will soon constitute 51 per cent of the population of older persons, thanks to an increase in their life expectancy. According to the 2001 census, the life expectancy of females is 68.1 against 65.8 of males for the period 2006-2010. This will rise to 72.3 for female against 69.02 for males during the period 2011-2016.
This demographic fact is no secret. In fact, the government acknowledged the need for steps to be taken to address the needs of women in its Bill on Older Persons. This Bill, which was passed by Parliament last year, stresses that sensitive initiatives for women within the elderly population needed to be taken to prevent them from becoming 'victims of triple neglect and discrimination on account of gender, widowhood and age'.
Yet, no special strategies have been formulated. In Delhi, there is only one home specifically for destitute women, run by the New Delhi Municipal Corporation. According to officials of the Ministry of Social Justice and Empowerment, the nodal department, the ministry does not want to discriminate between men and women although it accepts that the older women will outnumber older men. So its initiatives are aimed at the elderly in general.
"There is an alienation of old people especially in the urban areas. The worrying part is that eight per cent of the grey population comprises single women. They face not just physical insecurity but financial and emotional insecurity as well. Who is going to look after them?" asks C P Thakur, economist and founder, Institute for Human Development.
"It was taken for granted that you would grow old with your children around you. But now, there is no guarantee of that."


• Senior Citizens' Bill, 2007
• Seniors await policy, action

Are old-age homes the answer to the problems faced by the increasing number of single, elderly women? Yes, says artist Surjit Kaur, 74, who lives in Har-Mit Trust and Home for Senior Citizens located in the posh south Delhi colony of Greater Kailash. "old-age homes are wonderful because as a single woman it gives me independence and security. I don't have to be dependent on anyone and neither do I have to worry about being murdered in my sleep," says Kaur.
The desire to be able to live as they wanted was also one of the reasons that prompted Colonel Jagjit Singh, 89 and wife Guna, 87, to live in Godhuli, an old age home in Dwarka in Delhi. "These homes are very necessary because it gives old parents their freedom. It hurts when the children don't listen to you or don't have time for you. My daughters are very loving and caring. But they do have their own lives. This way all of us are happy," Guna discloses.
According to a recent local study by HelpAge India, an overwhelming majority of the elderly residing in old-age homes was compelled to live there because of familial problems.
The findings of its survey of 30 old-age homes in Delhi and the National Capital Region conducted last year revealed that family problems had prompted 70 per cent of old-age home residents to seek the refuge of such homes. Ten per cent of the residents opted for these homes because their children lived abroad, 10 per cent did so because they had only daughters (and could not live with them) and another 10 per cent had never married and, therefore, had no children to live with.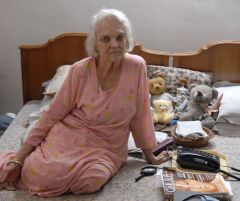 In today's times old-age homes are viewed a necessity, as they give old people the freedom to live as they want, without being a burden on their children. Pic: HelpAge India.
However, many of them are wary of revealing they live in old-age homes. "There is a stigma attached to such homes even though now many of them are called senior citizen's homes. This is because it is presumed if you live in them you do so because either you have been thrown out, left out, or are in distress," claims Thakur. This is why when his wife, Sushila, decided to shift to an old age home, she kept it a secret. In fact, both her husband, who is a former member of the Rajya Sabha and her son, who lives abroad, opposed her decision to shift to Godhuli. But they were unable to dissuade Sushila, who wanted time alone to try to cope with the tragedy of her elder son's untimely death.
It was to give the older people a home away from home that Har-Mit was founded, says Avtar Pennathur, a psychologist, who donated her home for the purpose. Expressing similar sentiments is Krishna Satyanand of Servants of the People Society, the NGO that runs Godhuli. Both these homes are pay-and-stay homes. The average cost of living at private homes like these ranges between Rs.6,300 (meals exclusive) to Rs.15,000 (meals inclusive) per month for single occupants. The rental cost for a couple is higher. Yet, these homes have a long waiting list.
It is not just private homes that have people queuing up. Government-run old-age homes, which are far more modest, are also filled to the capacity. Furthermore, NGOs like HelpAge receive over 300 complaints a month from elderly parents of ill-treatment by their children. Clearly old-age homes have become a necessity.
The government has already legislated the setting up of an old-age home in every district in its Bill. But it has not clarified whether some of these homes are to be exclusively for elderly women. However, the mere setting up of homes cannot ensure a life of dignity for them. For these homes to become more than mere shelters, there needs to be a change in the societal mindset that considers the old, particularly women, unwanted and a burden. (Women's Feature Service)