A steady partnership is building up between the BMP and the citizens of Bangalore PROOF campaign and the fourth quarter (Q4) results discussion of May 17 displayed this in full measure. "It has been a tremendous experience and an opportunity for us to not only improve our performance but also showcase our achievements," said BMP Commissioner Srinivas Murthy in his concluding remarks after replying to the citizens' analysis of the municipality's numbers. Mr Murthy announced that he has asked each department to prepare a month-wise activity schedule that would aid progress and help monitor activities better. He emphasised that a seachange had taken place in what the citizens of Bangalore expected from the BMP. "We are now involved in not just maintenance but are increasingly being expected to take up development work," commented Mr Murthy. He felt that the growing interest has helped the BMP improve the quality of its work.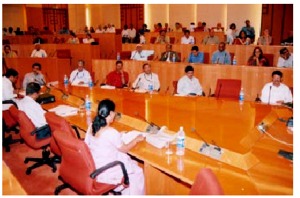 BMP's Q4 results under discussion
Some exchanges at the BMP's Q4 debate
Q. There is a difference in the amount budgeted (Rs 127.4 crore) and the amount spent (Rs 104.5 crore) for salaries. Why?
The BMP staff consists of employees of the BMP and deputed officers from various departments. When the latter are transferred the posts fall vacant and this results in less expenditure.
Q. Rs 32.2 crore has been paid as interest in 2002-03. For what was this?
The amount was paid as interest to BMP bond holders at the rate of 13% per annum.
Q. Q4 data shows that the amount budgeted for machinery and equipment is Rs 1 crore but the amount spent is Rs 5 crore. Why?
The expenditure was due to the fact that machinery and equipment were purchased for scientific development of landfill zones and disposal of garbage in the zonal areas of the BMP. It was expenditure that was inevitable.
Mr.Ananth Ramu, publisher of a Kannada fortnightly called "TAXNET", has complimented BMP's achievement in collecting the property taxes of Rs.197 crores against the target of Rs.190 crores and a higher target fixation of Rs.240 crores for 2003-04 which is a progressive sign. He indicated that the number of tax payers have also increased to 5,20,000 this year, as against 4,75,000 last year.
Interview with BMP Councilor and Finance Chair
The Chairman of BMP's Taxation & Finance Committee since March, Mr G Krishnappa is an active supporter of the PROOF campaign. An engineer by qualification, he was interviewed by two PEC members. Mr.Krishnappa says that PROOF is an excellent campaign that can build bridges between the corporation and the public.
Q. You started of your career as an engineer but are now the Chairman of the Taxation & Finance Committee. Tell us how this happened?
When I was younger I used to take part in various rallies and 'peoples movements.' I felt I could contribute more by getting into politics. I became corporator and then Chairman of the Taxation & Finance Committee.
Q. While some people are prompt in paying taxes; others pay late or don't even bother to pay. What action do you propose to take against these people?
Penalties are being levied on defaulters. Once the city is mapped using Geographical Information System, identifying properties that are out of the tax net will be easier.
Q. Since the tenure for Chairman of the Committee is limited, is continuity of work assured?
Continuity of work is assured due to continuous policies followed by the Council. But precious time will be lost whenever a new person takes over. Ideally, the term should be for at least two years. One can get going only after spending the first two months only in understanding the functions and responsibilities.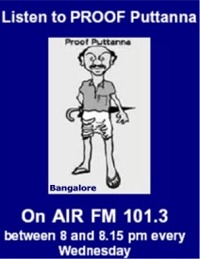 Radio and Public Health
Dr.Vijayalakshmi, an Additional Health Officer with the BMP has reported that people have started visiting the BMP hospitals and enquiring about health issues they heard on the Proof Puttanna radio programme. This has enhanced the doctors interactions patients, and made their life easier, since patients are coming more basic health knowledge. She reported the program is helping patients to be better aware of their symptoms and are able to better communicate with doctors too.
One of the recent radio programs featured Dr. Susheela Shekar who is a director at BMP's Health Dept.
Q. What is the role of the health dept in BMP?
The health department has many obligatory functions that include mother and child care, incentives for family planning, garbage clearing, eradication of communicable diseases and controlling the street dog menace. 2 BMP hospitals have been certified as training centers for the state.
Q. Nearly Rs 120 out of Rs 950 crores is allocated to the health dept. This is next only to the engineering works. How is it spent?
The money is spent on sanitation and health. Sanitation includes collecting garbage from each household, garbage clearing, catching street dogs, operating on them as well as giving them anti-rabies injections. Health includes managing hospitals, dispensaries, and family planning centres. We have 23 maternity homes and 6 referral hospitals. Out of 80,000 births per year, 40,000 take place in BMP hospitals and maternity centres.