When she courageously said, "Rape is not the end of life. I want strictest punishment for all the accused and want to join duty as early as possible," the 23-year-old survivor of the brutal gang-rape in Mumbai's Shakti Mills compound sent out a strong message. That life has to, and will go on, after rape. The young photojournalist who was attacked and raped by five men on 22 August when she was out on a work assignment with a colleague, expressed her desire to return to work when she was was met by a member of the National Commission for Women (NCW) at the hospital where she was undergoing treatment.
Survivors of rape often show great courage and determination to overcome the trauma they undergo. But there are several grim realities for survivors of sexual violence in India that make integration difficult for them. The one that can cripple a survivor's recovery most is lack of focused provisions by the establishment to aid in normalization of life. Essential rehabilitation prerequisites such as free long-term counselling, adequate compensation, free physical and psychological therapy, social security, free education, and gainful employment opportunities are virtually non-existent, or exist only on paper; survivors are most often left to fend for themselves. Support systems fall away one by one as time passes, and the abused remains a casualty all her life.
What's ironic is that there is a scheme in place for rape victims which applies to the whole of India and was meant to provide them the support needed to get back to a normal life. This is the Scheme for Relief and Rehabilitation of Victims of Rape, which brought with it much hope when it was formulated. But over the years, lack of political will, bureaucratic and procedural tangles, fund-allocation delays and tug-of-wars between the state and centre have reduced it to a toothless, futile piece of documentation that brings little hope of justice for rape survivors and hardly a chance at reintegration and recovery. Even today, the scheme lies unused and out of reach of thousands of rape victims whose lives could have been bettered significantly by it.
It's been 20 years since this scheme was first proposed by the National Commission for Women (NCW). On the order of the Supreme Court, a draft scheme made by the NCW in 1995 was framed and sent to the government. It was in the form of legislation for compensation to and rehabilitation of victims of rape and sexual assault in enactment of the Supreme Court's direction. But nothing of note happened in the next ten years. Then in 2005, the commission came up with a revised administrative scheme for Relief and Rehabilitation of Victims of rape. It recommended the Ministry of Home Affairs to issue directives to state governments for assistance to rape survivors.
The scheme was again revised by the NCW in April 2010. The latest scheme envisioned financial aid and rehabilitative services, "on an application filed by the victim of rape, or by any person or organization on her behalf." In the aftermath of the Delhi gang rape in December 2012, nationwide protests by activists demanded concrete implementation of the scheme but execution of the scheme took a hit as there were no funds earmarked for it by either state or central governments.
The Scheme for Relief and Rehabilitation of Victims of Rape, brought with it much hope when it was formulated. But over the years, lack of political will, bureaucratic and procedural tangles, fund-allocation delays and tug-of-wars between the state and centre have reduced it to a toothless, futile piece of documentation.


• How they fool us, the outraged
• Why trolls have it so easy

Protests following the Delhi incident and the resultant death of the 23-year-old medical student also called for more sweeping changes in the system. A committee was formed for faster trials, better implementation of existing laws and gender sensitization. The panel, headed by former Chief Justice of India J S Verma and submitted a 657-page report. But even this failed to make specific recommendations on the need for continued rehabilitation of one who has been raped. Neither did it mention any compulsory rehabilitation package for survivors.
Helping them get a life
Rehabilitation of a rape survivor cannot remain at the compensation level alone. It is a multi-pronged approach that requires implementation at many stages. Kavita Krishnan, National Secretary, All India Progressive Women's Association points out that despite schemes in place the government has failed in its duty to implement these for victims of sexual violence. "Nobody gets anything at all, forget a job. This also shows that the government is looking at a victim of rape as a supplicant for charity, not as a survivor with rights," she says. She also advocates putting in place an entire net that can ensure rehabilitation at various levels, so that a woman can lead her life confidently, independently, without suffering social stigma or discrimination.
Kavita Krishnan also points to the Nirbhaya fund constituted after the Delhi gang-rape and announced during the budget earlier this year. This fund has a thousand-crore corpus for the safety and empowerment of women. But no one is clear what that is for or how it is to be disbursed. Thanks to the pressure of popular sentiment, the December rape victim got free medical care and rehabilitation for her family; but that is what every 'Nirbhaya' in India must get. "Schemes must ensure complete coverage of costs - legal fees, medical costs, providing employment - not just a lump sum amount. But for any scheme to work, it has to be backed by funds," points out Krishnan.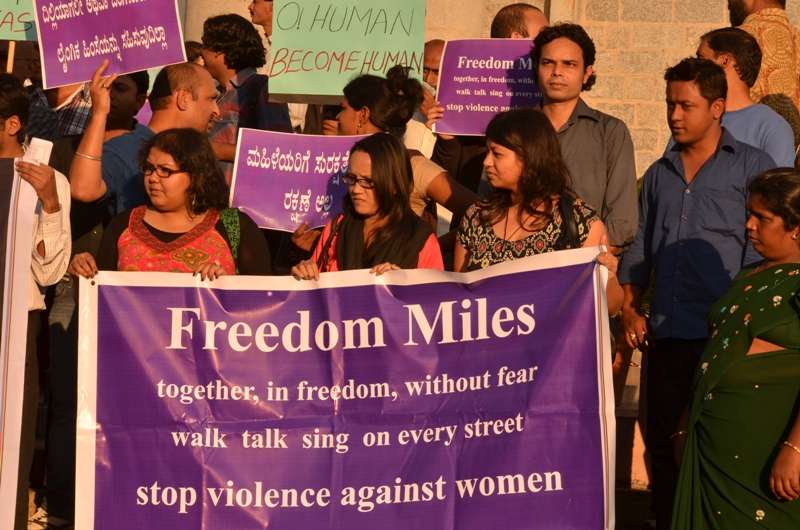 The Financial Assistance and Support Services to Victims of Rape: A Scheme for Restorative Justice developed by the National Commission of Women to grant compensation to rape victims is yet to get any funds from the Centre and has hence not been implemented.
Constitution of a victim compensation fund by all the states was mandated by a 1995 Supreme Court judgment - many governments are still 'contemplating' it.
District Board for Criminal Injuries, Relief and Rehabilitation has either not been set up or dysfunctional in many states
Schemes by state governments lie in cold storage, for example, Education Work for Prevention of Atrocities on Women that is mentioned on the West Bengal government website.
Pic: Protests in Bangalore after the death of the student gang-raped in Delhi.
Credit: Jim Ankan Deka via Wikimedia
Early in August 2013, a bench of Justices R M Lodha and Madan B Lokur of the Supreme Court also came out strongly in favour of putting in place an 'adequate compensation and rehabilitation scheme for rape victims' for the lifelong ordeal they had to undergo. The bench said, "No amount of money can restore the dignity and confidence of rape victims. However, certain measures such as adequate compensation, insurance, employment and social security schemes may help in rehabilitating the rape victims to a certain extent."
Highlighting the importance of interim compensation and rehabilitation, Brijesh Kalappa, Advocate, Supreme Court of India and Additional Advocate General of Haryana says that a change in rape laws has been rightly brought into effect by the Parliament through the The Criminal Law (Amendment) Bill, 2013 because "it was timely to demonstrate how important women are and that the Government is serious." Provisions for compensation were also inserted in the Criminal Procedure Code in 2009 to provide for interim compensation the moment an FIR is lodged.
The idea is to help the survivor sustain herself during trial. "Once the trial is over, the court will take care of the victim's requirement while passing an appropriate order. Interim compensation is to help the victim keep up the fight and aid the cause of justice; otherwise, the victim may give up and the whole case will collapse," says Kalappa.
An NGO called the Forum Against Oppression of Women recently filed a PIL seeking implementation of the Supreme Court directive (1995) to constitute a victim compensation fund. Kalappa also quotes Justice S C Dharmadhikari of the Bombay High Court as he recently questioned the assistant government pleader of the state, in that hearing. "Will you only register an FIR, investigate but not rehabilitate? There are children, minors (among the victims). Where will they go? - The women and child development department does not have funds? Why are you not coming up with some mechanism and appropriate provision for helping rape victims? Where has your sensitivity gone?"
Livelihoods and survival
A key factor that can aid in long-term rehabilitation is financial independence and job guarantee . something that no rape survivor in this country is assured of. Many among them say that they face discrimination and prejudice while trying to find employment in both the private and the public sectors. Kavita Krishnan says that a woman not being able to get a job because of what has happened to her is in itself discriminatory. Where does the responsibility lie? There is only one way to get around it . the government has to lead the way.
"The government has to provide opportunities for employment. If it is made a constitutional right, society will always fall into place. The way of doing this is simple . the government must first change its attitude," she adds. She argues strongly for a guaranteed right to employment and a system where there is full and fair assessment of the situation, based on which a woman's rights are restored to her. "Victims of rape have faced so many traumas, yet they have to live in society, work, earn, and survive. Financial independence is crucial to their survival and to their confidence too. The government owes it to all women."
Dr. M J Thomas, consultant psychiatrist emphasises that being able to return to a normal life and to feel an enhanced sense of self through recovery is essential to the physical and mental well-being of a rape survivor. "Being raped is a very severe form of stressful life event. People cope with life events differently depending on the personalities they are born with, acquired coping skills and the resources available to them. Effective utilization of all these factors is vital to improve the quality of their life. Getting a victim to come back to the well-adjusted, normal social milieu - a working life in this case - at the earliest, helps her acquire the skills of coping faster and better after such a life event."
Rehabilitation also includes giving the wronged person the resources to deal with living in society and fighting its stereotypes. "When there is a stereotyping of the affected with a negative connotation, people keep away from them. That is what the employer does when he avoids hiring a victim. Changing this negative stereotype can create an environment of acceptance for a rape victim, making it possible for her to be hired as often as the others,. points out Thomas. However, that requires a cultural change and cultural changes are slow to occur.
The brouhaha that ensues after a brutal incident of rape lasts a few months, sometimes mere weeks. Law enforcement goes into overdrive, the political establishment promises a safer nation for women, experts debate ways to change the system, a collective outrage is awakened and entire communities band together in a show of solidarity. But as the noise dies down, the survivor is left to fight her battles, to nurse the lasting wounds and to drag herself on the road back to normalcy. The secondary trauma of rape plays out again, as she struggles to get her life and the life of her family back on track.