Soon after the general elections of 2004, I heard a sociologist and an economist exchange stories about the new prime minister. Back in the early 1990s, the sociologist was asked to write a recommendation for one of Manmohan Singh's daughters. Since he knew (and admired) her work, he agreed readily. When the young lady's CV reached him, he found that she had gone to some considerable trouble to hide the fact that her father was finance minister. She was staying with her parents in their large Lutyens bungalow; yet had chosen to use as her mailing address a friend's flat in East Delhi.
The economist said he had a better story. In the late 1970s, when Manmohan Singh was a secretary in the finance ministry, the two had lunch at the India International Centre. After the meal, the economist asked Singh: "Do you mind if after dropping you at South Block, your car drops me at my office on Ring Road?" "Do you mind if it didn't?" answered Singh, a brush-off as gentle as has ever been delivered or received.
When he assumed office in 2004, Manmohan Singh was by some distance India's best educated prime minister. He was the most widely travelled since Jawaharlal Nehru. He was the most honest since Lal Bahadur Shastri. He had a wide range of experience in government, having served as, among other things, deputy chairman of the Planning Commission, governor of the Reserve Bank of India, and finance minister.
There were great expectations of Singh as prime minister; few of which have been fulfilled. Those who thought that the co-author (with P.V. Narasimha Rao) of the first generation of economic reforms would further free entrepreneurs from State control have been disappointed. So have those who hoped the experienced administrator would modernize the civil service by encouraging the lateral entry of professionals, those who believed that the former secretary general of the South Commission would adopt a foreign policy independent of Western (more specifically, American) pressures; and most of all, those who imagined that a person of rectitude and personal honesty would promote probity in politics and administration.
This last failure explains, among other things, the appeal of Anna Hazare, a man whose intellectual vision is as confined as Singh's is large. In the early part of 2011, as the evidence of cabinet collusion in the Commonwealth Games and 2G scams accumulated, the prime minister continued to shield his corrupt ministers. After Anna Hazare's fasts, a popular, countrywide movement against corruption began to take shape. Singh still would not act. In the popular imagination, the prime minister was now seen as indecisive and self-serving, his fellow septuagenarian, Anna Hazare, as courageous and self-sacrificing. It is a mark of how disappointing Manmohan Singh's second term has been that it has allowed an authoritarian village reformer - with little understanding of what Mohandas K. Gandhi said, did, or meant - to claim the mantle of the Mahatma.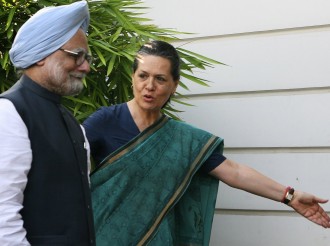 Sonia Gandhi had bestowed on Singh an unexpected gift; however, by accepting it, he had done her a favour too. He should have made more of this reciprocity.

About 18 months ago, Khushwant Singh wrote that Manmohan Singh was the best prime minister India has had. Khushwant is reliable on some matters: such as the history of the Sikhs, the attractions of Scotch whisky, and the poetry of Muhammed Iqbal. He is a man of enormous charm, with a large fund of good and bad jokes. But in so far as politicians go he has a disastrous track record. He once saw in the ruffian Sanjay Gandhi the redeemer of the nation.
Even at the time, Khushwant's praise of Manmohan Singh seemed excessive. Now it seems ludicrous. But why has this honest, intelligent, experienced man, whose appointment as prime minister in 2004 was so widely welcomed, been such a disappointment in office? Here are four reasons, roughly in order of importance:
His timidity, bordering at times on obsequiousness, towards the president of the Congress. Singh is evidently so grateful to Sonia Gandhi for having made him prime minister that he yields to her on matters which are within his preserve rather than hers - such as the appointment of ministers, governors and ambassadors, and the framing of public policies and laws.

In truth, Sonia Gandhi needs Singh almost as much as he needs her. She did not become prime minister in 2004 because she knew she was plainly unqualified - never having worked in government, how could she conduct cabinet meetings, have official meetings with visiting presidents and prime ministers, participate in international conferences on climate change, and so on? Sonia Gandhi had bestowed on Singh an unexpected gift; however, by accepting it, he had done her a favour too. He should have made more of this reciprocity - by, for example, insisting that incompetent or malevolent ministers be replaced.

His timidity in not contesting a Lok Sabha seat. Singh was, by my count, the fifth person to be sworn in as prime minister while in the Rajya Sabha. The other four sought election to the Lower House at an early date. Surely in the 2009 elections, at least, he should have asked for a Lok Sabha seat, from a safe constituency if need be? This is a major source of the prime minister's weakness, of his inability to assert his authority over the cabinet, or garner respect from the Congress, from its coalition partners, and, perhaps above all, from the Opposition.

His lack of judgment when it comes to choosing key advisers. The two principal secretaries in the prime minister's office have been a notorious intriguer and a Gandhi family loyalist respectively. Unlike their predecessors, neither commands respect within the civil service at large. His two media advisers have been PhD's turned editorial writers, with little experience of on-the-ground reporting, and scant understanding of the power of television to make and unmake images. A less intellectual media manager might have insisted that the prime minister go out often into the countryside, to meet and mingle with the aam admi.

His keenness to win good chits from Western leaders. Singh is reluctant to travel to most states of the Indian Union, but always happy to fly between continents for G-20 meetings and the like. As is well known, the one time he asserted himself was when canvassing for the Indo-US nuclear agreement. This treaty will do little to meet our energy needs in an efficient or sustainable manner. And Indo-US relations were on an even keel anyway. But, as when he told George W. Bush that "the people of India love you", his campaign for the nuclear deal suggested that for him a good press in the West sometimes mattered more than focused action at home.
In his first term as prime minister, Singh did not notably enhance his reputation; nor, however, did he seriously diminish it. If he had retired from office in 2009, history would have judged him more kindly. If he thought himself able to carry on, then he should have sought election to the Lok Sabha. He did neither - to find his credibility steadily eroding. It was still possible, in the winter of 2010-11, for Singh to have retrieved some lost ground, by sacking Suresh Kalmadi and A. Raja as soon as the scale of the scandals they oversaw became evident, and by insisting that the Congress break its ties with the Dravida Munnetra Kazhagam, even if that meant the fall of the United Progressive Alliance government in New Delhi.
These successive failures signal a character trait that one does not usually associate with upright and intelligent individuals -namely, a rather desperate desire to cling to office, at whatever cost to one's reputation, one's party, and one's nation.