The day Mamata Banerjee made history with her "green revolution", a red ribbon at the top of television screens broke the news of the demise of Badal Sircar, who brought theatre down from the proscenium to the people. Many failed to notice this news, possibly because Sircar was not 'hot' news and never aspired to be. But where are the inheritors of his unique legacy - placing theatre right within public space among the masses?
Sudhindra Sircar, known as Badal Sircar, took the Indian stage by storm with Evam Indrajit (1963) and Pagla Ghoda (1967). His subsequent productions, Spartacus, Sara Raattir, Hattomalar Opaarey, Bhoma and Michhil (probably his best-known work) have been performed in villages, towns and cities. The 'flexible, portable, inexpensive' motto of Third Theatre brought plays close to the common man, creating an intimacy between actor and audience. The use of simple halls with benches and stools created and nurtured this relationship.
Very early on, he took a liking to plays. "People normally read novels and short stories, and watch plays. I enjoyed reading plays in Bengali because I studied in the Bengali medium Scottish Church Collegiate School. But, as the family's stock of Bengali plays ran out, I thought of teaching myself a bit of English. I was delighted to be introduced by my mother, - the late Sarala Mona Sircar - to grandmother Virginia Mary Nandy's collection of western literature. Grandma, incidentally, was amongst India's first lady physicians, and very well read," he relates.
"I shied away from stage shows, but was addicted to the weekly radio plays. We had crystal radio sets in those years. And only two could listen to the broadcasts through headphones by turns," he would say.
In the 1940s, Sircar, then very young and a trained civil engineer restlessly moved from one job to the next, from engineering to teaching, and took some time off to dabble in Leftist politics. He then moved to Europe. He watched a lot of theatre, soaking in all kinds of forms and styles paying the cheapest gate money. He took time off from his town-planning work to write his own plays. The dabbling turned more serious when he returned to India, taking up theatre in earnest.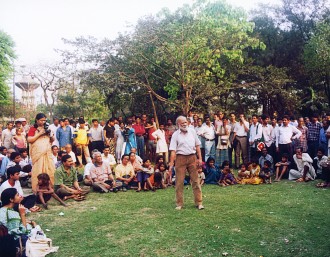 Badal Sircar's plays could be watched either free, or with a sheet passed around or for very little gate money. Sometimes, panchayat funding and commissioned performances took care of the gate money.

Foregrounding Third Theatre, Sircar noted that "first" theatre refers to popular folk art forms such as Yakshagana. Second theatre is "Victorian" and essentially Western. Third theatre blended some elements of the other two, besides cultivating its own feel and identity distanced from them. Though it is sometimes referred to as 'street theatre', it reaches far beyond a mere theatrical performance on the street, away from the proscenium, so referring to it as 'street theatre' dilutes its significance.
The 1970s, which saw the birth of Third Theatre, marked a point of departure in Sircar's career as a playwright. Until then, it was confined within the rigid framework of conventional indoor stage props and architecture. Third Theatre or Free Theatre was intended for larger audiences who enjoyed watching theatre but could not afford the high gate money. Badal Sircar's plays could be watched either free, or with a sheet passed around or for very little gate money. Sometimes, panchayat funding and commissioned performances took care of the gate money.
Why did he keep costs down? For him, the issue was not performance as a form of creative expression alone. Nor was he looking at theatre as a form of elitist entertainment. His theatre aimed to touch the maximum audience possible, across public space, transcending audience stereotypes in terms of class, caste, community, the rural-urban divide, the works. Third Theatre also implied a floating, traveling, wandering troupe of performers who came home only between their shows, to put together, rehearse and prepare a new play.
On a Saturday afternoon in 1973 at Curzon Park, opposite the Governor's House in Kolkata, Badal Sircar and his group, Satabdi exposed Kolkatans to an unconventional theatrical dimension. "Free theatre. No tickets, government grants, industrial sponsors and wealthy patrons," he underscored. Around 1974-75, Sircar's Third Theatre appeared in bookstalls. Curzon Park became a regular venue for his group. Accessibility and a strong political content drew large crowds. One night when they performed and it began to rain heavily, the 3000-strong audience refused to budge. The message was getting across.
Chakra, Sarkar's Cultural Club in Kolkata, intermittently pieced together theatre productions. Plays continued to flow from his pen like a river in full spate. He began with comedies, punctuated by the shattering Ebong Indrajit written in Kolkata that deals with the monotony, stagnation and futility of contemporary existence. The cyclical nature of the play echoes the 'going round and round' of people. He launched his theatre group, Satabdi, in 1967.
Melting into a spate of intensely gripping plays through the French and Nigerian sojourns, Bernard Shaw, Moliere and Eugene O'Neill were now inseparable facets of Badal Sircar's creative purusits. In 1968, he was awarded the Sangeet Natak Academy Award, and was felicitated with the Padmasree the following year. He won the Sangeet Natak Akademi Fellowship, Ratna Sadsya in 1997.
Filmmaker Amol Palekar, a die-hard Badal Sarkar loyal, once invited Sircar to perform at Mumbai's then-famous and now extinct Chhabildas Theatre. Mumbai's theatre lovers were surprised by the total lack of props, glamour, costume and make-up. As each play began to unfold, Hattamalar Oparey, Basi Khobor and Bhoma, actors turned into props and even Nature, dressed simply in kurta-pyjamas turning into a flowing river just now, changing into tube-well the next minute, whispering to the audience sitting on the floor, till the audience began to identify itself with the happenings even if the subject was distanced from its immediate experience.
Before this short 'festival', the only encounter of the Mumbai audience with Badal Sircar was through other groups performing his famous play Michchil in proscenium performances. His influence outside Bengal has mainly been in Maharashtra, where Amol Palekar translated some of his famous plays for the regional audience. In 2004, Jagar, a theatre group staged an adapted, contemporary version of Juloos in Marathi, directed by Amol Palekar, who had organized a festival of Sircar's plays in Pune.
About the influence of Western theatre on his works, he said in an interview to Manujendra Kundu in 2006, "My philosophy is to write plays on socio-political conditions, use theatre to publicise those conditions, aspire towards social change. I will copy them, steal from every source I come by. I have no compunctions about this, because the real purpose, whether I have written it or not, is not important. People consider me a dramatist, but basically I am not a dramatist, not a writer. I am a theatre-worker, a theatre-man. My main job has been to work in theatre. So, I borrowed and adapted whenever necessary."
"For example, I did not produce Caucasian Chalk Circle to explore the Brechtian mode. My intention was not to introduce Brecht to the Indian audience. I thought this play to be absolutely Indian, very contemporary, perhaps more relevant than to Brecht's Germany. Land belongs to the farmers: What does a German farmer make of this idea? Our agricultural workers understand this burning issue. That was why when our group produced plays in the Sunderbans, to the audience neither Brecht nor Badal Sircar was important. For them a small piece of land was very important."
His emphasis on the rigorous training of the actor's body as performer gave strength to his theatre, yet it also entertained. Uncovering blatant lies and myths through intense research, Sircar's plays are intended to initiate and sustain social change. "The rural milieu understands my plays very well. It is the city rich who don't," he would say. "I like going to people with good content, the form is secondary. This makes my theatre inexpensive. We don't invest a lot in costumes and sets. This makes my theatre portable. We can perform on a village road, a no-frills stage."
The movement spread as far as Barak valley. Sircar would recall how at several workshops, especially in Tamilnadu, he had noticed similar movements. The people who attended his workshops took their lessons to the remotest villages, conducted workshops and formed their own theatre groups. "It has nothing to do with any political party. It is a leftist movement outside the party ambit. You could call it the non-party-left, I suppose. I believe with my heart that the ideals of communism cannot be followed within the party."
In the circumstances, it is a strange comment of destiny that this arch believer in the ideology of the left in principle and in practice, passed away silently into the other world the day the ruling Left was swept out of power in his home state. Sircar died in his Dickensian house in one of the many labyrinthine lanes off North Kolkata's Beadon Street; he was 85.