A women's theatre festival is not about women alone, nor about feminist subjects and issues exclusively. It assumes a broader meaning within the national consciousness which sees ever-so-frequent theatre festivals that involve both men and women as founders of theatre groups, as playwrights, as directors, music directors, actors and technicians. Among the many theatre festivals organised at a national level, the National Women's Theatre Festival, called Samanway 7, aims to create an annual congregation of women in theatre and invites them to perform to an invited audience.
Rangakarmee, a theatre group in Kolkata founded and headed by Usha Ganguli, a Sangeet Natak Academy Award winner, has ideated and created this wonderful event where theatre lovers get an opportunity to sense the direction in which theatre appears to be headed and how women are participating in this larger movement.
Samanway 7 is not about theatre alone. It also includes dance performances that break or bend or redefine the rules of dance as they have been known, to make the content more important than the performance, to render the performance as fluid and as free to offer several meanings for the audience.
Samanway 7 was organised this year in Kolkata recently over a six-day period earlier in April. It presented a rainbow-hued ensemble of women performers and directors and ideators, presenting their latest and/or their best creation. Though no one dubs the performances as exclusively 'feminist,' each one, by virtue of the selection of subject followed by the individually conceived and stylised presentations, throws up feminist readings of the respective texts.
As theatre researcher Anita Singh states, "Embedded in the structure of many feminist plays is the argument that identity and gender are not fixed or innate but rather dynamic and culturally created." (Aesthetics of Indian Feminist Theatre, Benares Hindu University)
The performances
This year, Samanway 7 was graced with unique performances. The festival flowed like a river, taking a turn and changing direction, making waves, creating ripples to reveal an original interpretation of a given text, or the execution of a unique link between apparently unrelated entities or events. Every single one of the theatrical performances was a solo.
The festival began with Usha Ganguli's performance of Rozana, a Hindi adaptation of Dario Fo and Franca Rame's work Waking Up. This piece has been staged many times by many women theatre artists, and Rozana relocates the experience within the Indian ambience. But that does not take away the universal essence of the play enriched by Usha Ganguli.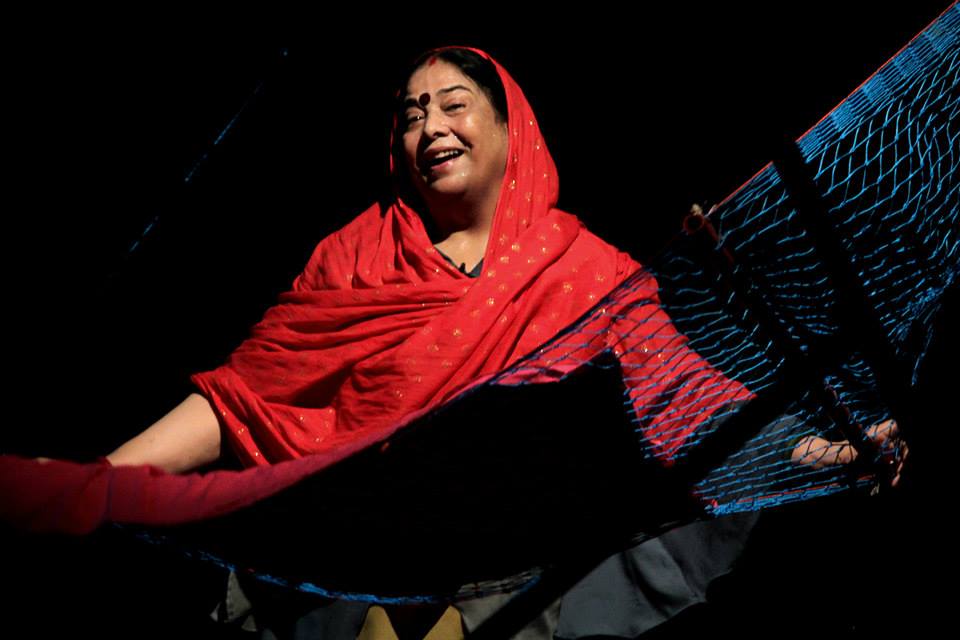 Usha is aggressive, assertive, humorous and tongue-in-cheek in turns, conquering the proscenium space cluttered with props such as a baby on the cradle on one side of the stage, a bed on another and other large knick-knacks that make for a cluttered home, reflecting the burden the woman carries on her sole pair of shoulders.
Apar Kaya, scripted, choreographed and performed by Odissi danseuse and teacher Sharmila Biswas used dance to interpret the mythological tale of Vedavati vis-à-vis that of Sita from the Ramayana. The show narrated the story of the dead Vedavati coming back to avenge her wrongful death as seen through the eyes of the living Sita.
Sharmila's choreography blended the hand and body movements of the weavers of traditional textiles of Odisha as they work on the loom. Four or five girls performing in the chorus offered beautiful aesthetic support to Sharmila's magnificent combination of nritta and nritya – facial expression and body movements from the Odissi style.
Jyoti Dogra's piece de resistance, Notes on Chai which she has performed not only in different cities of India but also in Tokyo and the USA was an amazing demonstration of how the everyday exercise of the daily cup of tea – that is almost a reflex action among Indians or even beyond Indian borders – can be turned around to create small cameos on life, people, incidents and interactions.
Though on the surface, Notes on Chai appears to be a collection of snippets of everyday conversation interwoven with sound and movement, it goes much deeper than that as Jyoti puts to use – perhaps for the first time in the history of Indian theatre – her voice, larynx, tongue and lips, borrowing from her training in Tibetan chants. She uses the spiritual essence of chants to explain mainstream and mundane experiences.
"I spent some time with Tibetan monks in Dharamshala and it is partly inspired by their chanting. I also worked a little with an overtone singer but I am mostly working with sound here," says Jyoti. It takes time to warm up to this form of expression but once you are absorbed into it, it is an experience you will never forget.
Neeta Mohindra's Chanda Mama Door Ke is a dialogue between a single mother and her unborn child. She lives alone and works to eke out a living for herself and her unborn child. She refuses to abort the child despite her absent partner's insistence. There is a highly imaginative use of props scattered across the proscenium space where she effects lightning changes in costume to divide different times of the day and night, mood and experience, and even character switches to use her 'dialogue,' which is really a monologue, to narrate the hopelessness of existence in the contemporary world.
Directed by M K Raina under the banner of Rangtoli, Neeta's performance reaches the final denouement where a male voice-over – of the unborn child – explains to his grieving mother why he chose not to be born. From nothing to nothing – what is the point, he asks and the solo performance ends on that note.
Ramanjit Singh portrayed a different reading of Tagore's famous short story Steer Patra (A Wife's Letter)as directed byNeelam Man Singh Chowdhury and adapted into Punjabi by the poet Surjit Patar. It was not a reading but a performance that included music and song and sound effects of different kinds that took the core of the story to a more universal plane from its original exclusive Bengali identity created by Tagore.
The writing of the letter defines a repeated metaphor , a performance strategy through which the story of Mrinal and her metamorphosis following the tragic suicide by her protégé Bindu, her older sister-in-law's cousin, come across in a novel experimentation underscoring the universality of Mrinal's experience though not her denouement.
There were four more exceptional performances -- unconventional and sparkling, invested with the courage of the respective performers. One was Paromita Saha's abstract dance performance of Ahalya Unwritten from Ramayana. The piece explores the relevance of this ideology in a contemporary context and explores gender constructions both as physical presence and metaphor.
Combining text, contemporary dance movement and interaction with a specially designed prop set to pulsating music is the highlight of the piece. "I see Ahalyas around me all the time. This is my tribute to an entire gender living in a never-ending exile," says Paromita.
Sanchayita Bhattacharya's presentation of A Woman Alone by Dario Fo and France Rame -- about a beautiful wife trapped in an abusive relationship who slowly and surely gets pushed to the edge of sanity -- has had several performances in the city.
A Woman Alone is about the housewife who has everything except the most important thing: the right to be treated as an individual and respected as a human being. But then a new neighbour moves in next door, perhaps opening up a small square of a window in an otherwise walled room. It is left to the woman to choose whether to take that exit point or not. Sanchayita has a powerful stage presence and her performance is dominated by the style she has evolved to slip from one mood to the next with lightning ease.
The veteran Maya Ghosh, at 72, with her vision fading and her hearing almost gone, performed passages from Sitayan entirely from memory; Sumana Chakrabarti's Ak Nari Kadambari was the other performance.
An enduring message
The common thread that bound these performances together was the fact that each one had a message for the patriarchal society we live in. No one was offering preachy solutions but stating facts differently in the garb of different women characters at different points of time in our socio-cultural history.
The performances did not strive to consciously address feminist questions, but evolved naturally into questions in themselves for the audience – both men and women – to reflect on, to remember and to reiterate that this, after all, is the state of womanhood across the world.
These one-woman performances prove yet again how a sensitive mind can conceive and hold all kinds of emotions, feelings of pain, happiness, loss, love, betrayal and triumph within a single performance. Once again, it reinforces Singh's statement that these women are using "theatre as a tool for conscientisation, for critiquing social disparities and for self-exploration and expression."
Dr Anuradha Kapoor, former Director, National School of Drama, says, "Earlier, theatre was considered a hobby at best, but today people are more open to making a career out of it," adding that though there isn't a substantial reduction in obstacles that theatre faces in India, there is now a parallel narrative that says one can survive in the art. "Students who are driven by passion still have to fight their way into joining a theatre group or an institute like NSD. The art is still considered a soft order; however, people are becoming more alert about it and are slowly beginning to recognise theatre as a profession. One can say we've now got a foot in the door," she says with hope.