Well over three months after his arrest in the Mangalore homestay attack case, Naveen Soorinje, reporter of Kannada channel Kasturi Newz 24, languishes in jail. This, after the decision of the Karnataka cabinet to withdraw all charges against him.
As a journalist, Soorinje had covered the now infamous assault by right-wing activists belonging to the Hindu Jagaran Vedike on a group of boys and girls partying at the "Morning Mist' homestay in Mangalore in July 2012. Shortly afterwards, he himself was alleged to be an accomplice in the attack and chargesheeted. This was done on the basis of an FIR, which evidence shows was prepared with a forged complaint. On November 7th, 2012, Soorinje was arrested after a local court issued a warrant against him.
On December 26th, the Karnataka High Court rejected Soorinje's bail application, clubbing him indistinguishably with the perpetrators of the attack and pronouncing that he had in fact "encouraged the happening of the incident and assisted in videography of the event, and thereafter facilitated its telecast in television channels, which has caused greater damage to the dignity and reputation of the victims."
However, after sustained campaigns by media persons, activists and intellectuals, the Karnataka state cabinet decided to withdraw the criminal suit against Soorinje. Law minister S Suresh Kumar reportedly briefed journalists himself that all charges against Soorinje would be dropped "following a demand by the journalistic community in this regard."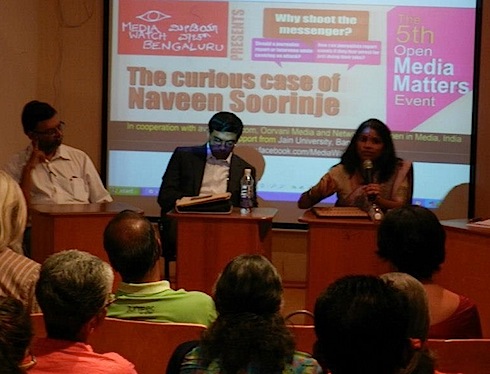 The 5th Open Media Matters talk series at Bengaluru, conducted by Media Watch, was on 'The curious case of Naveen Soorinje: Why shoot the messenger'. From left: K S Dakshinamurthy, Independent journalist and Faculty at Indian Institute of Journalism and New Media, Nitin R, noted criminal lawyer, Bengaluru, and Vasanthi Hariprakash, independent journalist and former awarding winning radio jockey. Pic: Media Watch, Bengaluru.
Despite such a public announcement however, Soorinje continues to be incarcerated. Karnataka Chief Minister Jagadish Shettar has been dragging his feet on signing the final cabinet decision, though the reason for such procrastination is far from clear.
In an added complication, shortly after the cabinet decision was announced, a Division Bench of the High Court served notice to both Soorinje and the state government on the back of a public interest litigation (PIL) filed by a Bangalore-based advocate, N P Amrutesh. The latter contends that the decision to drop charges was taken "not in public interest but private interest of the government to get future mileage, propaganda and media publicity in the forthcoming elections" and "without application of mind." Curiously, Amruthesh - details of whose identity or affiliations remain clouded - has also challenged an earlier decision to withdraw criminal charges against Akhil Bharatiya Vidyarthi Parishad (ABVP) activists and two MLAs in the case.
The fresh litigation has effectively placed the entire case in limbo yet again, and there is no clarity on when the detention might end, if at all, for Soorinje.
Dakshina Kannada continues to assault media freedom
In the meantime, curbs on free expression and reporting continue unabated in the coastal regions of Dakshina Kannada. Just over a week back, members of the Hindu Jagaran Vedike attacked an employee of Mangalore-based Kannada tabloid Karavali Ale, ransacked its offices and burnt copies following a front page report linking a member of the group to narcotics handling and trafficking.

This is not the first time either that the publication has come up against gagging efforts by Hindutva outfits. Karavali Ale, a daily local tabloid, has continually reported incidents and trends that underline the growing communal polarisation and its control over life in Mangalore and coastal Karnataka. It does not have too many friends in the establishment and its reporters, staff, distributors and even the publishers have faced harassment, intimidation and physical assault many a time. In 2009, B V Seetharam, Director of Chitra Publications (publishers of Karavali Ale) and his wife were arrested in connection with an old case in which the couple faced criminal charges for allegedly offending the sensibilities of a religious group in articles published by two vernacular dailies published by them, one being the aforementioned.
Interestingly, Naveen Soorinje, too, was an employee of Karavali Ale at one time, and had during his stint exposed inconvenient truths and taken on bodies suspected of corruption in the establishment in Mangalore - religious organisations, political gurus and others. He also exposed ethical violations by media persons, for example, the acceptance of gifts by journalists.
As chances of his release from jail appear increasingly remote, a group of journalists and activists fighting for Naveen's cause are now considering re-applying for bail. But the rejection of bail in earlier instances and the High Court's indictment of his role in the affair leave little room for hope, apart from raking up several grave questions related to the very legitimacy of media and its functions.
There has also been a lack of conviction regarding impartiality of the judiciary, especially at the lower courts – even among legal practitioners themselves. A report by Daijiworld Media Network quoted Justice Michael F Saldanha at a PUCL Press Meet as saying, "The judicial system is (meant) to protect the public, but in DK (Dakshina Kannada), it seems like the judicial system is in the hands of some influential persons, as evident by the charges and arrests of Soorinje and, earlier, Karavali Ale editor." He also raised the possibility of there being a strong political hand in the case and perhaps, even a personal grudge of the police against the journalist. The circumstances therefore inspire scant hope for the grant of a bail for Soorinje.
Local TV channels maintaining a distance
But perhaps most noticeable has been the distance of television - even regional channels including Naveen's own - from this case. In the era of 24x7 news channels, where television media constantly attempts to foment public passion on various issues of social and political significance, it remains a mystery why they have not come out more strongly in support of one in their own league.
However, the objectivity of media cannot be placed entirely above suspicion either. A senior journalist belonging to the Mangalore Press told India Togetherthat most regional channels in Karnataka have strong affiliations to ultra right-wing organisations or political parties with similar leanings; naturally, therefore, they could hardly be expected to rally behind one who has clearly been such groups' b'te-noire for years. Speaking on condition of anonymity, he also pointed out that cut throat competition among these media channels often meant that they would place their self-interest above any kind of ethical consideration and would not care to devote prime-time visibility to something that actually involves a rival channel. Incidentally Kasthuri News 24 - the channel for which Naveen worked - is owned by the wife of former Karnataka CM and JD(S) leader H.D. Kumaraswamy. Added to this perhaps is what Bangalore-based Sudipto Mondal of The Hindu calls the broader lack of "a culture of media reportage on media" in India.
The fact that there may be strong pressure on the channels to maintain a degree of aloofness in the case is corroborated by senior media-observer, K Murali Mohan Kati, who says, "Most regional channels belong to one or the other among political parties, mostly with strong communal ideologies, and would not care to highlight the plight of a reporter from some other channel or seek justice for one who has exposed the excesses of the region." Kati also pointed out that a senior leader of a religious outfit, reputed to wield strong power in political circles as well, is known to have told local channels not to publicise Naveen Soorinje's case. The fact that Soorinje was an activist of sorts who did not shy away from targeting undesirable or corrupt practices even within media has not helped his cause either.
Such views cannot be dismissed completely as one can hark back to the 2010 case of Parashuram Tehsildar - a reporter from ETV Kannada (later with Janasri TV) implicated and arrested in a case involving volunteers of a group known as the Karnataka Nava Nirmana Sene. More than his wrongful detention, what deeply disturbed Parashuram was the way a section of media reported his arrest at the time (referring to uncorroborated links between him and the actual perpetrators) and seemed inclined to malign him rather than fight for the truth.
Parashuram was bailed out following efforts by a personal friend but his biggest concern remains the absence of any support from the larger media fraternity during the incident.
There are many journalists and public figures, however, who do not buy in to this theory of vested interests working against Soorinje in electronic media. It is not as if regional channels have not stood by him, points out D S Shreenidhi, Programming Head at local channel Spandana TV. "They did report the incident when it happened; a few channels even brought in experts to discuss the dynamics of the case but then over time, the focus faded and the compulsions of TRPs and more immediate issues pushed it out of prime time coverage", says Shreenidhi.
Silence at the national level
As far as the broader media silence at a national level is concerned, it is perhaps, as veteran journalist and author Ammu Joseph points out, because the activity in the case has been largely local and confined to the state.
"The Delhi-based news channels tend to take up such issues in campaign mode primarily if they are close to home -- i.e., if something happens in the capital city or to someone who lives there, or if there are repercussions on high profile persons such as politicians (preferably based in Delhi), or if the event/issue is in some way linked to something that happened in, or to someone in, Delhi. It's unfortunate, but that seems to be the way the 'national 'media cookie crumbles'", says Ammu.
In all of this, Naveen Soorinje, who has had an unblemished professional record before this and a reputation for fearless reporting, continues to share jail space with criminals he exposed, with slim chances of a quick release. From a media perspective, it is not just the predicament of Soorinje as an individual that is concerning but also a much larger threat, which the International Federation of Journalists summarises succinctly: "To pursue the case against him any further would be a serious deterrent to journalists in conscientiously carrying out their professional responsibility to report cases of civil unrest or illegal activities."