Here are snippets from a memorable week I spent in Imphal, the capital of the enchanting state of Manipur which is rarely mentioned or talked about in complimentary terms.
40-year-old Monica completed a bachelor's degree in English while her sister-in-law had studied electronics. However, both ladies could not find any job suitable to their qualification. Monica is one among the younger generation of over 3000 women who own shops in the well known Ima Keithel market (Market of Mothers) in Imphal, Manipur.
"Nowadays, I teach children in the primary section of a school on a part-time basis between 10 am and noon. However, before school, I come to my store here around 6 am every day and return around 3 pm or earlier, after I finish my classes, lunch and some household chores. It is necessary for me to earn my livelihood in this manner to support my family," says Monica.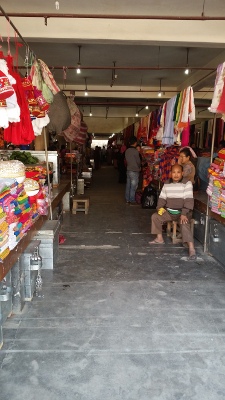 Located in the busy commercial hub of Imphal, Ima Keithel is a co-operative of shops that sell clothes, fruits, vegetables, fish, etc. and is over a century old. It is run solely by women, many of whom are aged between 40 and 70 years and live in and around the capital.
Unfortunately, some portions of the Ima Keithel were damaged badly in the earthquake that hit Manipur and also affected most states in north-eastern India and Bangladesh, Myanmar and Nepal on 4 January 2016.
While Monica has acquired her own store in this market, her sister-in-law looks after the store which belongs to her mother-in-law, who also spends a part of the day in the market.
According to the friendly Jamuna Devi, aged around 75, many of the elderly owners of the stores here have daughters, nieces, granddaughters or other young women in their family, willing to take responsibility for the shops owned by the older women. The owners, some of whom can speak Hindi, pay around Rs. 40 per month for the small space in which they display their wares.
Livelihoods
Street vendors carry out their trade on the footpaths or the side of the road outside the Ima Keithel. Most of them are women who have been unable to obtain place inside the market buildings. They belong to economically marginalised families and face different kinds of harassment from the police and others.
"I travel over 7 km daily to reach my house. As buses are not easily available in my village, I take a shared auto rickshaw which is not very cheap. Even after that, I walk some of the way. I must earn enough to fund the education of my children who are studying in private schools and colleges as there are no proper educational institutions run by the government in or around our village", said Meipa Khurai.
Aged around 55 years, this barely literate and determined lady leaves her house around 5 am and returns only 13-14 hours later every day, after selling small packets of sweets and savouries by the roadside during the day.
Intriguingly, private schools seem to be increasing in and around Imphal, as also colleges. However, some of the youth prefer to go to Delhi and Bangalore which is farther away, to study and work.
Among the street vendors are sisters Podasana and Ibisaubi aged 51 and 49 years respectively, who sell woollen accessories. The former who has a cheerful persona can also read and write a bit of English and has toured various parts of the country with the theatre troupe that she is a member of. However, both the sisters have to continue to earn their livelihood as street vendors and perhaps do other work.
And then there are young men such as 34-year-old Arun Kumar who handles motor boat operations and maintenance for a local hotel around Loktak Lake, this fetches him around Rs. 6000/ month. Loktak Lake is the largest lake in north-eastern India and is situated in Bishnupur district, nearly 60 kilometres from Imphal. The place is worth a visit for the unique floating islands called phoomdis (apparently created by humans), which are small masses of earth largely consisting of grass and shrubs.
"I work long hours every day but am paid fairly low wages by the hotel. As I am also a fisherman, I am able to make enough for my family which consists of my wife and three children who study in a government school," says Arun.
It is important to note that women in Manipur who live near lakes and rivers are extensively involved in fishing, drying, selling and other related activities. Interestingly, a catch of one or more large fish is sufficient sometimes. Lakes like the one at Loktak and Andro are clean, although one does notice some littering and noise pollution near Andro, a pristine lake amidst the picturesque hills in Imphal East district, around 25 km from the metropolitan area.
In Bishnupur district, there seems to be an attempt to spread awareness regarding the Mahatma Gandhi National Rural Employment Guarantee Scheme (MNREGS) as evident from the manner in which pertinent information is written on the walls of different buildings.
"MNREGS scheme is implemented in around 30 percent of Bishnupur district. And this is regarded as one of the few districts, where the scheme is successful," said Sapna G C, a young lady who is doing research on the economy of Manipur and also teaching Economics in a local college apart from being an avid musician.
Gender
As per Urmila Chanam, a public health professional, international journalist and menstrual hygiene activist, families in Manipur are neither matrilineal or matriarchal. Importantly, women, many of whom wear the traditional phanek (that resembles a sarong) and a blouse or shirt, do a lot of work at home and outside and are fairly literate.
Historically, women have revolted against the colonial governments and monarch like the Nupi Lan (women's uprising) in 1904 and 1939. A few photographs of these stirring events are displayed in the museum dedicated to the Indian National Army (INA, revived by Subhash Chandra Bose and his supporters) located inside the INA Martyrs Memorial Complex at Moirang in Bishnupur district.
Apart from these are the Meira Paibis (women torch bearers who have opposed human rights violations since the 1970's but are not very active in a collective manner currently, as per a few journalists and women's rights activists from Manipur) like Ima Momon who is 71 years old and lives with her family.
Momon was among the conscientious women who staged a unique protest in the nude on 15 July 2004 in front of the west gate of the Kangla Fort. They were against the alleged rape and killing of Thangjam Manorama and similar excesses of the Indian army and particularly by members of the Assam Rifles regiment owing largely to the implementation of the draconian Armed Forces Special Powers Act (AFSPA) 1958.
After the protest, the Kangla Fort was handed over to the public and is managed by a committee which mandates that all those who wish to enter the fort must do so only after purchasing a ticket, with no exceptions granted to anyone based on their social or other status.
However, a number of police and army (in certain spots) personnel are visible in many parts of Imphal and its surrounding areas most of the time. This includes members of the India Reserve Battalion, which is a special unit of the Manipur police. The Assam Rifles (originally known as Tripura Rifles) regiment of around 14000 personnel is present in many of the districts.
Then there are trans women such as Eliza, aged 31 years. She left home in her adolescence as her family rejected her altered gender identity and sexual orientation. After working at beauty salons in Guwahati and Delhi, Eliza launched her own enterprise in the busy commercial hub of Paona bazaar along with another trans woman.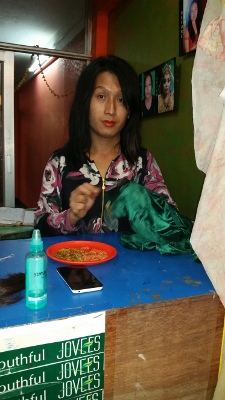 Now she employs six trans women who are all in their twenties. "My family harassed and discriminated against me in my early years. Although the society in Manipur has begun to accept transgenders, the government lacks special schemes or policies for them. Hence, I welcome any transgender ostracized from society to my house".
Culture
A few of the unique aspects of some of the tribes of Manipur are displayed in at least a couple of places in and around Imphal.
Close to the lake at Andro is a cultural centre which showcases artifacts such as musical instruments, household utensils and trade persons' tools from different tribes to which people in contemporary Manipur and Nagaland belong to.
Models of houses, demonstration of weaving techniques and patterns, typical of tribes and communities in Manipur like the Meitei, Thangkul Nagas, Kukis etc are exhibited at the Sangai festival that is open through the last week of November every year. Named after the species of a local deer that is critically endangered, this festival of crafts, music, dance, film, art, culture, food and commerce is organized by the state government of Manipur annually in central Imphal.
One of the other attractions is the Manipur Polo International Tournament organized by the Manipur Horse Riding & Polo Association at Mapal Kangjeibung (regarded as the world's oldest polo ground) in Imphal every November. The matches are free to watch and all are welcome.
Incidentally, Manipur is considered the birthplace of modern polo. And India has been the polo champion for many years with its national team comprising of players primarily from Manipur. But awareness of these significant facts barely exist outside Manipur and its environs.
Most shops and eateries in the Imphal valley usually open by 7 am or earlier and close before 7 pm as it gets dark by 4.30 pm especially in winter when sunrise is around 5 am. This is a prime reason that people from eastern and north-eastern India opine that the country should have two time zones. Of course, the early end to trading may also be because of the imposition of curfews by the government and the possibility that people do not feel safe.
It is sad and shameful that many of these realities of Manipur, the contribution made by the people from here and the injustices against them are rarely discussed in other parts of the country.