"In traditional societies water was sacred and, concurrently, rivers were deified. This has many implications for the protection and management of water supplies," says Dr. R Nagaswamy, former Director-General of the Archaeological Survey of India and author of books on epicgraphy. "For example, Rajendra Chola I, one of the greatest emperors of South India, marched on a conquering quest right upto present day Bangladesh, which was then known as Vangaaladesham. This is a historically documented fact. From this triumphant journey, he brought back the waters of the sacred Ganges and constructed the incredible temple at Gangaikondachozhapuram (The Chola land where the Ganges Was brought by conquest).
Now, obviously, he could only sanctify the temple tank with the waters he had carried. Yes, it was notional - but it was also absolute. It was a matter of faith. This tank, then named Chola Ganga and now referred to as Ponneri, is immense. It traverses virtually the entire land South of the temple, covering vast areas of cultivable land. It had stone duct inlets and outlets covered on all sides, plastered by lime mortar, of such superb standards that not a drop of water could enter from outside.
Today we speak about pure and safe water but the delivery system already existed in 1020 AD. During the British rule, a road was constructed across the Chola Ganga, the ducts were allowed to be encroached and littered in disuse. Where waters once lapped as far as the eye could see, all that remains is parched earth and a few dried up shrubs. The duct system still exists - we excavated it when I was with the Archaeological Survey of India - its potential is immense but what we lack is the will to set matters right."
Dr.Nagaswamy is underlining the importance of temple tanks, sacred structures that served a very practical purpose - that of maintaining ground water tables and replenishing community water supplies. In ancient days, temple tanks were constructed to the east of every village, and multipurpose tanks to the west. Today, many are abused or in a state of disuse, their potential and original purpose all but forgotten.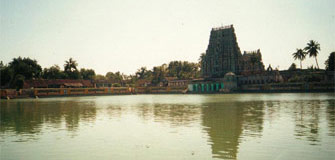 Picture: The perennial tank Nithyapushkarani at Thirukannapuram"
Says Dr. R Sakthivadivel, Professor at the International Water Management Institute, "There are a lot of funds earmarked for creating infrastructure - borewells, tubes, pipes, taps - but there is still no water. Besides temple tanks, Tamilnadu has close to 39,000 ooranis, common ponds. Today, in most cases ooranis are the only ones that have water in them when it rains. They are also deteriorating, if not defunct already, but restoration, like elsewhere, is not happening. Originally tanks were common property. Then the ryotwadi system transferred ownership. So multipurpose tanks became irrigation tanks.
Temple tanks are more for ground water replenishment. Water has to remain trapped for a little while. But nowadays, it simply becomes run off instantaneously. Also, the parched land sucks everything in. Even for percolation, water must stay for some time. Thanjavur always had plenty of water and the land is made of flat, alluvial soil. So common tanks were not built here in a major way. That makes the temple tanks all the more important.
The Thanjavur delta arguably has the largest number of temple tanks anywhere in the country. They have not been studied properly. If one sees the urban example of Chennai and other cities like Trichy, and towns like Kumbakonam, unchecked development has taken over tanks. Efforts at revival must be decentralised. Their management has to be scientific with a focus on storing, augmenting and utilizing water."
Srikumar is an engineering contractor who has taken up the renovation of the temple at his native village of Thirumarugal in the Thiruvarur taluk of the Thanjavur delta. The tank here is being desilted, inlets and steps repaired, and the structure provided with a boundary wall. It is presently dry.
He says, "The Hindu Religious and Charitable Endowments Department has no funds for renovation. Even if a major proposal is undertaken, they are able to give only 25% of the money required. Where is the money for renovation? For as long as I am here, I don't let the work stop. I underwrite expenses with my personal funds. I have put in a lot of my own money. Due to the Cauvery crisis and the failed rains, agricultural labourers are living in poverty. Money is coming only from those who have migrated, many abroad. This is the first generation that has left its roots behind. They still feel commitment to their native land. But in another generation or two, this affinity may be diluted. What happens then? It is good that we will not be around to see that happen."
He adds, "Not that there isn't life in the villages. But with migration, not too many people are left. In the days of the old, all activities were dedicated to the temple. These are extraordinary temples, marvels of architecture and design. People still throng to the temples, particularly those sanctified as paadalpatta sthalam (shrines where famous saint-poets sang or gave up their life) or divyadeshams (divine lands based on mythological legends). Whenever I go to the city, I use every contact I have to raise funds. I don't hesitate to become a beggar, for this is something that has to be done."
In a controversial move some years back, the state government took over the management of temples which had hundial (cash box) collections, across the state. Matters have only deteriorated since then, as the maintenance of the temples and their highly vulnerable tanks has been badly affected.
Some years back, the state government took over the management of many temples. Since then, the maintenance of the temples and their highly vulnerable tanks has been further affected. But, says L.K.S. Murthy, a farmer in the Myladuthurai district, "Both hereditary trustees and the HR&CE officials have their faults. Earlier it was the temple trusts that were swindling money, and now it is the official hierarchy.
But the HR&CE infrastructure keeps the antiquities and jewellery safe. Earlier, without any systemic checks, misappropriation could happen and nobody would notice. This included signing off temple property, an act that often had direct impact on access to the temple tanks. Temple wealth has been acquired over centuries, often through royal patronage of the earlier eras. A bronze icon that can fetch several lakhs of rupees in the overseas black markets for Indian antiquities, actually has a value that is beyond monetary haggling. It is a matter of faith. It is a question of a common, inherited heritage. This is true for the sacred temple tanks as well."
But, says Shekhar Raghavan, Ashoka Fellow and honorary director of Rain Centre in Madras, "Encroachments have come in all the routes by which water travelled to the tanks. Concretization and congestion have added to the troubles. Buildings and hutments obstruct the way. Instead of flowing naturally to the tank, water gets trapped and cannot travel. Encroachments are a major impediment but difficult to tackle because of political sensitivities."
At other temples, including the famous Thamarai Kulam at the Meenakshi Amman Temple at Madurai and the Veeraraghava Perumal Temple at Thiruvallur in the district by the same name, the tanks have been concretized, becoming similar in function to containers or swimming pools! Local community initiatives are also absolutely essential to keep the momentum going.
Srikumar explains, "Paucity of water is the main reason why temple tanks are going dry. There is no recharge. All around the temples, for residential usage and for agricultural crops, groundwater is being pumped at alarming rates. At Nachaiarkovil, borewells have been dug to maintain water to the temple tank. Now people turn to borewells when they need water, not to the Cauvery. The quantum of rain has gone down badly."
Encroachments have been the bane of the temple tanks. They have cut off the water supply to the tanks. The great majority of the inlets are blocked - either by construction of human dwellings or with debris and litter. Earlier, temple tanks would be linked to other structures to ensure only pure water overflowed to them - for example, the Selambanayikulam tank would fill up, the debris or silting in the water would settle and only pure water would overflow into the Thirukannavur temple tank. Now, forget pure or turgid (water), there is simply no water.
Says Dr. Nagaswamy, "The village layout had to adhere to specific instructions while locating the irrigation tank. The Vaastu Shastra practiced today is just so much commercial humbug. Traditionally, it was a powerful tool in town planning. Every village would have a tank to its west, on raised land, so that the harvested water would flow naturally to the fields. Riparian rights were clearly laid out - no one upstream could block the flow of water. The first share, in fact, belonged to the farmer furthest downstream and access to water progressed therefrom, moving upward in the reverse order. Today rivers are dammed and we talk about water wars."
He continues, "Narmada, Sindhu, Cauvery ... when we say a prayer and invoke the water for rituals, the water in that vessel is not merely water from the well in the backyard but, in effect, the waters of all the sacred Indian rivers. You cannot divide its divinity."
Traditional society demanded that water could not be polluted. Every village had an Assembly for the control of the water tank; this Assembly oversaw the judicious distribution of water, to keep the bund walls strong, to undertake periodical desilting and de-weeding. The tanks were part of the temple. So they were pious. Money for their upkeep was raised by seeking donations for the temple - a charitable and spiritual exercise. Again sacred. Some gave in cash or kind, sometimes land in perpetuity to further the temple's requirements. It was all interconnected - dharma, temples, tanks, cultivation, mankind. Water was life.
Today, it is a subject of dispute, the victim of adharma. Governments fight over rights and control of rivers. The community has lost its control over its traditional sources of water. The degeneration of temple tanks began during the colonial rule. Encroachment, littering, neglect of ducts which closed and led to stagnation, mosquitoes and diseases, pollution and abuse of the once sacred waters destroyed a finely balanced system. This system had worked over centuries, that required a community to care for its assets, the most precious of which was water."