As we drive into the village of Barshi-Takli, we see a number of people streaming along a road that meets the one we are on at a junction ahead. Considering what we've been seeing in this area for a few days now, my first thought is "funeral." My second thought is "farmer suicide." I'm a little ashamed to think these thoughts so lightly, but there you are.
We stop at the junction. I get out and walk over to the straggly procession and ask what it's about. "Yes, this was a funeral", Karim Khan tells me. "But not a farmer, not a suicide. Just an old man from the village."
Across Vidarbha, many people asked for my number, some asked me for money, some just asked what I was going to do for them now that I had heard their stories.


• Loan currents, turbulent Vidarbha
• Poison reaches them, not govt

I'm mildly amazed to find myself breathing a small sigh of relief that it's not one more young farmer. No, it's "just" an old man. What's the matter with me?
It was a little difficult reaching this corner of Akola District; we had to ask several times, once the road sort of petered out and we had to turn around and take the long way round. But we've found our way here because we have a list of farmer suicides in Vidarbha since June 2005, and at #455, it lists Raju Mahadev Pinjarkar of Barshi-Takli. Dead only a few days earlier.
Karim Khan offers to take us to the family.
It's a house with the usual long low roof overhanging a raised verandah of sorts, one of three or four homes in a small compound off a dusty smelly hot narrow alley in the heart of the village. Sitting in the verandah, sort of a defeated air about them, is Raju's family: father Mahadev Kisan Pinjarkar (about 60), Raju's wife Lakshmi (28), her daughters Aarti (13) and Archana (11), her son Prashant (6). (I can't help the quick calculation: Lakshmi was just 15 when she had her first child).
Well, it's Mahadev and Lakshmi who have the defeated look. The kids are actually smiling shyly. I have my second incongruous thought in ten minutes: "Youth!" I think about the smiles. "They probably don't understand what happened to their father." And why should they not?
Or really, why should they?
After that, it is the familiar, but nevertheless sad, story. Thirty-year-old Raju was growing cotton on a 3-acre piece of land. As is usual in the area, he was in debt: a Rs.7000 loan from a local bank, and smaller amounts from what everybody refers to as "private" - local moneylenders. He had a devastatingly poor crop this year: only 3 quintals of cotton in total, which he managed to sell for Rs 1500 per quintal. That's the lowest price I have heard in a week wandering Vidarbha, an indication both of the poor quality of his cotton and his desperation to sell.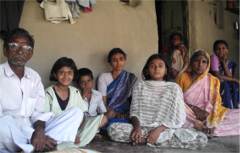 Raju Mahadev Pinjarkar's family, at Barshi-Takli. Pic: Dilip D'Souza.
Crop sold, he worked, as he usually did in the off-season, in the small paan-shop he owned in the village. But the debt weighed on him. A few weeks before he died, he sold the shop for another Rs.1500. After that, he was at home, complaining every day about his debt, agonizing about paying it back.
One hot April day, he must have decided he couldn't take more. He drank down a serious quantity of kerosene and was found dead on a road in the village.
And what happens now? Mahadev tells me he has made one payment on the Rs.7000 loan. Lakshmi works when she can in other farmers' fields, earning Rs.25 a day. "But she can't go every day," says Mahadev. "She's handicapped." Sure enough, I notice now that the foot folded under her is deformed.
The kids are still smiling. I don't know what to say, and with the tragedy that hangs in the air, I'm not sure I would actually be able to say it anyway.
Karim Khan leans over. "There was another death here that nobody knows about," he says quietly. "Can I take you to that family?"
We walk through the village, under a white-hot sun, to the ramshackle house of Shahnaz, about 35. Two weeks ago, her oldest son, Muzaffar (20), killed himself. (I can't help the quick calculation: Shahnaz was just 15 when she had her first child). Khan tells her: "Talk to this man. He has come all the way from Bombay, and he's walked through the village in this hot sun just to listen to you."
So Shahnaz talks, increasingly weepy as she does. I listen to her words in a daze that's not entirely sun-induced, the same familiar sad story: "3.5 acres ... sugarcane ... no water ... well ran dry ... monsoon has been bad for four years ... bad crop ... loan from a bank ... Rs.20,000." Muzaffar came home from his fields one day, ate some food and began feeling dizzy. He told his mother that he had swallowed rat poison. They rushed him to the hospital in Akola. He was dead by that evening.
By now, Shahnaz is weeping steadily, wrenchingly. "My son," she says, her whole body heaving with her sobs, "my son was a karate champion." In a recent competition in Akola, he had finished second. On the wall to my side is a photograph of this karateka, taken at Vaibhav Studio in Akola. Across the bottom, it says in large letters: "Paigambarvasi Muzaffar Khan."
It's been a long hot day, a series of long hot days. A feeling of almost physical desolation washes over me.
Back in the comforts of my home in the city some days later, the phone rings. "I'm Moin from Barshi-Takli," says the thin voice of Shahnaz's second son, struggling to reach me across a pitiful line and a distance that's often too much to comprehend. "You left your number when you came here and I thought you could get me a job. That's why I'm calling. Can you help me?"
I feel that desolation again. Then I launch into the spiel that I have used before. (This has happened before). I have no jobs to hand out, nor an inside track to getting any. "The only thing I can do," I say to Moin, "is write about what's happening where you live so that more people like me will understand, and perhaps act. But no, my friend, I have no jobs."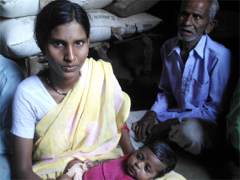 Family of another young farmer who committed suicide, Sandesh Bhikaji Shirsat of Kolasa village. Pic: Dilip D'Souza.
We visited Barshi-Takli because we heard about a farmer who had killed himself there, then we found out about another farmer who had killed himself there. We made futile little consoling cluck-clucks with a bewildered widow, then a weeping mother. In each house, they asked and I left my name and number, scrawled quickly on small scraps of paper torn from my pocket-pad. Across Vidarbha, many people asked for my number, some asked me for money, some just asked what I was going to do for them now that I had heard their stories. One mother asked her late-teens son to remove his shirt so I could see his artificial right arm, fitted in Jaipur after he lost his real arm to a thresher. "Will you hire him, to do anything? Anything?" she asked. What could I say?
And now this phone call from Moin.
No, I don't have any jobs to offer. I can't hire anyone.
When he finally understands me, Moin doesn't hang up. He stays on the line, chatting almost cheerfully, asking some more questions. "Who was that person who came with you? What's her name, where's she from? Can you give me her number? Is this your home number? Who else is in your home? Who answered the phone?"
Many questions. I answer. I chat. As he does, I call him "bhai" and "dost", besides his name. When we're done, I'm thoroughly drained.