Delhi saw a strong anti-Congress sentiment coupled with an anti-establishment sentiment this time. Thus while people were disillusioned with the ruling Congress, they were not automatically drawn to the bigger established rival BJP, as they saw an alternative in the form of honest, sincere people standing for elections, with a view to cleaning up the entire system. But the idea of alternative, clean politics with good leaders has been there since a long time and we have seen several attempts in the past by newly-formed parties and independent candidates in different states. But they were not able to make the kind of impact that the Aam Aadmi Party (AAP) has.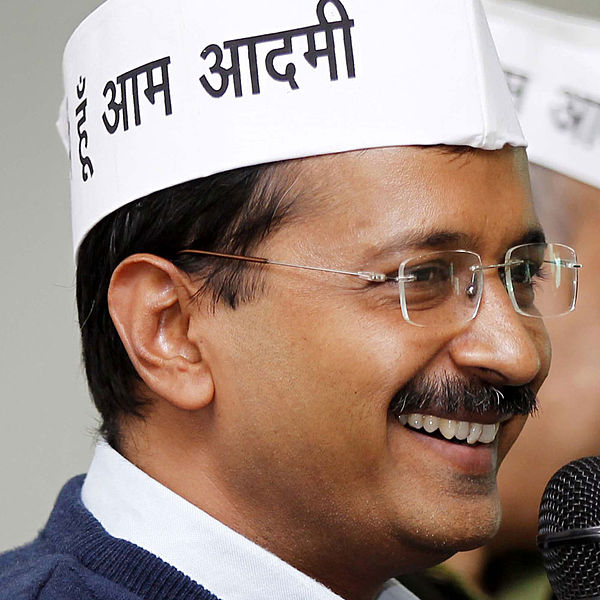 Arvind Kejriwal. Pic courtesy: Wikimedia
The AAP provided a real alternative to the people of Delhi. As a result, in Delhi only 49,730 voters chose for None Of The Above (NOTA) option (which comprised 0.63% of the total ballots). The other state elections in comparison:
- 3.56 lakh voters in Chhattisgarh (3.07% votes)
- 5.9 lakhs in Madhya Pradesh (1.9% votes)
- 5.67 lakhs in Rajasthan (1.92% votes)
- Shambhu Ghatak, Development Researcher in Delhi

AAP started as an anti corruption movement - India Against Corruption (IAC). But unlike Anna Hazare who wanted to be apolitical and unlike the IAC which had a strictly single-point agenda, Arvind Kejriwal and his core team realized that one cannot have a movement which is so inherently, intensely political and then say, 'we are apolitical'. At the same time, you cannot have a political movement on a single agenda. That is how the party came about in the first place. What AAP has been able to do is that it has been able to reflect the anger and outrage of ordinary people which is not only one against corruption. It is a combination of circumstances, among which the single biggest factor was perhaps food inflation.
The reason that ordinary people were so angry and outraged was also because food inflation has been sharply eroding the real income of large sections of Indian society, in particular the poor. On top of that, or even underlying that, was corruption. It is fashionable to argue that corruption does not matter, or people are used to it, or that corruption has been around since the times of Chanakya but that's not how it is. What happened to Rajiv Gandhi in 1989 or to Indira Gandhi in 1977?
AAP's huge success is in giving a sense of empowerment to the aam aadmi and show him that WE CAN and WE WILL. For a party making its debut, it is a huge achievement. Where they failed, was in their inability to cross the last mile.
- T S Sudhir, Journalist and Author

It was never right to argue that a new party cannot excite the imagination of the voter; look at what NTR did with the Telugu Desam Party, or what the Asom Gana Parishad achieved as it evolved from the AASU? Each of these new parties fought on specific issues, but both the TDP and AGP are today pale shadows of what they were in the initial days. Will the AAP be a true political gamechanger in the long run is what we have to see.
One reason that some of us expect it to be so is because it addresses so many ills, at the heart of which lies corruption. Corruption is not just the greed or venality of an individual or a party - it is linked with how political parties are funded, it is linked to the way natural resources belonging to the country are exploited by the very government which claims to be its custodian, it is linked to the question of governance, or rather the lack of it. All these combine to create an environment of anti-corruption sentiment.
AAP has made young people aware that if you want your elected representatives/political administration to be more responsive to the aspirations of the ordinary people, then you have to look at new political paradigms or political structures. You have to look at a system where an ordinary person can get elected even if he does not have a lot of money and muscle power, and cannot distribute free liquor and freebies.
One of the biggest successes of the aam aadmi party is also that several "elite" colonies in Delhi voted for them even when the party essentially had a mass appeal.
- Kanchi Kohli, Independent Researcher & Writer in Delhi

A very significant development in Delhi, one that has surprised many of us and pleasantly so, is the extent of the positive response. It has come not just from the middle class - but has cut across economic classes. AAP has been able to tap into the anger/outrage of people belonging to the poorer sections as well as some among the rich. That is one factor that will successfully distinguish them from other parties and independent candidates who have attempted to bring about change in the political system. These parties were were not adequately engaged at all levels, with all sections of society. They were perceived as people on the fringes of politics and who would remain on the fringes. That paradigm has changed with AAP.
The belief that one clean party, or individual, can make a difference to a politics and economics and society where corruption is so deeply ingrained is what AAP has been able to inspire. The movement has cut through all cynicism and tapped into that hope and idealism, especially among the youth.
Across the developing world, there are innumerable examples of people who have led political movements or movements for social change and have become as corrupt, as authoritarian, as venal or as dictatorial as the people they displace. That is a clear, present and real danger.


• The Anna Hazare phenomenon
• Bangalore MLA races may spark change

But this is just the first step and challenges remain: the first challenge for AAP will be to get out of being a Delhi-centric party, to be able to articulate the hopes and aspirations of larger numbers of people with a concrete and doable agenda. In the end, they will have to forge alliances and how they decide that will be a critical factor in the entire piece of the movement. Secondly, it will be a big challenge to find and put up candidates across all Lok Sabha constituencies in the 2014 polls which looks likely to be held in the next five to six months.
Even within the capital, people will ask, "You are great as street-fighters and agitators, but can you govern?" It's one thing to promise to halve the electricity expenditure and ensure a minimum water supply to every household or fill up all vacant posts for teachers, it's another to prove that you can be a party of good governance and actually clean up the systems. Across the developing world, there are innumerable examples of people who've led political movements or movements for social change and have become as corrupt, as authoritarian, as venal or as dictatorial as the people they displace. That is a clear, present and real danger. The challenge for AAP will be to deliver what has been promised, ideologically and concretely.
It looks likely that Delhi will see President's rule for sometime and then another round of elections will be scheduled, possibly to coincide with the 2014 general elections. Re-elections augur well for the AAP in my opinion, because many people who may have been hovering on that border of uncertainty and fearing that a vote to AAP will merely be a waste will now be forced to think otherwise, given the proven wave of support for the party.