According to a survey conducted by the World Health Organisation (WHO), six crore Indians fell below the poverty-line in 2010 due to their spending on healthcare. Another study in 2011 estimates that on average, 3.9 crore people in India descend into poverty each year under the burden of health expenses. "Health expenditures", this paper states, "are responsible for more than half of Indian households falling into poverty." Taking huge loans, or selling land-holdings and jewellery, while spending a lion's share of savings is common practice among the masses.
Given that the private sector caters to 80 percent of all the patients that who visit doctors for consultation and 60 percent of all those who are hospitalised, addressing the issues in the private healthcare industry is an imperative for improving the state of public health.
Healthcare costs have been rising in tandem with corruption and institutionalised unethical practices such as prescribing unnecessary tests and medicines, and recommending unnecessary hospitalisation and surgeries, for commissions or to meet targets imposed on doctors by the hospital management.
Earlier this year in March, a detailed panel discussion on the issue was organised in Bangalore jointly by the Society for People's Action for Development (SPAD), Bangalore Birth Network, SAATHI (support for advocacy and training to health initiatives) and SOCHARA (Society for community health awareness, research and action).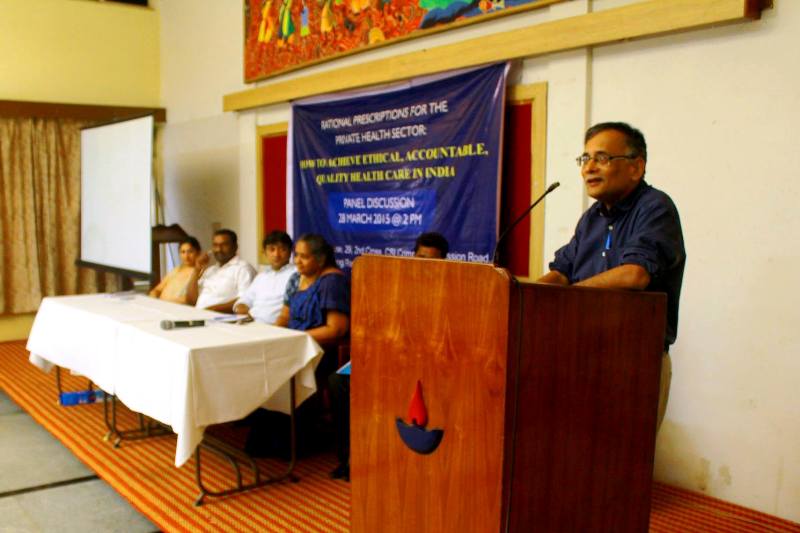 N Sudha, head of advocacy activities for SPAD, in her presentation at the opening of this event, outlined the situation in the healthcare industry today. The government, she pointed out, while actively supporting the private health sector by offering subsidised land, utilities etc to hospitals, has imposed very few regulations on the quality of healthcare provided here.
According to a 2012 study, 15.86 percent of the families surveyed, including those from the richest quintile to the poorest, reported "catastrophic spending" – that is, spending more than 10 percent of the total household expenditure – on healthcare.
Among the different categories of households examined, catastrophic spending was reported by 10.8 percent of the households surveyed in the poorest quintile, 16.5 percent of SC/ST households, and by 27 percent of the households surveyed in the richest quintile.
Rising healthcare costs due to unethical practices
The reasons for spiralling medical expenses could be many. For one, the inclination of doctors to prescribe branded drugs over generic ones has considerably raised the burden of healthcare costs, as the cost of medicines make up a huge portion of out-of-pocket expenditure.

Foreign tours and other incentives offered by pharmaceutical companies to doctors not only promote such inclination, but also encourage unnecessary prescription of drugs, which, as Sudha pointed out, is the case with antibiotics and painkillers in particular.
Citing a study about treatment of tuberculosis by the National Center for Biotechnology Information, Sudha pointed out that new patients are often prescribed the more expensive second line of drugs, which are to be given only to patients whose disease has developed resistance to the first line of drugs after months of treatment. These drugs are known to be less effective and not free from side-effects.
Super-specialty hospitals offering cuts and diagnostic laboratories offering commissions to doctors for referral of patients, and pharmaceutical companies offering incentives for prescribing their brands, have lured many doctors into recommending unnecessary tests and medicines to their patients.
Quoting Dr. Shirish Patwardhan, a gynaecologist in Pune, Sudha pointed out that in the city of Pune 50 percent of all deliveries happen through Caesarean surgeries, while in the neighbouring area of relatively poor Pimpri-Chinchwad, it is only 25 percent. According to a study conducted in 2000, she said, women in the richest quintile were 10 times more likely to have Caesarean deliveries than those in the poorest quintile.
The 'Sink Test'
Voices of Conscience from the Medical Profession, a book compiled by the keynote speaker at the event, Dr. Arun Gadre, throws light on institutionalised corruption in the private healthcare industry, presenting the insights obtained from the interviews of 78 doctors in various cities across the country including Delhi, Mumbai, Pune, Bangalore, Chennai, Calcutta and Nasik.
Keeping patients on ventilators for long after they are dead, in order to collect extra charges from the dead patient's family; unnecessarily prescribing medicines and recommending tests and surgeries; employer hospitals imposing targets on doctors and forcing them to resort to malpractices such as conducting unnecessary surgeries and other forms of malpractices have been extensively documented in this book.
One of the more disturbing revelations in this book is the wide prevalence of what is popularly known within pathologist circles as "sink tests": pouring into a sink the blood or urine samples collected from patients for unnecessary tests upon the recommendation of a doctor and printing normal values on the medical report for all the tests that were not conducted. The doctor, meanwhile, is paid 40-60 percent commission on each such test that he prescribed.
"If anybody comes with a mediclaim, don't leave them"
While medical insurance is the safeguard relied upon by a large population, it also makes the patient vulnerable. "If anybody comes with a mediclaim, don't leave them" – This is standard instruction issued to the doctors, says Professor Ashok Patil, a lawyer with 15 years of teaching experience who is presently practicing in the Karnataka High Court, while administering the chair of consumer law and practice established by the Ministry of Consumer Affairs, Government of Karnataka.
Recounting her experience in campaigning for health benefits for waste pickers, Nalini Shekar, co-founder of Hasirudala, who was one of the panelists in this event, echoed Patil's warnings to insurance holders.
Observing that waste-pickers were saving tens of crores for the Pune Municipal Corporation by carrying tonnes of garbage to the recyclers at a much lower price than the government could, she organised a campaign demanding health insurance from the municipal corporation in return.
"We arranged for a press conference, and had a person from the International Labour Organisation come and challenge the Pune Municipal Corporation asking how they could deny a health insurance for these people who were saving them such huge amounts," recalls Nalini.
Finally in 1997, when the Pune Municipal Corporation agreed to such benefits, Nalini and her associates were exultant. But the jubilation gave way to alarm as they found out soon afterwards that hysterectomy surgeries were being carried out on these waste pickers almost as a matter of routine once they got health insurance.
Targets for doctors
Doctors and surgeons in most private hospitals today work under enormous pressure to meet the targets imposed on them by the hospital management. Dr Robert Anthony, a consulting paediatrician, said, "Once we have handed over the task of running hospitals to managers, we have lost our right to manage the hospital the way a doctor should. My bosses are all fellows who worked in Taj Vivanta. They naturally come with a corporate culture of targets and revenue maximisation".
One of the physicians interviewed by Dr Gadre for his book talked about a young doctor in his hospital who was warned by the CEO that he would be fired if he continued to fail to meet the target of 40 percent conversion rate - "conversion" being the word for convincing visiting patients to get admitted in the hospital.
After the publication of his book, four young physicians from Pune approached Dr Gadre with their stories. "We are being exploited by our hospitals, and are forced to exploit the patients to meet the hospital's targets," they told him.
One of them, struggling to reconcile with the tension between maintaining ethical standards and surviving in the hospital as a doctor, said, "I come from a middle-class family. If I don't comply with the demands of the hospital, I will be fired and left on the street. I have to survive, and in order to survive, I will have to succumb to the demands made by the hospital and resort to such malpractices."
There is no point in preaching ethics to doctors caught in the system, says Dr Gadre. Under the present system they cannot survive if they are ethical.
Could more regulation be the solution?
Ambiguity on questions such as who should decide which tests are necessary and which aren't pose a particular challenge in framing reasonable regulations, given that doctors may differ in their opinions on what course of action is in the best interest of a patient under a given circumstance.
Also, there is always a likelihood that certain treatments and procedures may cause harm to a patient, or even lead to death, in spite of maximum care and precautions being exercised by the doctors and surgeons.
Pointing to a case in Calcutta where a mammoth amount involving crores was directed as compensation to the patient's family when the patient died during a surgery, Dr Anthony said, "Now I am scared to practise. I want to leave the medical profession. One can be very happy with medical practice, if she or he has ancestral property and sufficient wealth. But to make a living out of it is one of the most stressful ways to live."
Passing more laws and acts to empower courts, he warns, may drive the system further underground. While crooks will find a way around, ethical doctors are likely to be left vulnerable in the face of laws that discount the possibility of genuine cases where treatment fails.
Painting doctors as culprits all the time could be an unhealthy trend. Dr Anthony pointed out, "When students join MBBS, almost all of them are genuinely motivated. They actually mean it when they say, 'I am studying medicine to do service'. It is not like Aishwarya Rai saying, 'I want to be Mother Theresa'."
Thus there is a need to think beyond mere regulatory measures and laws, and appeal to the 'inner soul' - the inherent moral and humanitarian inclination of these students. In Dr Anthony's words, "Most medical students have this soul, for it is the primary force that drove them into medical field."
However, given the sordid details of the prevailing system as revealed by speakers such as Dr Gadre, one cannot help wonder if a moral appeal would make any difference at all to the situation at hand. Perhaps a good mix of regulatory and social measures could make an impact, but to arrive at that effective middle path would be challenging, to put it mildly.