Three years ago when Bhanu Mosahari took a degree from Kokrajhar College, a range of opportunities unfolded before this Bodo tribal girl. The lone child of a teacher's family, her parents wanted her to study further. However, Bhanu, an expert weaver from Runikhata (middle) village, 40 km off Kokrajhar, the headquarters town of the Bodoland Territorial Council which borders Bhutan, had other dreams.
With an eye on the relatively unexplored market for woven products in Bhutan, she decided to set up a home-based handloom industry in her remote village in 2005. And three years after setting up her industry with 12 handlooms, Bhanu, now earns on an average Rs.10,000 a month. The traditional Hapkira and Boko (traditional Bhutanese dresses for women and men) woven in her looms found a good market in Bhutan. Bhanu's success has also meant livelihood support to another 12 Bodo women weavers of the surrounding area, who earn Rs.100 a day by weaving these products. Bhanu sells each piece of such Bhutanese attire at Rs.500, whereas the cost of production of each piece ranges between Rs.200 and 350, depending on size, design and quality.
Bhanu is happy that she has reached this position virtually without any institutional support - either for finance or for marketing her products. She invested Rs.100,000 provided by her parents for construction of her industrial shed and handlooms. Later she also constructed a hostel to provide accommodation to the weavers, so that they could devote more time to weaving.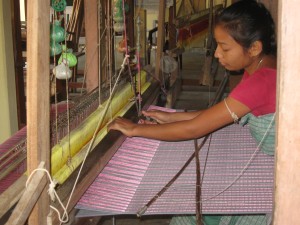 Photo: A Bodo woman weaver weaving traditional Bhutanese attire along Indo-Bhutan border (Photo by Ratna Bharali Talukdar).
Like Bhanu, there are hundreds of other tribal women in the pockets bordering India and Bhutan, who have found these livelihood opportunities through weaving. With a steady market in Bhutan, the trade has been rising over the years.
Relief from conflict
The process of weaving her dreams into reality, however, was quite challenging in the backdrop of the decade-old conflict between the Bodos and Adivasis in lower Assam. A series of ethnic clashes led to the subsequent displacement of a large number of people from both communities, who then had to take shelter in makeshift relief camps for prolonged periods. Between 1996 and 1998 alone, more than one-third of the total population of the district was displaced by conflict. Runikhata, located along the Indo-Bhutan border, became the worst hit in such conflict situations as militants of the National Democratic Front of Boroland (NDFB) carried out hit-and-run operations from their hideouts in Bhutan.
Apart from these clashes, militant activities and counter insurgency operations triggered by security forces made the situation in the entire area volatile. Most of the NDFB militants had their hideouts in Bhutan until the Royal Bhutan Army launched a massive crackdown in December 2003 to flush them - as well as other militants from the United Liberation Front of Asom (ULFA) - out from the Himalayan kingdom.
Amidst this, the new livelihood from weaving has come as a great relief to the women. "I have grown up in a situation of terror and unrest. Being an international border area, these pockets are always considered sensitive areas, and we are just a part of it. We could easily notice the free movement of militants and security personnel in the streets. We were witness and sometimes victims of various untoward incidents. But the positive thing is that we have our centuries-old relations with the common people of Bhutan. This has given us the much needed space to start and our expand business, " Bhanu tells India Together.
Significantly, right from weaving to collecting finished products to delivering them to traders in Bhutan, the entire market is an informal one, and is dominated by Bodo women, who are known for their entrepreneurial skill. The cordial relationship between tribes and communities living in border areas of the two countries has helped in rapid growth of the industry set up by these women.
And there are different motivations for women to choose the weaving industry. For example, whereas Bhanu has entered into the business choosing it as a career, for Juthika Narzari, the Headmistress of Runikhata High School, weaving products for Bhutan market is not only an additional source of income, but through her small weaving industry with 10 handlooms she has provided livelihood opportunities to ten Bodo girls mainly from conflict-affected and deprived families. Most of the girls she has engaged have the history of either working as domestic help in urban areas to assist their families financially, or spending their lives in makeshift relief camps during conflicts.
Bhanu's business success has happened virtually without any institutional support - either for finance or for marketing her products.

"I believe that as a school teacher, I have some responsibilities to my community beyond my profession. Particularly in this remote and border area, where livelihood options are very limited, weaving has given these girls a better life. I have also ensured that each of the girls has a bank account, where she can deposit money of her own", she says. Like Bhanu, she has also provided accommodation to the girls who work for her.
Purnima Narzari, a resident of Dantgheri village of Runikhata block, who started her business seven years ago, says that opportunities opened up for her when she used to work as a casual paramedic in a health institute in Gelephu, the Indo-Bhutan border point. "While I used to work as a helper in the hospital, the Bhutanese women were very curious about my traditional dresses. Then, one day they asked me if I could weave their dresses in our looms. Finding an additional source of income, I instantly took the opportunity', she said.
Significantly, many people from the Indian side of the border find their livelihood in border areas of Bhutan, as daily wage earners. These workers receive a work permit. They however, cannot stay overnight and have to come back at 3 PM each day.
Changing market
Purnima says that initially she used to weave all the products herself. But over time, as the demand grew, it became difficult for her to manage them herself. She engaged some weavers initially. Later, she moved to a different part of the supply chain, abandoning weaving and instead began to collect finished products and deliver them to businessmen in Bhutan. The business grew rapidly, and now hundreds of women in these areas are engaged in the trade.
"The business started and grew instantly, despite the volatile situation in the area. The conflicts and displacement and lack of development had pushed our lives into so much of misery and panic that when we found this opportunity to earn something, the women instantly grabbed it. Bodo women are known to be born weavers and it was not difficult for us to capture the market," she said.
Purnima earns between Rs.50 and 100 per piece, depending on the quality and length of the products. Initially she could sell an average of 20 pieces of such products every day. However, with so many women involved in the business her monopoly has been reduced to a large extent. There are no middlemen involved in the process, and Purnima directly supplies the pieces to the businessmen in Bhutan. There are at least seven other such women traders like Purnima who are now engaged in the business. She is mindful of the competition, but also happy that the trade has given livelihood options to so many women of her community.
While the trade has been flourishing with more and more women involved in the venture, the market has become more competitive for women like Bhanu. Like Gelephu, there are several points along the border where the trade carries on. There is growing demand for diversified products and newer designs, and also for Eri silk products, with specific designs, says Bhanu. Although a proper estimate of the actual number of Bodo women engaged in weaving traditional Bhutanese dresses is not available, Bhanu estimates that around 400 weavers along these border points are involved in the businesses.
"In such a situation what we require now is more skill and expertise to weave diversified products, to cope with the demand of the Bhutanese people. But lack of exposure and limitations of financial support have come in the way of managing a good deal of business. We need intervention programmes of both government and non-government agencies for survival and further expansion," Bhanu adds.