For Somim Ali Ahmed, a 26-year-old traditional brass metal artisan of Hajo, the commercial hub of the centuries-old brass metal industry located in Kamrup district in Assam, it has been really a tough time for the past six months and more. Even in this peak season, he has not got a single job work from the local middlemen - known as mahajans - who supply the raw material to artisans like him and engage them on job work to manufacture the brassware.
When I met him, a visibly worried Somim, who has an ailing widowed mother, two sisters and a brother at home, was idle at his tiny foundry under a thatched shed. There was no ember on the furnace and no hot air blowing from the bellows made of goat skin. Metal work is the only life he knows; his forefathers made brass metal products for centuries sitting by the same foundry, hammering the cut brass sheets throughout the day to mould them into fine shapes, at first to meet demands of royal families, and later for the use of common people as well. The manufacturing process is simple. The cut brass sheets of various sizes are joined with brazing. The artisans use a file to make the products smooth, and chisel and hammer for engraving.
These skills have been passed on from one generation to another for as far back as anyone can remember. Historians say that forefathers of these artisans came to Assam along with Turbaka, a Mughal general, who tried to invade Assam but was defeated by Ahom King Chuhungmung who ruled Assam during the year 1532 AD. They were kept here as war-prisoners. Later, when King Chuhungmung came to know of their expertise in making brass-metal products, he decided to settle them in Hajo. In the 19th century a large number of these artisans fled during a series of Burmese invasions, but some families decided to remain.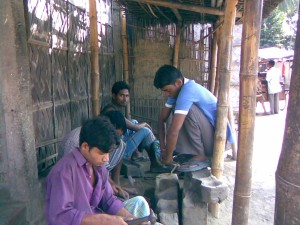 Pic: Jobless brass metal artisans near their foundry
Over the ages, the craft has flourished to become an integral part of Assamese culture and tradition. A sarai made of brass, for example, is an essential part of many religious occasions, as well as a unique piece of any felicitation programme. In a traditional Assamese marriage, it is customary for the bride to take with her some utensils of brass and bell metal to her in-laws' home.
Raw material prices
This long tradition now faces great economic uncertainty. Somim say his monthly income has dropped from Rs.3000 a couple of years back to Rs.1500 now, sometimes even less. The condition of other artisan families of Hajo is no better. Each of these families is entirely dependent on earnings from brassware manufactured in individual production units, and they've all been struggling. Somim knows that the days without job work are worsening his plight. Even to procure the allotted 33 kgs of rice from the fair price shop is becoming difficult, let alone the treatment of his ailing mother, or other liabilities like arranging marriages for his two sisters. His father died several years ago due to acute stomach ailment and practically without any treatment.
Somim's joblessness over a long period is primarily due to the scarcity of raw materials, which is one of the major problem areas in this traditional industry. The mahajans had procured the brass sheets from a Guwahati-based re-melting, re-rolling mill as long as the prices were affordable to them. But with raw material prices rising, they have stopped their procurement, and as a result, the artisans are without work and income.
Somim's tale is no different from about 400 artisans in Mariapatty and Bharalitola areas of Hajo. Apart from the artisans there are about 50 local mahajans, and hundreds of others who have indirect earnings from the industry. Families headed by widows too are engaged in the industry; they polish brass metal utensils.
Artisans cannot bypass the mahajans and buy raw material directly themselves, because the Guwahati-based supplier enjoys a monopoly.

"The price of each kilogram of brass sheet has gone up from Rs.150 in April 2005 to Rs.320 in 2007, posing a serious threat to the survival of the artisan families and their unique tradition of brass metal craft, which has a deep root in Assamese culture and heritage," says Md. Saiful Majid, manager, Hajo Brass Utensils Workers Co-operative Industries Society Ltd, one of the oldest co-operatives in the area, founded in 1952. Meanwhile, the daily remuneration to an artisan has remained frozen at Rs.100 since 2005, and only 10-15 days of work are available in a month, against an average of 25-27 days earlier. Even from this fixed remuneration of Rs.100 the artisans have to bear other related expenses incurred in procuring waste coal from the steel factories and chemicals needed for manufacturing the products.
Somim does not blame the mahajans alone. "When there are frequent hikes in price of the raw materials, it is difficult for them also to afford money. Also, with raw marerial prices higher, the cost of making things is higher, but buyers are not willing to pay more. This has led to a gradual decline in our monthly income", he says.
Also, artisans cannot gain by bypassing the mahajans and buying raw material directly themselves, because the Guwahati-based supplier enjoys a monopoly. This supplier, Prabhu Dayal Cheotia, controls the entire network of supplying scraps and raw-materials to brass and bell metal industries of Assam, and this allows him to engage in a range of monopolistic behaviour - frequent hikes in prices, creating artificial scarcities, or supplying poor quality of raw materials, all of which are pushing the artisans into endless miseries. Even a three-month long strike against the price hikes, jointly staged by the artisans and mahajans in 2006 did not work, and they finally had to compromise with the trader for their own survival, says Majid.
New efforts by the district administration
As traditional artisans zealously preserving a centuries-old tradition, Somim and others like him have expertise only in this craft, and limited scope for alternative livelihood. Their poor socio-economic condition, the lack of schooling in most cases, and virtually no exposure to the outside world, have all left them vulnerable, and unable to find a way forward on their own.

Pic: Busy polishing brass utensils
The government is now taking some steps to help. R C Jain, Deputy Commissioner of Kamrup district, says the district administration has chalked out a Rs.2.4 crore project involving assistance from both state and central governments. This was to be implemented during 2006-07 financial year, but has stretched into this financial year due to delays.
Through the project, artisans will get raw materials directly rather than through the mahajans. Under the scheme, a corpus fund of Rs.75 lakhs has been created. A co-operative society is proposed to be formed very soon, of which each artisan will be a member. Artisans will have their personal accounts in the society, and will be able to take money for purchasing raw materials as soft loans at 1 per cent interest from the fund. An additional fund of Rs.30 lakhs has also been formed to meet the day-to-day expenditure of the society. For infrastructure development, a Common Facility Centre (CFC) has already been constructed where improved machines will be installed very soon, the DC says. Training programmes for product diversification with modern technology will be organised in a phased manner and after receiving the training, the artisans will have the opportunity to do their work at the CFC, paying a very nominal rent.
Project funds will also be used for establishing a proper market network to help artisans market their goods directly without middle-men. A marketing location for the co-operative society will also be established in Guwahati where the artisans will be able to sell their products directly. The running costs of this facility will be borne by Small Industry Service Institute (SISI), he says.
Jain is confident that once various issues - lack of working capital, obsolete technology, marketing, and non-availability of raw-material - are addressed, there will be a boom in the artisans' fortunes. Over 350 families will benefit from this project right away, he says.
Despite the impressive range of the scheme, there is one void - the artisans themselves have not been taken into confidence by the administration. The specifics of this project are yet to percolate down to most of the traditional craftsman in Hajo, and they are not fully aware of the scheme's details. "For the last one year, we have been told that the district administration is going to provide us Rs.8000 as a loan. Only this much we have come to know till now. If they do not take us into confidence, nothing is going to happen. After all, someone from the outside cannot do anything on our behalf, unless they make us aware."
The crisis-ridden artisans of Hajo welcome any positive initiative by the district administration to uplift their condition and preserve this traditional industry but they would like to play the role of an active stakeholder to ensure that they scheme can really free them from bondage to the mahajans or to suppliers of raw material. Recalling a similar earlier experiences, Somim says that some years back, the State Bank of India had also provided some improved machines, costing Rs.25,000 each, to some of the artisan families. These machines, though useful to them, required commercial power connections, which the artisans could not afford. The machines ended up being sold by many artisans as scrap. He wonders if some such problem will derail the current scheme too, if the beneficiaries are not properly consulted.