If there is one politician who is most qualified to present a Budget for Karnataka, it certainly is the Chief Minister himself - Siddaramaiah. While he has shown his ability to strike the fine balance by not antagonising the public with more taxes, he has played to the gallery as far as keeping multiple vote banks in good humour is concerned.
But what should the budget really aim to do? What are the key measures that should have been dealt with differently in this budget?
Creation of more jobs across agriculture, manufacturing and services sectors should be the fundamental objective for the moment. We no longer compete with just Gujarat, Tamil Nadu or Andhra Pradesh but with China, South Korea and Taiwan in manufacturing, and Gurgaon, Noida and many South-east Asian cities for Services. Unless we steadfastly focus on job creation, our ability to usher in prosperity for all will be a uphill task.
Karnataka has the one of the highest VAT rates and reversing Jagadish Shettar's 0.5 per cent hike in the last budget could have given the industry a little something to cheer about in the uncertain global and national climate. The high petrol and diesel rates in Karnataka due to the high state taxes also deserved a relook, and instead of a mere 51-paise reduction in sales tax, the state could have been bolder in reducing at least a rupee on petrol and three rupees on diesel. This is a cash cow the government will have to stop milking, if it seriously intends to increase the purchasing power of its citizens. A welcome announcement was that of the intent to simplify the various tax processes, making tax filing computerized and thereby voluntary, easier and better.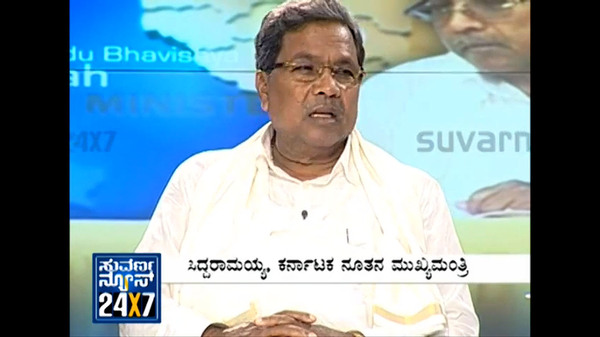 Karnataka Chief Minister Siddaramaiah. India Together file photo
Ignoring public transport
Diesel SUVs and passenger cars need to be taxed higher to ensure better public transport and that farmers can reap the net overall benefits of lower fuel bills. In its absence, the government continues with the flawed logic of forever ballooning budgets, instead of rationalizing and resorting to necessary and smart reduction of budget size to achieve overall well-being for all. Public transport costs in Bangalore are almost 1.5 to 5 times costlier in many instances than using one's own vehicle.
Old wine
While the intent seems to be socialist, the means envisaged seem to be counterproductive. An article in The Hindu outlines some key issues. However, my biggest disappointment with the budget is that it is essentially old wine in too many new bottles. Can we even know if these sops of a few lakhs to many crores can be mapped into outcomes and monitored for effectiveness? The single biggest challenge for today's governance is not intent but its ability to execute the many expectations it will raise in the budget. Take a few points for example:
While we have failed to deter the transporter lobby which ferries our children to schools like cattle by overcrowding, the CM is out there dishing out a lower motor vehicle tax (50 per cent concession) for Maxicabs, which ferry children to schools. The Government should stop being a lame duck but effectively start implementing a carrot and stick policy when it comes to handling such lobbies.
Again, if malnutrition is the battle the CM wants to fight, he better take a more nuanced look at the causes of malnutrition and think beyond making us rice eaters by force. The dry land crops that form the staple diet for the entire north and most of rural Karnataka will be negatively affected. If the people who rely on jowar, ragi and other millet diets were to resort to selling the rice they get and then buy these millets, the government is better off making this available in its basket. We often tend to forget that the real solution to the problem lies in incentivizing local production of heavily imported pulses which are today almost four times the price they were about 5 years ago. The whole food security angle needs to be considered through a lens beyond subsidized rice.
My biggest disappointment with the budget is that it is essentially old wine in too many new bottles. Can we even know if these sops of a few lakhs to many crores can be mapped into outcomes and monitored for effectiveness? The single biggest challenge for today's governance is not intent but its ability to execute the many expectations it will raise in the budget.


• Interview with Karnakata CM Siddaramaiah
• Whither the future

The CM should consider economic backwardness as the deciding factor and not get carried away by caste calculations when he is embarking on his inclusive agenda. So many micro-initiatives will be lost if they are only pegged around caste-based intervention rather than consideration of the economically weak across all castes.
The unfortunate practice of largesse being doled out to religious groups also continues; While former CM Yeddyurappa rode on largesse to mutts, Siddaramaiah is doling  out Rs 100 Crore to Christian minorities and 500 odd crores to other minorities. Shouldn't the state stand up to its secular credentials instead of merely twisting the precedent to its advantage?
While blaming the previous governments on indiscriminate borrowing, the CM should have targetted a lower borrowing than 18 per cent of the budget. 10 per cent of our outgo goes into debt servicing and the government should be more watchful of how the budget is financed and how we shall service debts in the future. Even in terms of improved revenue collection, there should be an item-wise target of how much revenue it aims to raise.
What comes as a shocker is to see expressions of intent to "computerize and compile various labour laws" at an expense of Rs 5 crore! If our labour laws are indeed so difficult to compile and computerize, we indeed have a massive problem on our hands in as much as the labour market is concerned.
The need for real solutions
When it comes to ESCOMs, the CM paints a bleak picture and says their health is in poor condition. We should remember this is primarily due to flawed pricing policy of the government. They should steadfastly explore ways of providing sufficient quality power to farmers, residential houses, industry and other establishments. It would be better to do away with free six to twelve hours of supply that the rural houses get and replace it with good quality paid power. The pricing may be subsidized to begin with and should, over the next 5-10 years, be priced well. The Nirantara Jyothi project can take a leaf out of the implementation in Gujarat. We have heard the government blandly say that power sector finances should be better managed with higher generation and higher PLF, lesser power purchase from private and outside sources and reduction in T&D losses. But Sir, can we have a concrete roadmap of exactly how you plan to illuminate the state better?
In the matter of state road transport, instead of targeting earnings per kilometre, the government should look at extensive coverage, pricing the services at 50 to 75 per cent of two-wheeler costs and ensure last mile connectivity and predictability in the time when a bus will show up. A case in example is the phenomenon wherein BMTC buses belonging to route 276 inevitably turn up in pairs or even threes with a long gap in between. Does the department even know where any of its buses are at any time of the day?
I do hope the government doesn't resort to short selling on FDI in retail or Akrama Sakrama regularization just in order to balance its finances. Firstly, if the government is looking at a long term development policy for Bangalore, and indeed a holistic urbanization policy, then a bill such as Akrama-Sakrama only defeats that objective, even if it adds to the state's coffers.
Similarly, FDI in retail with an eye only on how it can aid finances will hardly serve to improve the situation of farmers. What farmers need today is an increase in productivity which can be brought about, for example, by steps to increase organic content in farms. There also needs to be adequate infrastructure support for post-harvesting storage. Whether Siddaramaiah takes these issues up on the front foot will actually demonstrate his willingness to stand by his stated intent of safeguarding farmer interests rather than just pushing FDI in retail without adequate regulation or checks and balances within the farm sector.
The government does not appear to have thought through the slew of disjointed initiatives that it has embarked upon in a knee-jerk fashion. While in Fisheries it has 5000 ice boxes being given to fisher-women at a cost of Rs 4000, one wonders if this kind of expense is justified. In Agriculture, the counterpart of this move relates to setting up 100 transformer repair centres or reformulating the existing organic farming scheme launched by the previous government by extending it to the hobli level. Mr. CM, for any land to migrate to organic farming, we need a horizon of 5-10 years. Maybe you should have waited before reformulating it. Hope you have a long term vision about this and will do better than to replace farmers seen as BJP supporters with those known to be Congress loyalists.
In horticulture, Rs 2 crore have been set aside for demonstration plots for areca-nut farmers as they are facing difficulty. This seems to be a costly demonstration. Also a new Pashu Bhavan set to come up in Bangalore will bring all offices of Animal Husbandry department under one roof. But the killer for me was 1.5 lakh kilolitres of tax-free diesel that will be provided for mechanized motorboats! So dear fisherman, if you aren't prosperous enough to have a mechanized boat, you are excluded from this subsidy.
The cooperation department is not far behind with Rs 2 crore allocated for enrolling more members of SC, ST and backward classes into cooperatives. The government needs to strike a fine balance of pull-vs-push strategies for creating a demand for its services.
In Major Irrigation department, the rejuvenation of Arkavathi river is being handed over to international private and corporate organizations on a platter rather than involving citizens and civil society organizations in a lead role. The government while acknowledging its lack of expertise in these issues, has leapt over the likes of Dr. Rajendra Singh and his achievements in Rajasthan where citizens demonstrated community leadership to revive five extinct rivers of the state.
Again, it seems to be already readying for backtracking on the Rain Water Harvesting norms for houses, only mandating the recycling and adoption of rainwater harvesting for industries and other power plants and corporations consuming large amounts of water. It is a welcome move to establish the Ground Water Directorate and hopefully, the Directorate will put in place a robust monitoring mechanism for ground water usage and strictly regulate drilling of new borewells and how deep they can go.
It is also unfortunate to see the government sticking its neck out on Kannada policy. A better way would be to compete head on with private schools which are the favourites of even rural children as compared to ill-equipped and short-staffed government schools. Rather than invite philanthropists, corporates and institutions to support in-school development programmes with limited mandate, they should look at making government schools relevant. As far as the Kannada agenda is concerned, it should allow the medium of instruction to be gradually changed, based on the demand from students and supply of trained quality teachers, but while ensuring that all students compulsorily study Kannada as a language. The government should also ensure fair and transparent promotion and transfer policy in order to attract quality teachers to join government schools.
Rather than incentivize the attendance of girl children by paying Rs. 2 for each day of attendance, it would always be better to invest in quality education. There is a limit to the extent to which monetary incentives work. Children are opting out of government schools not because they aren't being given money but because of the poor quality of education and infrastructure.
Positive developments such as KSWAN connectivity to all government colleges and polytechnics will provide a fillip to basic infrastructure that these institutions can offer and pave the way for digital connectivity.
In respect of promoting Generic Drugs, instead of establishing and running medical stores on its own, the government would be better off giving tax incentives for the entire distribution chain. The Letter Monitoring and File Monitoring systems, being incorporated in Directorate of Health & Family Welfare Services, should be extended on a war footing in all government departments. The government would also do well to rethink the scheme to provide 10 free sanitary napkins to 32.5 lakh females, and instead, deliver a proper push to incentivize private sector participation in this through a long term low-cost manufacturing policy.