The regrettable but predictable stories are slowly trickling in. A woman and her daughter were reportedly raped and murdered in the Gaurikund area of the Kedarnath Valley last week. They were among the thousands of tourists stranded in Uttarakhand after the recent, massive flood and landslide disaster that has devastated large parts of the state. The rape of another stranded woman was also reported from the same locality. Meanwhile, a newly-wed police constable evidently tried to use the cover of the catastrophe to desert his wife, getting a friend to inform her that he had been washed away by the Ganga and there was no point in searching for him.
According to Renu D. Singh of Samadhan, a non-governmental organisation working with trafficked women, "after every big calamity like this, the number of rape cases and those of trafficking go up substantially". The organisation has apparently set up monitoring centres in various places in Uttarakhand to try and identify lone, homeless, disaster-affected women and connect them to the authorities in an effort to minimise the possibility of abuse and exploitation. This incredibly quick response is a welcome development, especially since the special vulnerability of disaster-affected women and girls was barely acknowledged until quite recently (see "Gender, media and tsunamis," India Together, February 2005).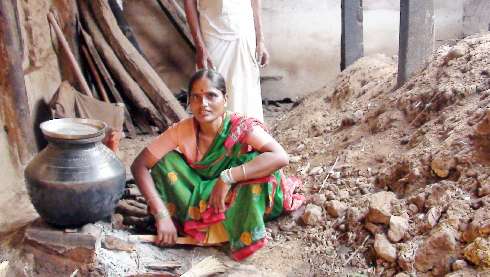 A woman tries to carry on with cooking even as her home is devastated by floods in Karnataka. Pic: Savita Hiremath/India Together Files
Less than a decade ago, during an international conference on the media's role in the post-disaster scenario, a journalist who questioned the scant coverage of women's concerns in the aftermath of the December 2004 Indian Ocean tsunami was asked, "Why should the media concentrate on women? People died, not just women". Clearly no sensible person would suggest that the media - or those involved in rescue, relief and rehabilitation - focus exclusively on women. But, equally clearly, women's experiences do need to be taken into account as part of the necessary effort to reflect and respond to the experiences, concerns and opinions of diverse sections of the population.
As a March 2005 Oxfam Briefing Note on the tsunami's impact on women observed, "Disasters, however 'natural,' are profoundly discriminatory. Wherever they hit, pre-existing structures and social conditions determine that some members of the community will be less affected while others will pay a higher price. Among the differences that determine how people are affected by such disasters is that of gender". In other words, gender is one of several socio-economic variables - such as class and caste, race or ethnicity, age and health status (including disability), location and occupation - that influence people's experience of disasters, as well as their access to subsequent help in coping with the consequences and rebuilding their lives.
The ugly reality of sexual and other forms of gender-based violence in the aftermath of disasters was clearly established after the Indian Ocean tsunami and Hurricane Katrina, which struck southern USA some months later. Widespread violence was reported after the devastating earthquake in Haiti in 2010. As a result, there is now growing international recognition of the fact that women and girls in particular face an increased risk of violence, including domestic violence, in the chaos and loss of social cohesion that routinely follow disasters in many parts of the world.
There is now growing international recognition of the fact that women and girls face an increased risk of violence in the chaos and loss of social cohesion that routinely follow disasters in many parts of the world. However, violence and exploitation are not the only hazards women face in the wake of disasters. Even the death toll is sometimes influenced by gender.


• Gender, Media and Tsunamis
• Restructuring society, post tsunami

Greater vulnerability
However, violence and exploitation are not the only hazards women face in the wake of disasters. Even the death toll is sometimes influenced by gender. According to the United Nations Development Programme (UNDP), women and children are 14 times more likely than men to die during a disaster. There was substantial evidence that more women than men died during the 2004 tsunami. Most of the reasons cited for the higher number of female deaths were related to gender as manifested in many of the affected countries, such as women's restrictive clothes, their customary inability to swim or climb trees, and their conventional roles as mothers and care-givers, all of which inhibited their ability to escape the killer waves.
In contrast, in 2009, 40-year-old Huliyamma Devarahalli of Hirehalli village in Koppal (Karnataka) survived what has been described as the worst flood of the century in southern India mainly because she had learnt swimming when she was a child accompanying her mother to the river to wash clothes. Although she had to stop swimming after marriage, she was lucky to be able to draw on the skill acquired in childhood to save herself (and a child), unlike many women who never had that opportunity. The fact that a group of women in the island village of Chintalgadda were able to save themselves and their babies from the rush of floodwaters by climbing up a neem tree similarly underscores the importance of doing away with gender-based restrictions on the pursuits and mobility of girls and women.
Injuries and their consequences, too, are sometimes influenced by gender. For instance, a majority of the victims of the massive earthquake that struck parts of Pakistan and Kashmir in October 2005 were women and children. There were many indications that gender-related roles and restrictions were responsible not only for the disproportionate number of female casualties, but also the fact that two-thirds to three-quarters of those who suffered severe spinal cord injuries were women. Although families initially rallied behind the women rendered paraplegic by the quake, support subsequently evaporated and many were ultimately abandoned by their husbands, who opted to marry younger, able-bodied women. Significantly, few women left their paraplegic partners to fend for themselves.
Pregnant women are, of course, particularly vulnerable during and after disasters. According to United Nations estimates, 40,000 pregnant women were among the four million people affected by the deadly quake of 2005. The risks of miscarriage and premature labour were exacerbated by the destruction of the few clinics and hospitals that constituted the limited healthcare facilities available in the worst affected areas at the best of times. Over 300 cases of miscarriages or threatened abortions were reported from Kashmir's Uri district alone. Many women, hurt during the earthquake, later developed major complications because they could not access basic health services and emergency obstetric care. A large number of pregnant women were forced to deliver at home, without any form of professional assistance.
Toilets are notoriously scarce in most parts of India, with nearly half the country's population still deprived of sanitary facilities at home. It is widely known that women are particularly disadvantaged by the lack of access to toilets. Disasters only intensify the problems they routinely face due to the absence or paucity of sanitation: exposure to the risk of violence as they seek the cover of darkness to relieve themselves, as well as health problems such as urinary tract infections. Even in relief camps, toilets and water are often in short supply and women in particular suffer from the consequent lack of privacy and hygiene. Accessible toilets with adequate water are among the special needs of displaced women that are often forgotten in relief efforts, along with inner wear and sanitary napkins, reproductive and maternal health care, female health workers, safety and privacy.
Post-disaster gender economics
Many disaster-struck women also find themselves left out in the distribution of relief money and material, thanks to traditional notions about heads of families and/or breadwinners. Single women - including female heads of households - are particularly vulnerable, especially if they do not have adult sons. During the 2005 earthquake, for example, Pakistani officials were quoted acknowledging that, although the majority of the victims were women and children, much of the aid, including relief material, was intercepted by and distributed through the men of the affected communities. Humanitarian aid workers arriving in the affected areas were usually surrounded and circumscribed by groups of men, which made it difficult for women to approach and inform them about their needs and concerns.
The tendency not to view women as economically active and productive citizens is at the root of many problems faced by female survivors during the rehabilitation and reconstruction phase, too. After the tsunami, women found that their means of livelihood were often not factored into calculations of compensation. With the plight of fishermen, and their losses in terms of assets like boats and nets, occupying centre-stage, little attention was paid to other economic activities in coastal areas, including those involving women. In addition, the "property owner centric" approach that generally characterised rehabilitation packages commonly ignored the needs of people from the fishing and farming communities, including women, who did not own boats, nets, land or shops but nevertheless contributed their labour and skills to the coastal economy. Under the circumstances, women - who traditionally form a major section of the informal or unorganised sector of labour and who rarely own property - were rendered doubly invisible, with their economic activities, losses, and needs by and large unaccounted for.
Several human interest stories in the press featuring women affected by the floods in Karnataka and Andhra Pradesh in 2009 provided glimpses of the range of economic activities women in the flood-affected areas were involved in, such as agricultural labour, milk vending and charcoal making. Yet discussions about livelihood issues in the post-flood period concentrated on farmers and the substantial losses they suffered and, to some extent, the losses suffered by weavers, especially in Andhra Pradesh. There was little information about the possible fallout of the disaster on women's sources of livelihood.
The fact that it is important to take women's economic activities into consideration is underscored by research findings. For example, a small study done in flood-prone Bangladesh during the 1998 floods revealed that the reported decline in family incomes was partly due to the disruption in women's income generation activities on account of the disaster. A larger study examining urban women's experiences during the 2004 floods in Bangladesh found that women workers suffered considerable economic distress. They had to cope with longer working hours, lower average salaries, more indebtedness, more economic insecurity (including depletion of savings), problems with conveyance to workplaces, dislocation in housing, congested shelters with inadequate arrangements for cooking, washing, etc. , and more ill health than usual.
After the 2005 earthquake there were reports of women survivors in Pakistan - especially widows without adult sons - losing property to male relatives after moving out of their broken homes in shattered mountain villages in the immediate aftermath of the disaster. Most of them had no papers to prove their ownership and apparently, according to customary law, a dead man's property reverts to his brothers, rather than his wife. Although daughters do have a right to a share in the property, they were often not in a position to claim the right. As a result, a large number of quake-affected women and girls faced a future with no home to call their own.
The neglect of disaster-affected women's livelihood needs is potentially catastrophic for a large number of families, especially among the poor, for whom women are the sole earners and/or sources of support. In any case, women's earnings tend to go directly towards meeting the basic needs of their families, while a significant portion of many men's earnings is frequently spent on personal habits such as drinking, smoking, and gambling. In fact, there are often reports of funds received as relief being wasted in this way and then serving as triggers for domestic violence.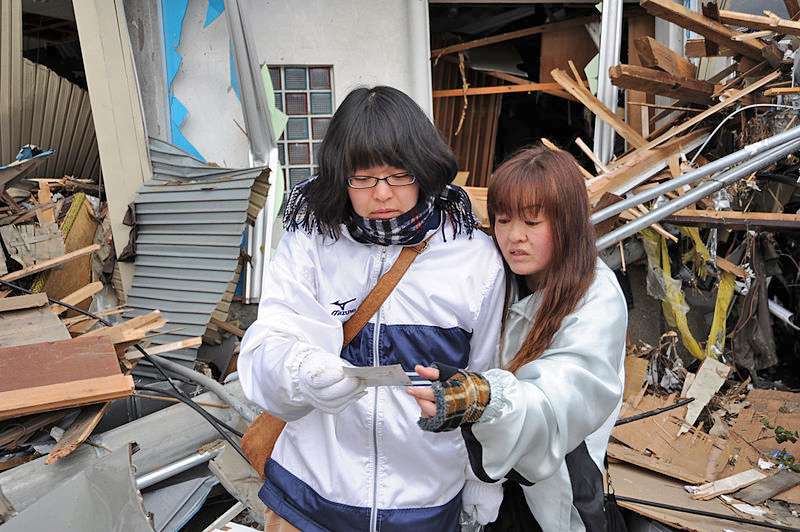 A mother and daughter look at a family photo amid the wreckage of their home in an earthquake-ravaged city of Ofunato in Japan. Pic: US Navy
Women and disaster response
Another major problem is that women are rarely included in the process of planning relocation and/or reconstruction even though past experience with post-disaster rebuilding projects has highlighted the vital importance of taking women's opinions on board. For example, many houses rebuilt after the 2001 earthquake in Gujarat without consulting women have been described as "new man-made (literally) disasters" - "houses without toilets, with inappropriately placed kitchens, with concrete walls where you cannot add a shelf, hang a picture, with structures that can never be transformed into places you can call home. "
There were similar complaints about houses built after the 2009 floods in south India, which left behind a huge housing crisis necessitating the construction of lakhs of houses. There were early reports of at least one gram panchayat in Bagalkot district in Karnataka rejecting pre-fabricated houses offered by a private company's philanthropic foundation on the ground that the model was not suitable for their rural lifestyle. According to a more recent report from Dharwad district, most of the houses constructed under the flagship Aasare scheme (meant to facilitate public-private partnership in the rehabilitation effort) remain unoccupied even now for much the same reason.
A decade after the 1993 earthquake in Maharashtra there was a noticeable difference in the well-being of survivors in villages where people were not actively involved in the reconstruction process, and those where women, in particular, played a key role in planning and rebuilding; the communities in the latter were far more stable and cohesive. There is documented evidence - in India and in other countries - of the crucial role women can play in post-disaster recovery, if they are given the opportunity. Despite such experiences, and despite the presence of women's collectives - especially self-help or savings and credit groups - in most parts of India today, they are rarely included in the process of post-disaster planning and decision-making.
Several meetings in mid-2005 highlighted non-inclusion as a common issue across the tsunami-affected region. For example, a statement issued by participants in an Asian women's consultation on post-tsunami challenges in Banda Aceh (Indonesia) began by asserting, "Seven months after the December 2004 Indian Ocean tsunami, affected women continue to be marginalised, discriminated against and excluded from the process of rebuilding on all levels: the family, the community and the nation. "
A South Asian conference on gender concerns in post-tsunami reconstruction in Batticaloa (Sri Lanka) also highlighted the lack of representation of and decision making powers for women in rebuilding activities, apart from land rights and livelihood issues. A meeting called by the Tamil Nadu Dalit Women's Movement in Tharangambadi focussed attention on the continuing plight of Dalit women survivors in different parts of the worst affected-state in India.
As a UNDP document puts it, "If women and girls are left out of planning for disaster response or risk reduction measures, the special talents, skills and knowledge of 50 per cent of the population are not capitalised upon and the needs of the most affected are unlikely to be met. "
At the same time, it is important to recognise that disaster-affected women are not merely victims. In fact, many spontaneously play active roles in rescue, relief, rehabilitation and reconstruction. What is more, as "first responders," they often take on the challenging task of restoring a semblance of normalcy to life after the disaster - cooking, cleaning, taking care of the sick and the injured, the young and the old, salvaging belongings, helping to repair homes or fashion alternative shelter, and trying to make ends meet under extremely difficult circumstances.
After the tsunami many women survivors built on their experience of devastation and tragedy to grow in strength and self-confidence. They approached both government officials and non-governmental organisations for assistance in rebuilding their lives and livelihoods. Recognising the multiple benefits of collective action, they formed, joined or reactivated self-help groups. Some were lucky enough to learn from the experiences of earthquake-affected rural women from Gujarat and Maharashtra who visited them to share information and insights on how to turn disaster into opportunity by working together to re-establish themselves and their communities. In the process many disaster-affected women managed to overcome prior restraints on their mobility, become more assertive and ambitious in claiming their rights, and compel families and communities to recognise their personhood and capabilities.
Similarly, after the 2005 earthquake, several Pakistani women survivors managed to use the fallout of the disaster to restructure their lives for the better. With so many families having lost homes, assets and means of livelihood in the rubble, these women found they faced less opposition to their efforts to find work outside the confines of their houses. Some set up petty shops, others found employment in non-governmental organisations. And, encouraged by humanitarian organisations, some of them set up women's committees to assess their communities' rehabilitation and reconstruction needs. As the UNDP document observes, "Disasters can also provide an opportunity to redress gender disparities" through programmes that are sensitive to women's capabilities and needs, and successfully involve them as equal partners in the recovery effort.
Holistic view
Of course, gender is not only about women and girls but relates to men, boys and sexual minorities, too, and disasters can affect these groups in particular ways as well. As a February 2010 document of the Gender Disaster Network points out, "Sex and gender shape men's lives before, during and after disasters. While gender relations typically empower men as decision makers with more control than women over key resources, gender identities and gender norms can also increase their vulnerability. "
For example, the flip side of the reported higher female death toll in many disasters is the fact that among the survivors are likely to be many widowers who may have to take on unfamiliar roles in their households and families, for which they are ill-prepared. Of course, many of them quickly remarry to get around this problem (for example, after the tsunami there were many cases of very young girls being forcibly married to older men). But clearly those who try to cope and live up to their new responsibilities need support as they try to grapple with the changed circumstances.
Among the residents of Uttarakhand's villages, the death toll may actually turn out to be higher among men and boys because, as Ravi Chopra has pointed out, thousands of them work in the Char Dham area during the tourist and pilgrimage season to try and earn a major part of their families' annual income by providing goods and services on the route from GauriKund to Kedarnath. Hundreds of them are still missing and feared dead. This will clearly have a major impact on the families and communities of the affected villages, which needs to be recognised and dealt with.
Besides women, children of all sexes are vulnerable to trafficking. The National Commission for Protection of Child Rights has written to the Chief Minister of Uttarakhand about the urgent need to ensure that calamity-hit children in the state do not fall prey to traffickers.
As the World Health Organisation has observed, "In disaster situations, women and men, boys and girls are affected differently. Available data suggest that there is a pattern of gender differentiation at all levels of the disaster process: exposure to risk, risk perception, preparedness, response, physical impact, psychological impact, recovery and reconstruction". Under the circumstances it is obviously crucial to ensure that gender considerations are adequately addressed in all post-disaster relief, rehabilitation and reconstruction activities.
Now that the dramatic rescue operations centred around tourists and pilgrims stranded in the disaster-struck areas of Uttarakhand are almost over, and the focus belatedly shifts to the residents of affected areas whose relatives, homes, lands, animals and other assets have been swept away by the floods, perhaps some attention will be paid to the gendered dimensions of the disaster.
Uttarakhand is, after all, the home of the celebrated Chipko Andolan, which fired the imagination of the world and laid the foundations of the environmental movement in India. If the decision-makers at various levels over the years had learnt from the women who, decades ago, not only protected trees by hugging them, but also asserted their right to participate in the management of forests and helped clarify the symbiotic relationship between development and the need to protect the environment, perhaps the recent experience of "extreme weather" and its outcomes would have been less devastating.