Rajah Harishchandra is the first feature film made completely in India. Its creator, Dhundiraj Govind Phalke, better known as Dadasaheb Phalke, is recalled as the father of Indian cinema. A street in Dadar, a central neighbourhood in Mumbai, where he made his first film before shifting to Nashik, is named Dadasaheb Phalke Road in tribute to his memory. The Ministry of Information and Broadcasting installed an award in his name - the Dadasaheb Phalke Award in 1969. The award is bestowed every year for a stalwart's lifetime contribution to Indian cinema.
The young and talented theatre activist and researcher Paresh Mokashi thought of yet another way of remembering Phalke - with a fictionalized account of the making of India's first story-film. The idea of presenting one of the most eventful periods of history through the life and times of the maker of India's first film struck Mokashi. Born out of this is a wonderful account that traces the man who made history as much as the first film he made, marking a milestone forever.
Harishchandrachi Factory (Marathi) is the result of Paresh Mokashi's research and recreation of history through fiction. The film is India's sole official entry to the 82nd Academy Awards. Mokashi insists that he never had the Oscars in mind. Marathi was the obvious choice because it is Mokashi's mother tongue, because he works in Marathi theatre and most importantly, Dadasaheb Phalke was a Maharasthrian.
"He was a very witty person with a sharp sense of humour. He took on all kinds of problems in his stride without complaining and refused to be bogged down by fear of failure. Here was a man who had achieved so much, took so many risks yet was never emotional. It is this aspect of his life that appealed to me," says Mokashi. "He was a witty person with a sharp sense of humour. He took on all kinds of problems in stride without complaining or being afraid. Here was a man who achieved a lot, took risks yet was never emotional. These aspects of his life appealed to me," Mokashi adds.
Phalke was born into a priestly family at Trambakeshwar, in Nashik in 1870. When the family moved to Mumbai, Phalke joined the J J School of Art. He received grounding in the various arts including photography. He was also a skilled magician. He then trained in art at Kala Bhavan, Baroda and worked for some time as photographer for the Archeological Department. He got funding to start an Art Printing Press. He seemed to settle down to a life in fine printing in Bombay. By then, he was married and was raising a family.
The film opens when Dadasaheb Phalke has abandoned his well-established printing press after a tiff with his business partner, promising to himself that he would never go back to the business of printing again. With two growing boys and a wife to take care of, he wanders around the streets of Dadar where he lived, looking for a job. He accidentally stumbles across a tent theatre that is screening a silent motion picture called Life of Christ (1910). From them on, he is obsessed with the idea of making the first Indian motion picture, Rajah Harishchandra.
Made in India
Though before Phalke, Ramchandra Gopal Torne made Pundalik (1912) with a running time of 22 minutes, he sent his film overseas for processing. Before Torne's Pundalik, Harishchandra Sakharam Bhatvadekar (Save Dada) filmed a wrestling bout in 1899. Jyotish Sarkar of Kolkata filmed the Anti-Partition Day events in 1905. Phalke produced, directed, processed and distributed his film without any outside help. He also refused invitations by overseas financiers to go abroad and make films for them.

The closing shots celebrate his success in Bombay after the release of
Rajah Harishchandra
. The film that made international headlines after its maiden screening on 3rd May 1913 at Bombay's Coronation Theatre, Girgaum, with serpentine queues formed outside the theatre that include British officers and their wives.
Harischandrachi Factory is not bogged down by emotion or sentiment. It is not pensive or depressing either. It throws up a delightful picture of Bombay in the early 20th century, where streets were free of traffic jams and crowds, where people knew each other and greeted each other when they met, where neighbours could be nasty but could equally be won over with time and acceptance, where the British were not quite as ugly and nasty as the history books make them out to be. Through the life of this young man - whimsical, talented, determined and desperately ambitious, Harischandrachi Factory holds up the social history of a time gone by much better than we ever read through boring history.
"He was sincere, progressive, short-tempered, but spunky. I got footage filmed by Saraswatibai, Phalke's wife, and also shots of Phalke directing his first film. I read up two biographies on Phalke. This gave me an idea about his personality," says Nandu Madhav, who has essayed the role of this eccentric genius. He adds that Phalke's entire unit was arrested on the first day of the shooting because they were using gadgets no one knew anything about!
True to what we know about Phalke's life, the film traces Phalke's close bond with his ever-helpful wife Saraswati, who through her pregnancies and busy housework, worked in the indigenous, make-shift lab in their home. Once, when Phalke lifts a big brass vessel from the kitchen to carry it away, her only comment is, "you should at least tell me before you sell out things." His two boys fetch and carry and help all along and the family grows with every passing day as he gets involved with the making of his first film, confident of the positive results. The lack of money and property do not seem to raise any problem at all for Phalke.
The camera often cuts into Saraswati washing the clothes of the entire production team, cooking for them in large vessels, processing, mixing and testing chemicals in the home-made lab, tending to the kids, without grumbling even once, forever eager to help and be a part of the entire struggle her husband goes through. The actors, drawn generously from Paresh's theatre background, have really given flesh and blood to characters from history they had never seen or perhaps, even heard about before they stepped into this film. We do not have known faces from the film industry imposing on the characters on screen. Since the faces are unknown, it is easier for the audience to identify them with the characters they play.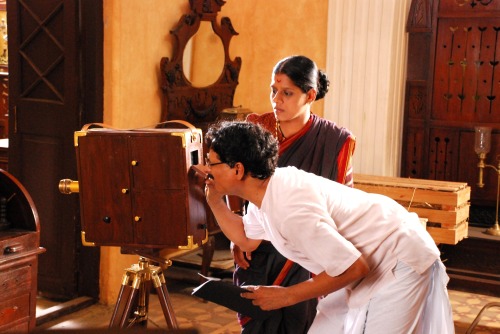 The film also traces Phalke's close bond with his ever-helpful wife Saraswati.
The film also traces Phalke's sad but brief encounter with blindness. Yet, the camera closes on his face as he wipes the tears out of his eyes that remain glued to the screen in front.
Why the word 'factory' for a film on the making of India's first film? When Phalke is all set to recruit people for his first film, some people tell him that their families do not like them to join in because filmmaking is a socially unacceptable profession. "Just tell them we are joining a factory," he says and everything is just fine. When he advertises for crew, every kind of applicants come in till he decides not to put up advertisements any more.
The ambience in the Phalke home changes completely. The family is once forced to move out because the tradition-bound neighbourhood is scandalised by the turn of events in the Phalke household. It faithfully delineates how Phalke discovered his 'Taramati" in a tea-shop in Dadar, a tall young man who worked as a tea-boy in the shop.
Shot almost entirely at Nitin Desai's sophisticated studio in Mumbai, Harishchandrachi Factory recreates a time and place in Bombay around a 100 years ago that is as aesthetic as it is convincing. The interiors of Phalke's different homes document his slow but steady growth till his final success. The cinematography uses sunny shades like yellow, brown, orange, red and amber, in tune with the cheerful and amusing mood of the film. Mokashi has also recreated a simulation of the Black-and-White pea-plant film Phalke made to source funds for his project. Archival newspaper clippings and photographs crop up tracing the success of Rajah Harishchandra.
Harishchandrachi Factory does not appear like a historical film at all, but evolves into an entertaining film that informs and enlightens without dragging the narrative into pedantic philosophy. It is not like a biographical documentary either that often becomes a chronological document of sequenced events in the subject's life. It has all the features of a mainstream film that, though made in Marathi, has universal appeal.
The essence of the film's appeal is that it succeeds in getting across the passion and the singular obsession of a man for the audience, that, after a point, gets involved in what is happening on screen. The closing shot ends with a toy parrot made of wood with hinges that can be made to move its wings with the person holding the toy. This follows the tremendous success of the film Rajah Harishchandra showing how 'movement' in pictures inspired 'moving' innovations in other fields too. A beautiful closure indeed. Warts, if any, are completely forgotten in the cheerful mood the film generates.