Annie has been selling fish for 30 years. Everyday, before sunrise, she starts walking with the fish thakala on her head, and returns home by nightfall. Same task, same route, and almost the same set of customers everyday. She makes a highly variable Rs.50-150 a day. The long hard walk carrying 15-20 kgs of fish has ruined her health. She spends a sizeable chunk of her earnings on medicines. Annie is a typical representative of women fish hawkers in Kerala.
I was on an assignment studying the changes that might have taken place in the lives of women fish vendors in the last 50 years. Over the past half century, the fishing sector, a key component of Kerala's economy that employs several lakhs of people, has changed a lot. The sea has changed its contours. The shore has shrunken. The fishworkers' beliefs and rituals have changed too. Trawlers and big canoes fitted with inboard engines have displaced the small rowing boats. The Koaruvala (traditional net) disappeared and purse seine nets and ring seine nets have stepped in. Naturally, I thought, the lives of fish vendors might also have changed.
That was until I met with Annie. It was past sundown when I got to Annie's home in Njarakkal, a coastal village near Kochi. It was not a hovel on the seashore, but a small house with a concrete roof and a compact sit-out. Annie's grandchildren were watching TV sitting by a dining table. There was also a fridge in the room. Well, the standard of living of fish vendors has improved, I thought.
Annie had just returned from work and she looked exhausted. She washed the thakala (the large aluminum vessel in which fish is carried on the head), changed her dress and had just started cooking supper for the family. Offering me a chair, Annie chose to stand at a distance saying she smelled of fish. When I insisted, she sat by my side reluctantly. As we started talking I could sense her anxiety that the kanji (rice gruel) on the stove would boil over. So we went to the dimly-lit kitchen and resumed our conversation sitting on the floor. Annie sat by the side of the kerosene stove.
Annie says that she doesn't eat anything during the day. Maybe a cup of tea. She starves to save the money.


• Tikamgarh fisherfolk stride forward
• A floundering trade

"I don't own this house," Annie said responding to my observation that she had a reasonably good house. "I pay Rs.1500 a month as rent. I don't own even a piece of land. We used to live on the seashore until a few years ago. Then we shifted to another rented house. And last year we moved in here. We got this fridge and this TV on hire purchase."
Annie is 55. She had started selling fish when she was 25. Those days her father and younger brother used to fish in the sea on a anjalan vanji (canoe with five fishermen on board).
Every morning she takes a bus to the nearby fishing harbour where she waits for the fishing canoes to return to the shore with previous night's catch. "Two or three of us together buy a box of fish and divide it among ourselves. A box generally costs Rs 1000-1200. We pay the tharakan (the middle man) only the next day," says Annie. On the way back from the harbour, she has to buy a bus ticket for her thakala too.
Some women fish vendors complain that bus crew do not let them in with the thakala (because of the fishy smell). Annie says she has not had any such experiences, and adds that it is the autorickshaw drivers who often try to prevent them from getting into the bus. Auto rickshaws charge Rs.70-75 to cover the same distance and they want these women to travel by their rickshaws. Annie says that a few years ago, when she was returning with fish from the harbour, auto drivers stopped her and her friend and threw hot tea on their face for not hiring their autos. "I complained to the police, and the auto drivers finally apologised and the matter was settled," says Annie with a proud smile.
After returning to Njarakkal from the harbour with a thakala full of fish, Annie starts her walking routine with the load of 15-20 kgs on her head. On the same route. And to the same familiar households.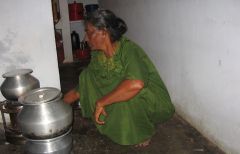 Annie cooking supper. Pic: M Suchitra.
"I don't know exactly how many houses I visit or how many kilometres I walk a day. Some people pay ready cash. Some pay only at the end of the month and there are others who ask for credit." The morning sale is generally over by noon. She returns to the fishing harbour, buys fish again and starts walking on the opposite route. The afternoon sale is over by 6 pm.
Annie says that she doesn't eat anything during the day. Maybe a cup of tea. She starves to save the money.
"Won't it affect your health?" I asked.
Annie stopped talking and looked at me for a moment. Her eyes welled up. She tried to say something and her voice broke. It seemed as though no one had ever asked her such a question.
Between sobs, she talked about her illnesses. "By the time I return from work my legs ache severely. The terrible head and neck aches that start as soon as I put the thakala on my head worsens by evening. There is a lump on my leg and it's very painful," she stretches her left leg to show me the lump. "I now live on medicines. There was a lump in my uterus and I had to spend Rs.14000 for the operation. I could have purchased two cents of land with the money I have spent on medicines and hospital stay."
How much does she make a day? "Some days Rs.150, some days Rs.100 and some days as little as Rs.50. It's really tough during trawling ban (the annual government ban on fishing during June-July). Since the boats do not go out to the sea, we buy fish from small canoes and we have to pay a higher price. And we may not get any profit. Today, three of us paid Rs.1250 for a box of oil sardines. I couldn't make even ten rupees."
Since there are people who buy on credit, Annie quite often is unable to pay the tharakan the next day. So she borrows. Sometimes she borrows small sums from her neighbours. But she hates to borrow from neighbours and instead takes loans from the Tamil moneylenders at high rates of interest. The travelling moneylenders regularly visit the fishworkers' homes and the fish landing centres.
A few years ago Annie had tried to vend fish sitting in the local market. But she found that small vendors like her could not compete with men who bring loads of fish in vehicles to the market. So she went back to her vending on foot.
"Why don't you use a bicycle or a scooter as men vendors do?"
"In this part of the world, no woman fish vendor rides a bicycle, let alone a scooter."
Even at this age, Annie is sad that she could not go to school. She thinks that had she been educated, she would have got some other job and would not have had to go around with the thakala on her head. "In fact, I was admitted to the class 1, but I couldn't continue my schooling because of utter poverty at home. There was no money to buy books. My schoolmates used to tease me about my torn frock. I stopped going to school."
Annie's parents live nearby. Every week she pays them a visit and gives them some money. "I got married at 18. My husband also was a fish vendor. It was a love marriage. We lived together for seven years. Then, when my daughter was of one year, he sent me back to my home. My parents had given him only Rs.200 as dowry. But they gave my elder sister Rs.500 and two sovereigns gold and my younger sister 15 sovereigns and Rs.15,000. My father had promised to give my husband more. But he could not keep his words. So my husband abandoned me."
Annie could not give a good education to her daughter Shiji. The daughter now works as a sales girl. Her husband had been given a dowry of Rs.30,000. To save that money, Shiji had to work as a maid servant for years. But the marriage did not work. The daughter, along with her two children, now lives with Annie.
"Do you go to church?" I asked her.
"Of course," Annie replied. "How can I pull on like this otherwise? Jesus is the only consolation I have in my life."
"What do you pray for?"
"'O Jesus, give me the health to go on selling fish.' What else can I pray for?"
The interview was over. I realised that time and technology have not made any real change in Annie's life, and likewise, the lives of scores of women fish hawkers like her. Their sufferings have only increased. In addition, they have to work harder than the hawkers in the past to keep a higher standard of living.
While returning to Kochi, I passed by the multi-storey office complexes of the Central Marine Fisheries Research Institute and the Central Institute of Fisheries Technology, two central government institutions that expend crores of rupees every year in the name of fisheries research. I wondered whether these institutions could ever make an impact on the lives of Annie and thousands of fish hawkers like her. (Quest Features & Footage)