The Gandhigram Rural Hospital is located at Chinnalapettai, a small village that lies in the rain shadow valley between the Sirumalai Hills on the east and the Kodai Hills on the west, a 100 mts off the Dindigul-Madurai Road, on NH 7. Serving the communities in and around the Dindugul district of central Tamilnadu, the hospital is reached before, and is also much smaller than, the sprawling Gandhigram University campus, further down the same highway near the Ambathurai station.
The Gandhigram Rural Hospital, also known as the Kasturba Hospital, is a basic structure, unembellished by 'modern' aspirations, painted a fading green. A faint smell of all things medical hangs in the air. The patients are from all economic strata, clearly at home in the cleanly maintained wards that also have impeccably kept toilets. Thin cotton curtains flutter in the breeze in a place that is open house in more senses than one.
The hospital has a bed strength of 275, of which 100 are reserved for family planning surgery. Its maternity services are particularly sought after and the hospital has contributed significantly to a dip in the maternal and infant mortality rates, besides finding considerable success in birth control initiatives. The hospital is a government recognized family welfare centre; it has won the National Award twice and State Award fourteen times, for services rendered in health care.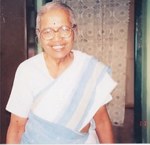 Gandhian and septuagenarian, Dr.R.Kausalya Devi has headed the hospital, set up in October 1947, for nearly four decades now. Her eyes still twinkling, despite the rigours of her demanding schedule, this "happily unmarried" medicine woman, a legend in these parts, has worked with single-minded dedication and no distractions, in a cause that chose her. She is proof that Gandhi still lives in India.
Excerpts from a conversation:
"After I graduated in medicine, I was working at the Nagapattinam General Hospital. It was nothing but Godsent that instead of attending the wedding of a friend in Madurai, I ended up meeting Dr.Soundaram, a wonderful woman who has been a great inspiration in my life. While I was only interested in making it on time the function, she invited me to come and see her. She talked and I listened, for nearly four hours. I missed the mappillai azhaipu (inviting the groom -- a traditional Tamil marriage ceremony) but I found my true calling. She asked me to come to Chinnalapettai and work at the Kasturba Rural Hospital which had been set up to serve the health needs of the rural people in Dindigul district.
"It was supposed to be a two year posting but I kept staying on for two years more and then another two years till someone said if you stick around for a while more you will get a small retirement pension, which I am getting now. I have not retired though!" (Dr.Kausalya is 74 years old).
"There are a lot of advantages of being here. Everybody works because they actually want to - there is no force and it shows in the way they do things. My family supports me in whatever I do. I have found beauty in a simple life. I have tried to cut down on my requirements, including food. I find that I work better that way. We have to be happy in whatever we do. It comes by giving whatever is excess to others. Sometimes I wonder why more people don't feel the same way."
"I was deeply moved by our founder's ideals and how she practiced them in her life - she was a woman from a very wealthy family and a staunch Gandhian who practised simplicity. My father, who was my first guru, was also a disciple of Mahatma Gandhi. When I was little, my grandma had come over and everybody went to a temple, leaving me behind. I cried and my father said, they have gone searching for God but if you do good, God will come to you. I diligently followed his advice and did everything good I could. There was no sign of God.
"So I told my father, 'Appa, you have cheated me. I did as you said and God never came.' And my father said, God came every day, you just missed him. He came every time you helped somebody. We were basically Hindus but had close relatives who married Christians. My mother would do up the house for Ramzan and Christmas and there would be goodies to be had. Thirty five years ago, every time a relative visited us in Nagapattinam, I would take them around -a taxi would charge 10 rupees - to the Velankanni church, the Sikkil Singaaravelan temple and the Nagoor dargah. My father used to tell me, it is nice that you go there but it will be nicer still if you could see Singaravelan in Velankanni, Mother Mary in Nagoor and Allah at the Sikkil temple.
"When Sarojini Naidu had 1 crore to spend, she said instead of putting up statues of Kasturba, let us start hospitals in her name. Dr.Soundaram was very seriously looking out for a place - she got this land at the foot of the Sirumalai Hills and in close communication with the rural community. It was a donation from Sri Laghumaiah, a great philanthropist of this area. All along, we have followed this principle - don't ever think you know more than the village people. We can only bring knowledge and information. Ultimately, they know what they need and you must only try to fulfill those needs.
"The idea was to work for 11 months and go out to do field work for 1 month. This is a very vital time to find out what the community needs. This is how we started out with all efforts - the Auxilliary Nurse Midwife training programme, the Arogya Sevika course, family welfare surgery, medical termination of pregnancy, infertility treatment, care for abandoned children, artificial limb centre, sanitation campaign and so on. The government was keen on conducting camps here because we took care of everything.
"It is not necessary that we must do what everybody else is doing. We have always focussed on asking the community what it wants and making it available. A lot of work in rural health care has to do with education and awareness building. Earlier, if a couple had no children, the family would send the wife for a checkup. We insisted on calling for the husbands and now it has become accepted that, for infertility investigation, both the husband and wife must come.
"Our artificial limbs unit has proved to be a very important service. Dr.Sethi of the Jaipur foot fame had come here on a visit with his wife and he was so pleased that he offered to supervise the setting up of a prosthetics centre here. The TVS Rubber Factory is closely associated with Gandhigram and Dr.Sethi tells us that he is able to get even better rubber here! People travel from distances to come here for fitting of limbs, especially lower limbs. The geriatric ward came up to cater to the specific needs of the elderly. Nothing happened overnight - the progress has been based on review and evaluation and it has been satisfying.
"We have never said no to anyone on the grounds of money. People pay according to capacity. Some special wards help us make ends meet. This is Gandhigram. Our staff does work for satisfaction. On most days the Operation Theatre opens at a.m., which means that the OT is ready by 5.45 a.m., never later - there is enthusiasm to work. We have 12 doctors, 3 nurses, 1 anaesthetist. The Ford Foundation came to study us as a role model.
"We run an Adoption Centre for abandoned or surrendered babies. Again, this came up because there were children who needed care. We have not done anything very unique - we have only listened to what our community told us. For example, when we grandly built attached bathrooms in our hospital facilities, the community told us this was reprehensible and they could not stay in a place that had a toilet so close by. We were at loggerheads with them because open defecation, as was their custom, was making the surrounding areas of the hospital unsanitary and we insisted it had to stop.
"So they asked us if we could we not provide an open space somewhere nearby, for defecation purposes. We did this but we also simultaneously started a campaign to educate our community about the link between sanitation and hygiene. Many houses did get toilets built. Today, when a girl from Chinnalapatti has her marriage arranged to someone from outside, she does not ask her father for wealth and other things - she wants to know if the house she is to be wedded to has a latrine. That is our real achievement."