Supriyo Sen's Hope Dies Last in War has bagged the Best Non-Feature Film award at the 55th National Awards for 2007 (the awards were delayed, and given only recently). The film is an incisive, investigative and humane documentary on the 54 Indian soldiers taken prisoners of war during the Indo-Pak war of 1971, who did not return home.
While waiting for them, some of their parents died, some wives remarried and some children lost hope and committed suicide. But the real ordeal has been for those who did not give up. For them, life is a tightrope walk between hope and despair. They have been fighting this battle of attrition for almost four decades, and are still not willing to resign.
The film was first screened in public in 2007. The citation states that the film was chosen "for its sensitive albeit searching exploration of those in prisons in alien countries; a complex polyphony of variegated voices, the film is an endeavour to find hope in the midst of a struggle against despair." Saikat Ray, who edited this difficult film, also won the National Award for Best Editing in the 'documentary and short-film' section. The citation commends the editing "for its creative blending of various elements of the past and present, as also for its seamless flow of images that evoke genuine emotions."
Earlier, Ranjan Palit bagged the IDPA (Indian documentary Producer's Association) gold award for his challenging cinematography. On February 9 this year, Supriyo Sen's Wagah, a 12-minute documentary bagged the Berlin Today 2009 Award. Wagah is the story of an extraordinary event that takes place at the only border crossing between India and Pakistan. Every evening, thousands of cheering spectators gather to witness a patriotic parade for the ritual closing of the border. Wagah was shortlisted among five finalists from around 350 entries from 106 countries.
Sen's other films are documentaries like Wait Until Death, The Nest and Way Back Home. He has received the National Award twice before this, apart from the B.F.J.A Critic's Award (twice). Way Back Home and Imaginary Homeland, won the Audience Award at the Commonwealth Film Festival in 2003 and the Golden Conch at the Mumbai International Film Festival respectively.
Prisoners of war
More than 92,000 Pakistani soldiers were taken prisoners by India in the western sector, while 500-and-odd Indian defense personnel were captured by Pakistan during the 14-day war that began on 3 December 1971. Following the Shimla agreement (1972) between Z A Bhutto and Indira Gandhi, prisoners of war (POWs) were exchanged. Over two hundred Indian soldiers were repatriated from Pakistan. But the last train expected to bring the last lot of Indian soldiers from Pakistan did not arrive! While Pakistan claimed that there were no more POWs left in Pakistani jails, the Indian government advised the families to presume that the missing soldiers were dead and to accept monetary compensation in lieu of the missing persons!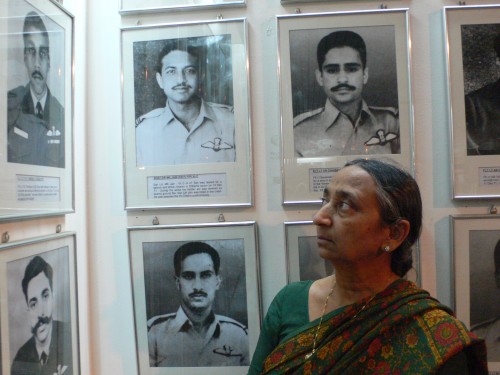 Damayanti Tambay, wife of Flt. Lt. V V Tambay.
The families do not accept the governmental version offered by both countries. "Most of us have heard the names of the missing soldiers announced in the Pakistani radio as 'captured alive.' We are convinced that they are alive because stories of their being alive keep pouring in from different sources," says a brother. "One soldier who managed to smuggle a letter to his family reported that 20 of his compatriots are languishing in the same cell.
Time magazine published photographs of two other soldiers," says a daughter, one of three sisters whose lives are different from normal women because a major part of it is dedicated to this search. BBC journalist Victoria Schofield mentioned around 40 prisoners in her book. More evidence trickles in every day.
The families do not accept the governmental version offered by both countries. "Most of us have heard the names of the missing soldiers announced in the Pakistani radio as 'captured alive.' We are convinced that they are alive because stories of their being alive keep pouring in from different sources," says a brother.


• A journey through documentaries

The painstaking research - field research, documentary research, first-person interviews, travelling back and forth with active members of the Missing Defense Personnel Relatives Association invests the film with that rare blend of research, emotion, commitment and honesty not easily witnessed even within the documentary format. It widens its canvas from a simple wait-and-search saga to a tragedy of the last century that neither government has tried to resolve though they have both the infrastructure and the power.
"I tried to take on the role of an observer who listens to the stories and witnesses the events as the film grows through monologues, dialogues, interviews and interactions. I tried to place the characters in their private space and public domain. They are seen meeting the foreign minister, visiting the border during the prisoner exchange, participating in the military functions at war memorial, demonstrating on the streets or in their first press conference in 34 years," says Sen.
A love story, as much as a war story
The film consciously avoids showing war footage because "I felt we all are already too flooded with images of destruction across the world. I have tried to explore and record the inner world of the war victims. We see archival footages of the prisoners of war, the peace agreement, and repatriation of prisoners to get a feel of how an atmosphere of impending war is kept alive," he adds.
"When I was making my earlier film, Way Back Home, I realized that the rift created by Partition has grown wider with time. I felt an urgent need to explore the tragedy of two neighbouring countries having become their worst enemies. I began researching stories of human suffering caused by this endless animosity and found the story of Hope Dies Last in War. It is the most heartening and the most tragic of all stories I uncovered during my research. This is one of the worst human rights violations of recent times. But it is not only a story of suffering and defeat. It is a story of courage, reconciliation and hope.
Vipul Purohit was three months old when his father went to war. He still remembers there was a photograph of his father in front of which he used to pray every day. But when he grew up, he realized that the movement to claim his father back from captivity or at least to know what happened to him needed a fresh dimension. Motivated and pushed by his dynamism, a new group grew out of the old, ineffective agenda of meeting ministers and writing letters. Family members came out in the streets and tried to garner people's support by communicating their stories.
He asks, "If somebody becomes a martyr, the family reconciles to it and moves ahead. But where do we move? It sounds very 'nationalistic' to hear and know that they have sacrificed their lives for the sake of the country. But if these lives could not be sacrificed and are allowed rot in foreign jails, how can we accept it? The nation, the Government, the armed forces can very well forget about them, but how can a son forget his father, how can a wife forget her husband?" he asks angrily.
The trigger for the film came on 5 December 2004. Supriyo was accompanying. Damayanti Tambay, wife of Flt. Lt. V V Tambay to Ambala cantonment from where her husband took off for the last time on the same day 33 years ago. "On the drive back to base, Mrs. Vaidya had become pensive and nostalgic. I wanted to make her feel better. So I began to ask her about their courtship.
The atmosphere changed as if like magic. Her eyes lit up, her face brightened with cheer and joy. I then asked her how she could wait for such a long time for a husband who disappeared from her life within a year of marriage. Her answer was "It is the unconditional love for the person that drove me to walk for such an endless journey." At that moment I realised that I had to share this love story with the world. I believe that as long as there is love, there is still hope, and hope dies last in war. That later became the title of my film," reminisces Sen. Today, Damayanti is an icon of this whole struggle of these 54 families in their search for their loved ones.
The film is a tribute to the tremendous zeal and determination of the few that did not give up. Their lives have reduced to a permanent struggle between hope and despair. But they refuse to give up the fight that has evolved into a crusade for the restitution of basic human rights - the right to live and die in one's own country, the right to come back home, the right to a national identity. Hope Dies Last in War is a saga of their individual and collective struggle, spanning three generations, to get their men back.