Srinagar: In the District Police Lines in Srinagar, the capital of Jammu and Kashmir, around 30 women police personnel gather to eat lunch under the autumn sun. Clad in khaki salwar kameez and tightly pinned hair, they sit cross-legged and talk in hushed tones as their male counterparts walk by. The more one sees them talking in whispers, the harder it is to believe that one among them has recently been conferred with an international honour.
Ask them about Shakti Devi, 38, the Jammu and Kashmir police inspector, who has received the International Female Police Peacekeeper Award 2014 for her efforts to help victims of sexual and gender-based violence, and they reply in unison: "We don't know who Shakti Devi is… Who is she?"
Currently deployed in the UN Assistance Mission in Afghanistan (UNAMA), Shakti has spent 14 years in the force. Of course, even as Shakti Devi raises her voice for the rights of women police personnel globally, her fellow officers in the Kashmir valley still struggle with loneliness, discrimination, social exclusion, and violence.
"A policewoman in Kashmir rarely gets credit for the good work she does," states Constable Malik Mehmooda, adding, "The male officers consider it shameful." Like Shakti, Mehmooda, too, joined the force 14 years back when militancy was at its peak and the situation was volatile. "During those troubled times, I have traced hidden arms, handled angry mobs and gotten hurt in stoning, but I never received a pat on my back for anything," she rues.
Mehmooda is tall and well-built. A mother of three, she feels fortunate to have an encouraging husband who looks after the young ones when she is on duty. "It was my husband," she says, "who motivated me to become the first female cop with Anti Sabotage Training (AST) in Kashmir." Together, the couple dreamed of achieving a name for Mehmooda and for the state she belongs to. "But the men in our department stand like a wall between us and the outside world. We have absolutely no idea of the avenues that exist for us to go further in our career," remarks Mehmooda, referring to the award conferred on Shakti Devi.
As per the data given by Javid Hassan Bhat, Superintendent of Police, Headquarters, Srinagar, there are around 50 personnel from the Valley presently deployed in various countries under different peacekeeping missions. None of them are women. In fact, according to Bhat, no female cop from Kashmir has ever gone out under such a programme. "The women of Kashmir find it hard to leave their families and children," he says, adding, "Maybe they don't want to go."
Mehmooda, however, says that she would have loved to go on a mission similar to that of Shakti's and put to good use the experience she has gained over the past 14 years working in a volatile region. Unfortunately, as none of her work actually exists on paper, she is unlikely to get such a chance.
Six years ago, Mehmooda got the opportunity to apply her AST training for the first time. After the Department received information about some hidden ammunition in a park in the city centre, Lal Chowk, she was sent with her team to sweep the area. Fortunately for everyone, she did find a huge bag of arms hidden under a tree. "I couldn't believe my eyes because it was my first time in the field and I had found something. I was proud of what I had done and, at the same time, I was crying," recalls Mehmooda, "I ran towards my team to tell them about my discovery."
The male officer on duty appreciated her work and asked her to handover the bag to him to complete the formalities. "The next day I saw his name instead of mine on the daily brief handout that the department sends out. I did not eat anything that day," remembers the brave woman.
Social hurdles
Mehmooda strongly believes that although the state of Jammu and Kashmir is one there is a vast difference in the working environment between the Jammu region and the Valley. Gulshan Akhtar, Station House Officer (SHO) of Kashmir's lone full-fledged women's police station, agrees with Mehmooda's observation. The Kashmiri female cops, she feels, unlike their comrades in Jammu, are not able to make the best of the opportunities available. "I think it is the social set up," says Akhtar, "Women's roles are defined in every society and in Kashmir, her primary role is to take care of family and children."
Akhtar, who has nearly two decades of service experience, has never thought of sending her nomination for any such programme, "I always think of my children and aged in-laws first," she says, "Maybe some day when my children are grown up I will pursue my dreams and see the world."
Fighting public perception
In Kashmir, a career in the police is, in fact, somewhat stigmatised. A large number of locals, who are disgruntled with the government, think of the police personnel as 'betrayers'. For women, the job is even more looked down upon because the more edgy the situation, the more they are pushed to the forefront.
"It is not unusual for me to receive a few stones here and there while I am on duty during tense conditions," says Shahzada Bano, who works as Special Police Officer (SPO) and earns a meagre Rs 3,000 a month.
For Shahzada, the physical wound is less painful than the humiliation it brings afterwards. She hears people talking about her "dirty" profession that requires her to work with strangers, sometimes even till late hours. "When I talk back, my mother-in-law tells me I have the guts because I meet hundreds of men every day," she says. Be it on the streets or at home, Shahzada is derided for her choice of profession, "Even my 10-year-old son does that. When I scold him, he tells me that he cannot expect any better treatment from a cop."
Kounsar Firdous echoes Shahzada's words. The 30-year-old from downtown Srinagar found it difficult to run her house and raise two children on what her bus driver husband earned. She thought a job would bring in some money and keep their day-to-day disagreements at bay; "But I was wrong; they have only increased," she says.
Little wonder then that in Kashmir not many women join the police. Most of the women cops, if not all, enter the profession to help run their families and fight poverty. In 1997, two years after Dilshada Bano's marriage, her husband left her for another woman. She needed a job to raise her one-year-old son but having barely finished high school, the prospects were few, "I am in this department because I didn't know where else to go," she says.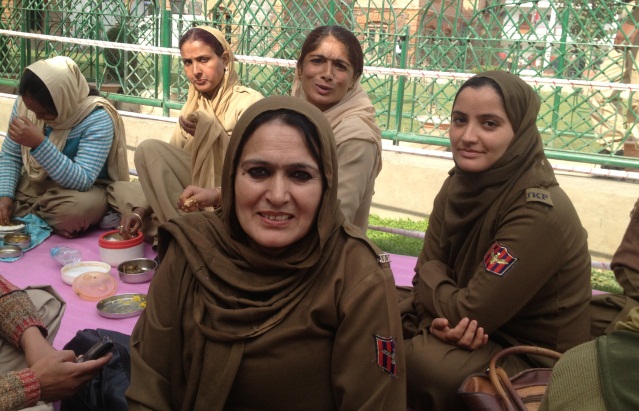 Dilshada has been working as SPO since 1997. For the first 10 years, she earned Rs 1,500 a month. In 2006, the amount was raised to Rs 3,000. She has lost all hope of getting regularised after she crossed the age bar. Eighteen years of service exposed Dilshada to extreme dangers. Although lucky to escape physical injuries, she once slipped into depression after witnessing a blast scene. She was the only female cop on duty when an IED blast killed more than a dozen of her colleagues. "I gave my youth to this department and in return I get this paltry sum that is not even enough to make ends meet," she sighs.
Although Shakti Devi's achievements are definitely inspiring, her colleagues in Kashmir hope that they too will be acknowledged for the valour they display every single day they step out as cops in a largely hostile social and work environment. © Women's Feature Service