The village of Kavthepiran, located about 120 kms south of Pune in Sangli district of western Maharashtra, lived with two contradictory images for a long time. At one end, this 14,500 odd populated village is proudly placed in the international sports map, thanks to it being the birthplace of the legendary Hind Kesari and 1970 Commonwealth Games silver medallist, Maruti Mane. At the other end, it had earned a dubious distinction, since the last two decades, for goondaism and alcoholism indulged by its youth, thus steadily overpowering the envious image it had attained in the international world of wrestling.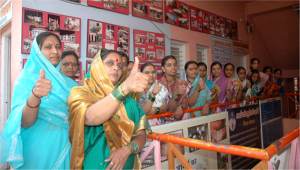 The 17 member all woman Panchayat at Kavthepiran. Pic: Pradeep Sutar.
Ridden with criminal elements – all of them young locals and promising wrestlers and ironically led by Bhimrao Mane, Maruti Mane's nephew - the women and children of the village lived in perpetual fear. Bad health, thanks to lack of public and sanitary hygiene, led to diseases, attracting 20 general practitioners, who did "roaring business". The eight liquor manufacturing units and the 24 liquor dens spelt doom for the village, which had otherwise attained prosperity after its villagers switched over to the cash-rich sugarcane crop since the late 1980s. In fact, it is this newfound prosperity that triggered off addiction and vice, plunging the village into a deep social crisis.
Therefore, when this notorious village in the prosperous sugarcane belt of Maharashtra hit the headlines first in 2003 for clinching the state award for the best village under the Sant Gadgebaba Abhiyan (village cleanliness campaign award floated by the state government to inculcate wet and dry garbage segregation, human waste management, total sanitation and community participation for overall development of a village), many raised their eyebrows – only this time not in suspicion but in wonder. And now in 2006, when Kavthepiran received the national 'Nirmal Gram' award for achieving 100 per cent sanitation through the campaign of a toilet for every home and public toilets for those who cannot afford it in their homes, it seemed like an incredible metamorphosis and a story fit for a Bollywood movie.
The 'Nirmal Gram' award is given by the Union Rural Development Ministry and is in its second year. 40 gram panchayats from various states received this award in 2005.
This year, 770 gram panchayats from various states were the recipients. Kavthepiran is one such village.

It all began in October 2000 when the now 32-year-old Bhimrao Mane, wresting the post of the sarpanch of Kavthepiran by force, after two decades of indulging in criminal activities. During this tarnished period, he used to hit the front pages of vernacular newspapers for all the wrong reasons. Out of the 40 police cases registered against him in various police stations of Sangli district, 37 cases have been disposed off while three are still pending. His crimes were as serious as extortion, contract killing, assaults and forceful evacuation of tenants. He has visited jail eight times during those 20 years and he says "even before brushing my teeth, I used to have a couple of pegs. I, along with my gang of friends did nothing but terrorise people, drink all day and night and barge into restaurants for free meals."
Villagers say that his uncle, Maruti Mane used to sob in public for all the damage that his nephew had done to the village.
The obvious question would be – how could such a criminal get elected as the sarpanch? Villagers say that the senior Mane vociferously protested when he he heard that his nephew was trying to become the sarpanch. Bhimrao admits he knew his uncle would be livid. He sent feelers which his uncle outrightly rejected. That's why Bhimrao had to 'compel' the villagers to accept his sarpanchship and membership of his 17 men which they did out of fear.
Says Alka Jakhlekar, the present sarpanch of the now all-women 17-member panchayat of Kavthepiran, "Since this is the village of Hind Kesari Maruti Mane, panchayat elections have never been held in the last 35 years. All of them are nominated at the village gram sabha, by a common consensus. In 2000, Bhimrao compelled us to accept him as the sarpanch and his notorious gang of 17 youngsters as members of the gram panchayat. We were so scared that we agreed." For one year after that, the members of the gram panchayat came in drunken state to the office and further blackened the image of the village.
Maruti Mane was so disturbed that he appealed to R R Patil, the state's present deputy chief minister who hails from Sangli district, and sought his intervention. Patil responded. Bhimrao was asked to meet Patil and that's when he says his first pledge to turn over a new leaf began.
Bhimrao confesses that it was also at that time that he was to come under Maharashtra Control of Organised Crime Act (MCOCA). "Patil sir told me that it was time for me to transform and return the gratitude to my uncle who had brought me up like his son, after the death of my father at a young age. He also asked me whether I am aware of my uncle's great service and dedication to the country through the world of wrestling and why I am ruining it," says Bhimrao. Patil asked him to adopt the village cleanliness campaign and cleanse away his dirty past as a last chance to reform himself, he says.
Says deputy sarpanch, Nita Bhosale, "We used to fume with anger when we used to see drunkards in an office as dignified as that of the gram panchayat." The women of the village decided to vent their ire in the first gram sabha that was held on 2 October 2001, just when Bhimrao had returned from a 'dose' from Patil. Women chorused that it was time for them to migrate from the village, if its custodians behave in such a irresponsible manner." Mane says he was deeply moved by the anger of the women and instantly decided to transform not only himself but the entire village. On that very platform, Mane pledged to give up alcohol and to eradicate alcoholism within 24 hours. While this might seem like a heroic pledge straight out of a filmi script, several villagers with whom I spoke chorused that it was indeed a miracle in everyday life which had happened to them.
Says Jakhlekar: "The very next morning - October 3, 2001 - hundreds of women stirred out of their homes, with 'Mashal' (akin to an Olympic torch) in their hands. We destroyed every liquor manufacturing unit all the 24 dens, within 24 hours and this time we had the support of the very people who used to patronize it." Says an elderly villager, Babasaheb Shinde, "It was like an instant social revolution. Obviously, some die-hard alcoholics used to visit nearby villages to get drunk. The moment they stepped into the villages, their hair was shaved off and they were taken on a public procession on a donkey." Bhosale oonfirms, "As many as heads of 16 youngsters were shaved off in a month's time."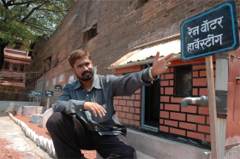 Bhimrao Mane stands in the sanitary and water conservation specimen corridor, setup to inform villagers about the different kinds of toilets they can build and water conservation methods they can adopt. Pic: Pradeep Sutar.
Pune's divisional commissioner, Prabhakar Karandikar vouchsafes for the radical change in the village by stating that, "Kavthepiran is a very remarkable example in social mobilisation. While Bhimrao Mane took the lead, the entire community, specially the women achieved total transformation of the village by participating in improving hygiene, sanitation and undertaking projects like solid waste management, vermi-composting, lending voluntary labour for building human excreta fertilizer, bio-gas plants and building toilets. In fact, Kavthepiran has over 100 enterprising Women's Self Help Groups (SHGs)."
Today, 100 per cent sanitation has become the pride of the village. Out of the 1894 houses, 1818 of them have personal toilets. For those who could not afford their own, there are 22 public toilets with 76 seats. 136 families own personal biogas plants, besides 22 common biogas pools which are shared by neighbouring families. Women self help groups (SHGs) encompass each and every woman in the village. Says Vaishali Patil, member of one of the SHGs that makes 'shevaya' and 'dry chutney' for selling, "Each one of us earns around Rs.3000 each per month. Our village has the maximum number of SHGs including that of dairy enterprise which pays rich dividends."
Gram panchayats can procure funds from various schemes instituted by state governments for projects like water conservation, sanitation, tree plantation, self-help groups, etc.
For its projects, Kavthepiran procured funds to the tune of Rs.85 lakh from the local state legislator's fund and from the 11th Economic Plan which releases funds for rural development.
About five lakh rupees were procured from the state government's scheme for housing for dalits and vagabond tribes.

Kavthepiran also leads in the state government's 'Akshay Prakash' scheme wherein, if the villagers observe self-discipline in minimising the use of electricity, they are waived the mandatory 12 hour load shedding that is slapped in the rural areas of Maharashtra. Says Bhimrao, "Villagers are not allowed to operate their agricultural pumps, flour and spice mills between 7 pm and 7 am and those who do are penalized Rs.2000 – a gram panchayat decision. In addition, we have installed 110 solar lamps on streets, which, also saves power. This has helped us in the state government waiving off load shedding."
Wet and dry garbage segregation are strictly observed and common vermi-compost pits bring manure. Even the human excreta fertiliser pit ensures a systematic sewage disposal wherein the human waste mater is not released into the river. According to Bhimrao, who has now achieved the status of the most respectable person in the village, "Annually, we get Rs.70,000 from selling manure, which we channelise into other community development projects." Even floral offerings during the Ganesh festival are disposed in specially made containers which have the facility of vermin-composting and not thrown into the river.
Out of the 20 private general practitioners, 18 of them downed their shutters, say the women panchayat members, very proudly. This is thanks to the 24 km open drainage system that has been constructed, garbage that is properly disposed and 100 per cent sanitation that has been achieved. Not a single police case has been registered from the village since the last five years. Says Bhimrao, "With alcoholism having been eradicated, there is little chance for a crime." More than one and a half lakh trees have been planted since 2001, but several of them were ravaged after last year's floods that compelled evacuation of Kavthepiran villagers for 16 days. It is mandatory for every house to plant at least four trees.
Apt proof of the transformation of Kavthepiran perhaps comes from the young television serial actor, Atul Bhosale, who hails from the village. Says he, "Earlier, I used to be ashamed of telling people that I hail from Kavthepiran. Today, I am so proud of it."