I could smell Buddham Bai before I could see her. She was covered with layers of clothes once white, laced with the acrid odour of incontinence, of old age. Pink nail polish flashing against the dark, wrinkled hands, her grizzled hair was put up in a careless bun. Her child-like smile, at the age of 65, was the only thing that didn't look weathered by life's grueling tests.
Walking through the tapered and swarming temple path, crossing modest shops selling miniature idols, undersized flags and aromatic sweets, Buddham Bai stops at a verandah that looks defunct to me. This verandah is where she lives, alone, one of the 78 million people in India who have no place to call home. In Delhi, the Development Authority (DDA) admits that at least 1 per cent of the population is homeless like Budham Bai. This means that in this city alone, no fewer than 140,000 people live on the streets.
Ashray Adhikar Abhiyan, an NGO working on issues related to homelessness and the rights (particularly shelter) of the urban poor, estimates that at least 7-10 percent of the capital's homeless are women. Buddham Bai, in all likelihood, was left uncounted in these surveys. She is a part of what is called the 'floating homeless' population. She is not 'homeless' in the sense of having no family, not even 'houseless' as she has a house in her village. Yet, she is compelled to live on the streets for most months of the year, because of unremitting poverty.
From her obscure Karvi village in Chitrakut district of Uttar Pradesh's Bundelkhand region, she travels to many places of Hindu religious significance. Chitrakut is itself a sacred site, flocked to by devout pilgrims. However, it is not piety that compels her to travel to places like Vrindavan, Haridwar, and even as far as Badrinath. Neither does she travel in search of livelihood opportunities, as most other migrants do. Unskilled and lacking strength for manual work, Buddham Bai journeys to 'beg'. Her migration is timed according to the festivals and fairs that periodically take place in the holy shrines. The day I met her, she was preparing to leave for Haridwar's Puranmansi mela.
Silent tears
Buddham Bai has faded memories of her childhood. The only thing she can vividly recall is of a little baoli (a step well, usually build to store rain water) in a village beyond Yamuna, near Allahabad where she used to show off diving skills with friends. She was married young and had seven children, all of whom are now married and live in the same village, except for a son who stays in Faridabad. Her only brother passed away recently, following which her relatives usurped her maternal property. As Buddham Bai says this, she chokes up, bursting into silent tears, gasping for breath.

She tells me that her family has 5-6 acres of land in her village, but with no water to irrigate it. When the rains fail, as they often do, they have no crop. One of the most backward districts of the state, Chitrakut has mountainous terrain, largely unsuitable for cultivation. Nevertheless, for lack of alternatives, farming continues to be the main occupation of the villagers, particularly of the Kurmi caste, to which Buddham Bai belongs.
In her last 15 years as an itinerant, most of her time has been spent at Kalkaji Mandir in New Delhi. An ancient temple, devoted to an incarnation of Kali, it offers a sublime spiritual experience for its devotees. Even before one visits the shrine, one can feel virtuous by an act of charity towards the old and destitute queued up on both sides of the temple lane, sometimes extending up to a kilometer and a half.
Buddham Bai lives in the city for many months at a time, and when she collects what she thinks is enough money, she returns to the village to arrange for her husband's well-being. Her husband, though old and invalid now, is too proud to beg, she says, nodding her head sideways in mild disapproval. "He wants to stay in the village and die," she concludes, nodding even faster. So it is she who stretches out her hand in faraway cities, to keep their dignity intact in the village. Her husband, meanwhile, stays dignified and righteous in not begging himself. In this, he does not change reality, but copes by changing the experience of reality only for himself.
Life in the capital city
She travels alone, lives alone, she is a woman and she is old. I felt afraid for her. However, Buddham Bai says, "Hamari jagah kahan hai? Kahin nahi hai. Phir dar lagne se kya hoga?" (Where is our space? Nowhere. Then what good will it do to be scared).
The Municipal Corporation of Delhi runs seventeen permanent shelters for the homeless, and is setting up another six. However, all of these are for men, and none exclusively for women, who are more vulnerable. One shelter for women that opened in 2004 was shut in just ten months, and used for storing building material for construction in the city centre. The official reason for lack of shelter homes for women is that they do not usually want to stay in these shelter homes, and when they do, they bring all their belongings and begin to settle down; least realising that the shelter is provided for one night only. Therefore, thousands of women like Buddham Bai continue to huddle together near temples or railway stations.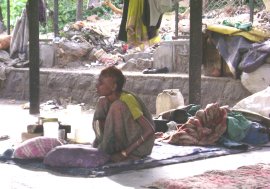 Picture: At Kalkaji Mandir, the despair of many old women is a routine sight.
In the capital city, her problems begin early in the morning. She does not use the public toilets, as they cost Rs.2 each time, and she cannot reach it anyway with her ailing leg. Instead, she uses a tap on the roadside. She goes to defecate in the dense bushes that surround the temple. It is risky; last week a girl's body was discovered here. But Buddham Bai says, "I have nothing that someone would kill me for." She turns her very vulnerability into a sense of psychological security.
She is not allowed to sit in the main temple premises and solicit for money or food. She has to be content with a space on the verandah outside. Rakhi, the leader-cum-manager of all the beggars in the temple complex, as appointed and recognised by temple authorities, does not allow her to sit inside. To have a space there, one has to make a payment of Rs.5 each day. Buddham Bai earns only about Rs.10-20 a day, and she cannot afford this payment. Neither can she run or even walk to persuade devotees. In the process, she loses out to 'competition' with other beggars in the temple. This is the case with many such old or destitute beggars of the Kalkaji temple.
Most devotees who respond to her begging give a fifty paise coin. Though embittered, Buddham bai saves them all carefully; "athani de jate hain, yahan to chalega nahin, Punjab main ja kar chalayenge" (They give 50 paise coins, it will have no value here, I will use it in Punjab).
A patchy, insecure life
Back in the village, her family has an Antyodaya ration card. Her sons use the card. Neither she and nor her husband, despite being eligible, receive a pension, as they belong to the Kurmi caste, discriminated against by the high caste panchayat leaders of the village. But she is not only a victim; the contradictions of caste are evident even in her poverty. Buddham Bai is quick to explain that she is an OBC, not an untouchable. In the village she would not even have water touched by a Dalit, she says, but in Delhi, one can't survive with these prejudiced notions.
Buddham Bai loves to eat a lot of pan and supari. Her mouth is full of blisters, yet she enjoys them. Probably because these are her only indulgences. Age, aggravated by her low nutritional intake, makes her complain of various aches and pains, particularly backache and leg ache. She cannot walk without support. Her legs have swellings and lumps at various places. She goes to the free government dispensary and finds its services to her satisfaction. But it is far, and she has to pay the rickshaw fare for every visit there; this compels her to keep her visits to the very minimum.
Buddham Bai prefers to be in her village in the winter and rainy seasons. The homeless face a lot of problems in both these seasons. Rainwater fills the temple verandah and chilly winds blow throughout winters. She and her friends in the verandah have to cross the road in the middle of the night during the rains and huddle under the Kalkaji flyover. As she has problems walking, she always gets completely drenched before she can reach under the flyover's shelter. Many times she has slipped and fallen while crossing the road during the rains, and each time she has been fortunate to just about escape an accident.
When the flow of devotees in the temple is low, even fewer people bother to look at the beggars in the verandah. So very often she does not receive any money or food. She tries to live on the food distributed as prasad or bhandara by the temple authorities, and saves her cash for her husband in the village. From time to time she has to be content with only one meal a day. However, usually she is able to manage to put together two measly meals. On the day I met her, she planned to miss her lunch in Delhi and carefully packed the food that she had, to be taken to Haridwar and eaten there. Food in Haridwar is more expensive than in Delhi, she says. For just two puris and aloo sabzi, one has to pay Rs.20-25 there, she explains.
She exonerates her sons of all blame. It is poverty that has compelled them to choose feeding their children over their parents. The temple must have about 500-550 beggars like Buddham Bai. Most of them are old widows. However, she is wary of making any informal friendships. When an extreme sense of loneliness overtakes her, she sometimes asks her children to come and meet her in the city, and they do so. But there is an implicit understanding that she will pay for their travel.