Dardpora is a small village in Kupwara district in north Kashmir. Very close to the Line of Control, it has for many years borne the brunt of fierce clashes between the militants and the security forces. So much so that Dardpora is also known as the 'Village of Widows'.
Victims of abject poverty, the women were accustomed to living off financial aid and alms. But in 2001, a group of Kashmiri women, part of Athwaas - an initiative by Women in Security, Conflict Management and Peace (WISCOMP) to reach out to the women of Jammu & Kashmir - decided to try, through various initiatives, to change things for the better.
Athwaas's first visit to Dardpora, six years ago, was memorable. The group was greeted by huge crowds seeking 'financial help'. But Athwaas's mission was not to dole out relief but to help the villagers break the cycle of dependency and become self-reliant.
However, when it became clear that no immediate relief packages were forthcoming, the villagers became angry. "Photo khechne aatey hai yeh log. Hamari lachari ka mazak banaya hai. Photo bech ke, khud paisa kamatey hain (These people photograph us and sell them for a profit. They are mocking our misfortune)," accused Begum Khatana, a Gujjar widow with five children.
But at the behest of Master Mir Ghulam Rasool, 65, a retired government teacher and village elder, the women agreed to interact with the group. The exchange revealed that they were struggling to come to terms with their single status as household heads. Of the 50-odd widows present, all of whom had lost their husbands to militancy, Bibi Fatima, the most articulate and whose son works in a vegetable market in Delhi, narrated the traumatic story of Dardpora.
In the early 1990s when militancy had just begun, three militant groups: Al Barq (mostly comprising Gujjars); Hizbul Mujahiddin; and the Kashmir Liberation Force became operational in the area. A fratricidal war between the three groups and clashes with security forces claimed most of the village men. Prior to that, the hostility between the two prevalent communities - Gujjar and Kashmiris - had taken the lives of many male members. "Yahan par charon taraf dushman hai. Kissi par bharosa nahi kiya ja sakta (Everyone here is an enemy. No one can be trusted.)," Fatima revealed. After listening to their tales, the Athwaas group left with the resolve to provide the women with opportunities to rebuild their lives.
That was almost six years ago. After a lot of strife and some failed attempts at rehabilitation, the women of Dardpora have managed to change their lives. "It has not been easy," says A.R. Hanjura, 50, an advocate and an Athwaas member, actively coordinating the Dardpora initiative. As part of his work, Hanjura has made several trips to the village, mobilising the women around some development activity or the other and reaching out to them with government sponsored, development and economic schemes.
"Most of the widows are very young, between 21 and 45 years. They have large families, with school-going children to support. Earlier, the Gujjar women used to go to the jungles to chop timber that they would then sell; the Kashmiri women cultivated patches of land or managed to earn a meagre income from handicraft orders," says Hanjura.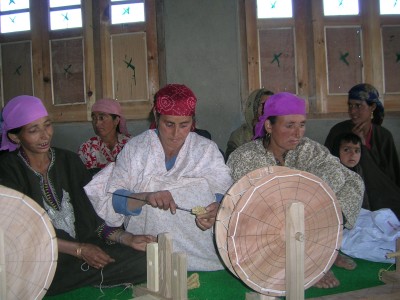 At the Samanbal in Dardpora, groups of six to seven women
gather every day to weave raw cotton.
In 2004, with the support of the Jammu and Kashmir Women Development Corporation (JKWDC), Athwaas was able to secure loans for 11 widows with which they could buy cows. "The women paid an initial sum of Rs.3000 and the JKWDC gave them a loan of Rs 30,000 on nominal interest," says Hanjura.
They were only just beginning to get back on their feet when another tragedy struck: the Kashmir earthquake of October 2005. The upper reaches of Dardpora were affected and some women lost their cows. "I had bought two cows. During the earthquake, the shed fell on one of the cows and she died. The other one gives only a litre of milk, which does not fetch me any income. If only the loan could be waived, I would be at peace," said Resham Jan, a mother of four.
They were only just beginning to get back on their feet when another tragedy struck: the Kashmir earthquake of October 2005.

There were similar tales of anguish and struggle narrated by other women, who said that the scheme had failed. Hanjura urged the women not to lose hope. While informing them that it would be difficult to waive the loans, he decided to bring the women together to brainstorm for ideas on how to repay the amount. And the women surprised him by readily coming up with suggestions and alternatives they were willing to try. "The difference in attitudes is there to see," says Hanjura, his eyes brimming with tears of joy. "At least they have made a courageous shift from being victims to survivors."
One suggestion that came forth was that they be given goats, as it is easy to take care of them. But WDC and WISCOMP were not too keen. Then, the Kashmiri women said that they could start learning some new skills, but the Gujjar women were reluctant.
When the Athwaas members floated the idea to establish a Samanbal, a meeting place or spaces for healing, reconciliation and eventual social change, the women were agreeable to this. But there were many problems on the way. Firstly, it was difficult to find a room to start a Samanbal. The Gujjar women wanted it in their part of the village and the Kashmiris wanted it to be in theirs. It took almost two years, several meetings and interventions by Rasool to resolve the conflict. Secondly, the counselling workshops held to prepare the women for the Samanbal were met with opposition. But with a lot of patience and constant dialogue this hurdle too was overcome. There were several counselling sessions with a regular group of widows from Dardpora in 2005 and 2006. "The sessions helped widows to get to know each other, thereby initiating a process of healing," says Dr Sumona Dasgupta, Assistant Director, WISCOMP.
Finally, the Samanbal was set up in March this year. It was situated exactly at the diving line of the Gujjar and Kashmiri areas. Currently, groups of six to seven women come here every day and weave raw cotton, procured and bought by Hanjura. WISCOMP is supporting the Samanbal in the initial phase, with the NGO paying for the rent of the room and also arranging for a trainer to impart the cotton weaving skill. There is no income yet but the women hope the situation will change once they start getting bigger orders from Srinagar.
Something that was impossible to even contemplate six years ago has happened. "Achha lagta hai yahan aa ke. Aapas mein baat bhee kar lete hai aur char paisa bhee kamaa lenge (We feel good coming here. We talk to each other and hope to earn some money too)," smiles Shahzada, who is at the Samanbal frequently.
The women in Dardpora, albeit at a snail's pace, are rebuilding their lives themselves. (Women's Feature Service)